VLC player is the most popular multimedia player used in desktops. Its is widely used for playing videos and music files. Even network streams can be played with this player. It also have wide range of format support. Here I am going to show about "How to use VLS player as a video cutter" and "How to take snapshots from video using VLC".
Step 1 : Check Advanced Controls
Under the "View" menu on top, you can see a menu named "Advanced Controls". Click on that. See the screenshot.


Step 2 :  Check the Advanced Control Buttons

Look at the below picture. Now you can see some additional button . That buttons are for recording & taking snapshots.


Step 3 : Recording ( Cut ) a portion of video

Select the first button showing as a red circle.  At the time of first press, it will start recording. At the time of second press , it will stop the recording. All the contents between these two clicks are stored as video file in your system. By default it will store the recorded video file in "My Videos"  folder.

Taking snapshots of video using VLC
In your advanced control buttons, Second button which showing as a small camera will take a snapshot from the current position of running video in your VLC player. By default it will store in "My pictures" folder.
Press the button when you want to take a snapshot. It will show the recorded picture on top after you press the button. Look at the below screenshot.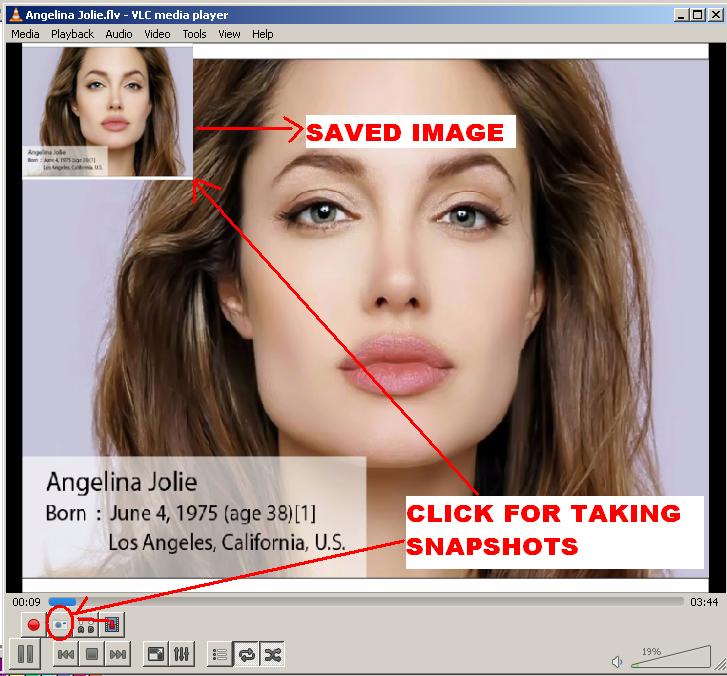 Other facts & Tips :
By default recorded ( Cut ) videos are stored as .mp4 format
You can adjust the speed of video from Playback -> speed menu. And can record in slow motion or faster one version.
You can also record from the network streams like rtmp live videos , Apple HTTP live streaming etc.
You can also adjust the brightness, contrast , color and other settings for your new recorded video in VLC.