SAP COPA is a sub module coming under CO module. PA stands for profitability analysis. As the name says COPA module in SAP acts as a strategic & financial reporting tool for analyzing the profitability based on different segments. View COPA components, tables, Transaction codes and PDF tutorials.
The segments can be based on different user inputs like country wise, customer wise product wise etc. So an organization can easily analyse the profit output based on the data from SD, MM & CO module. Also the reports can be generated based on Costing or accounting or both. In the beginning stage this module is used for only strategic analysis, but later it became a financial reporting tool also. Here is a sample COPA report for your reference.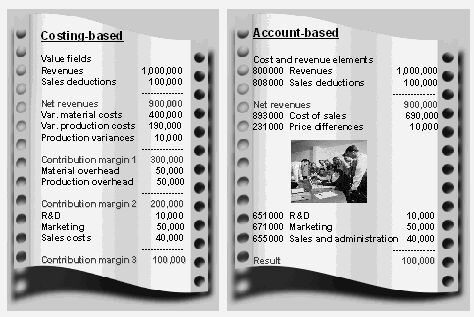 SAP CO-PA SUB COMPONENTS
Here is the list of sub components coming under the SAP Profitability Analysis in CO application component with the package name they belong to.
HLA0009405 → CO-PA → Profitability Analysis
HLA0100153 → CO-PA-ACT → Flows of Actual Values
HLA0100162 → CO-PA-ACT-AG → Transfer of Customer Rebate Agreements
HLA0100155 → CO-PA-ACT-BI → Transfer of Billing Documents
HLA0100161 → CO-PA-ACT-DE → Data Entry
HLA0100157 → CO-PA-ACT-DP → Direct Posting from FI/MM
HLA0100159 → CO-PA-ACT-OH → Transfer of Overhead
HLA0100156 → CO-PA-ACT-OR → Order and Project Settlement
HLA0100160 → CO-PA-ACT-PA → Periodic Adjustments
HLA0100158 → CO-PA-ACT-PV → Settlement of Production Variances
HLA0100154 → CO-PA-ACT-SO → Transfer of Incoming Sales Orders
HLA0009432 → CO-PA-BUD → Sales and Promotion Budgets by Profitability Segment
HLA0009437 → CO-PA-FS → Extended Functions for Financial Institutions (See IS-IS)
HLA0009438 → CO-PA-IS → Information System
HLA0100167 → CO-PA-MD → Master Data
HLA0100168 → CO-PA-MD-CH → Characteristic Values
HLA0100169 → CO-PA-MD-VA → Valuation
HLA0009435 → CO-PA-MTO → Extended Functions for Order-Related Production
HLA0009434 → CO-PA-MTS → Extended Functions for Make-To-Stock Production
HLA0009433 → CO-PA-PMS → Profitability Analysis / Basic Functions
HLA0009430 → CO-PA-REL → Revenue Element Accounting
HLA0009431 → CO-PA-SPP → Sales and Profit Planning
HLA0100149 → CO-PA-SPP-AP → Automatic Planning
HLA0100151 → CO-PA-SPP-BU → Sales and Promotion Budgets
HLA0100150 → CO-PA-SPP-IP → Integrated Planning
HLA0100148 → CO-PA-SPP-MP → Manual Planning
HLA0100152 → CO-PA-ST → Structures
HLA0100164 → CO-PA-TO → Tools
HLA0009436 → CO-PA-WR → Extended Functions for Retailing
SAP COPA Tables
Here is a list of sample 15 tables coming under COPA SAP component. Full list will be available from the mentioned link after this list.
TKETD1 → Distribution profile
TKEHDB_CE1_ERR → HANA CO-PA Integration: CE1 Error with HANA Replication
TKECX → Exits for Making Release-Independent
COPA_CRM_GUIDMAP → Mapping Table CRM GUIDS – CO-PA Document Numbers
CE2YZDL → Practice YZDL Op Con
T25E7 → Text table for characteristic values
TKEQUS3 → Ratio Scheme: Access-Level Characteristics
TKEBPFL → CO-PA Mass Processing: Parameters
TKEDR → Characteristic Derivation: Strategies
TKEF → CO-PA field catalog
T25E5 → Values for Characteristic "8 "
TVGAI → Number range table for number range object COPA_IST
K9RALR0000473SAP → Derivation Rule: Departure Location from Flight Segment
CE4S_AL_ACCT → Airline Route Profit
TKEIPV10T → CO-PA: Entry Aids (User-Dependent) – Texts
View full list of SAP CO-PA Tables with description
SAP COPA Transaction Codes
See some sample transaction codes used with SAP CO-PA sub module. I have added Full list with details in another tutorial (see the link after this list).
KE1U → Display Forecast Profile
KEU4N → Delete Actual Transfer of CCtr Costs
S_ALR_87005696 → IMG Activity: SIMG_CFMENUORKE5055
S_ALR_87005739 → IMG Activity: SIMG_CFMENUORKEKECP
KEBI → Set operating concern (batch-input)
S_ALR_87005772 → IMG Activity: SIMG_CFMENUORKEKEDP
KEUD → Overview Actual Assessment Cycles
KE4I → View maintenance VV2_T258I_V
KEP1 → Maintain record types
KEF1 → Change Revaluation Keys
KE12 → Display plan data
KE1I → Maintain Ratio Scheme
S_ALR_87005723 → IMG Activity: SIMG_CFMENUORKEKE37
KEKG → Active Indicator for Prof.Ctr Update
S_ALR_87005578 → IMG Activity: SIMG_CFMENUORKEKE1I
View full list of SAP CO-PA tcodes with details
SAP Profitability Analysis in CO related tutorials
Important notes about CO-PA
Two sub components of CO-PA module are flows of actual values (CO-PA-ACT) & Tools (CO-PA-TO).
Two types of COPA in SAP are Account based & Costing based.
This tool is used by top level officials in a company, to take strategic & financial decisions based on the COPA reports.