An informational interview could be a very useful tool for a jobseeker. Informational interviews provide job seekers the opportunity to interact with someone in a field or industry they are interested in and determine whether they possess what is required to make their career successful in that industry.
Typically, an Informational interview is not planned around a particularly job opportunity or opening, rather it is a chance for a jobseeker or student to study about an industry, its corporate practice and to get career advice from a person who has walked a related professional route to help them choose if it might be the right match.
Companies typically offer these interviews as a means of building their candidate pool to be used for future job opportunities.
In this article you will get some ideas about how to prepare (face) for an informational interview and some sample questions that can ask for getting proper & useful information for your career.Also refer the Informational interview questions list in PDf.
At the interview, introduce yourself, shake hands with the interviewer and appreciate them for their willingness to have a meeting with you. Establish the fact that you are there to gather information and learn about his career field. Before the day prepare your questions and use a not too formal dialogue during the discussion.
You should take notes, or you may want to get permission from your interviewees to record the conversations, which will allow you to participate in the discussion without distraction.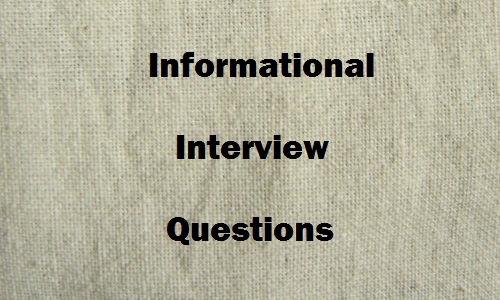 Below are sample good informational interview questions you can ask.
Please describe your job. What make up the core components?
What are your key responsibilities?
What other type of workers regularly interact with this role?
How did you develop interest in this field?
What was the particular thing you did yesterday?
What does a normal day (or week) look like for you?
Does the normal worker have an arranged schedule (i.e. 8 am – 5 pm) Or are the work hours flexible?
What are the experiences that best prepared you for the job you do?
Is there an established chain of command in your field?
Describe what transpires in different divisions of your agency, like the media buying side, the client side, the creative side and the finance side.
Are there people who depend on you?
Are there people you depend on?
What are the most relevant personal traits for one to succeed in your field?
What is the job of the people who work for you?
What excites you most on your job?
What excites you the least about your work?
I want to know the most difficult aspect of your job?
What kind of technology do you use and how do you use them?
In what way does your position fit into your organization/ industry /career field?
In what way does your job influence your general lifestyle?
What type of challenges do you face on a daily basis?
What type of decisions do you make for your company?
What does it mean to work for this company?
What differentiates it from the remainder of the advertising world?
What types of achievements are likely to be appreciated and also rewarded in this field?
In your field what is the future look like?
What are chances for progression? To what level? Is a higher degree necessary? (If yes, in what discipline?)
Highlight some long-term tendencies in your business?
What's a usual career path in your business?
Does your company send its employees to regular trainings?
How important to your work is your undergraduate major?
If you could start all over again, would you still pick the same route for yourself? Otherwise, what would you do differently?
What are the various settings in which personnel in this occupation may work (i.e. – businesses, educational institutions etc.)?
Do you have proof of differential treatment between male and female workers concerning job duties, pay, and opportunities for progression?
What are the recruitment chances in the advisor's geographic location? Where are the best recruitment chances? What are the recruitment chances at the advisor's organisation? Is mobility a necessity to succeed?
What city do you advise I live in if I want to practice this profession?
What's the usual title for entry-level?
List the various salary ranges?
I see that the entry-level remuneration for this field is normally in the range of ______? Does this match what you've seen? (Tip: ensure you don't ask about the person's salary range)
In what position do people usually enter when your company wants to hire?
What's your recruitment process like?
What is the profile of the person most recently hired at my level?
Would you recommend magazines, trade journals, or professional associations which would be relevant for the development my profession?
Are any co-curricular activities recommended?
List the most efficient strategies for seeking a job in this field?
List the relevant "buzz words" or "key words" to add in a resume or cover letter when searching for job in the field?
Where can someone find the job listings?
What would you advise someone who is thinking about this kind of job (or field)?
Is there a related field you recommend I consider looking into?
Where is your career headed from here?
Where do you see this industry going?
Do you recruit interns?
Whom will I talk to concerning the internship program?
In your internship program, who is the overall best person you've had?
What set of skills does your business look for?
What would you advise I read in college to best groom me for this field?
What would be the right internship experiences I should think about? Should I attempt to work in a large or small agency?
What kind of portfolio or work samples should I be attempting to develop as I work towards moving into this career?
Is there someone else you would recommend I talk to (Tip: mention someone else you've discussed with in the field)?