If you are interviewing for law jobs, you're likely wondering what type of questions you'll be asked.It will reflect badly about you if you're unwilling or unable to answer questions a job interviewer asks you and worse when it's a Legal Job Interview.
Prior to your interview, research commonly asked Legal interview questions and get to really understand and rehearse how you will answer them. As we know, every interview is peculiar, but here are samples of 10 sample legal interview questions and answers you are likely to get in a Legal Interview and its PDF version.
This legal questions and answers will be helpful for law firms jobs or lawyer job interviews.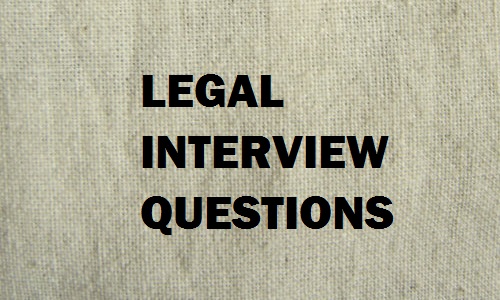 Question: How did or do you find the law school?
Answer: When asked this question, don't mention how you hated the Law school or liked every second there, but try to be positive about the experience. The question can be best approached thus: "Overall, I had a great time there as well as found it challenging. Of course, it was tasking at times, but I garnered enough knowledge that made it a worthwhile experience eclipsing every challenge I faced."
Question: Mention your favourite classes at law school?
Emphasis is not on what you liked so well at Law school but how it relates the job role you are going for. For instance if you interviewing at a small Law firmthat handles If you're interviewing at a small law firm that only does civil cases, it will be out of place of all of your favourite courses happen to be criminal law and procedure. This puts a question mark as to why you are being interviewed here. Prepare for this question beforehand by recalling your courses and think about what classes are best related to the work you would be handling. Those should form your favourite classes and should be looked up so as to answer questions from there brilliantly.
Question: Why did you leave your current job?
 If you are working now, be ready to clarify why you are quitting it. Be discreet and direct your answers towards career growth opportunities. For instance you could say, "I like the work I do now but want to broaden my horizon and I think this place would give me that opportunity" or I want bigger challenge" or I would like to spend more time in the court."
Describe your note/moot court competition brief.
Always remember that almost all items on your resume is a possible source of questions. If on your resume, you listed an undergraduate thesis project or a Law Review Note, be ready to give a detailed defense. You can refresh your memory with the notes before the interview if it's been a while since you last looked over them (or thought about the argument in your Moot Court Competition)
How is this position a good match for you?

You are not likely to be asked this question plainly, but it could come obliquely ("Why this Organization?"). This is where you get to demonstrate the result of your research on the company as well as job description. You may want to demonstrate that:
(1) you are aware of  what the description of job requires and

(2) that you qualify as a good match. For instance, "I'm actually excited about the blend of work in this role. I like client communication, so I'm interested in helping out with the weekly legal information stand. But I would also like to improve my courtroom talent, and broaden the job I did at the law school family law clinic, so the chance to deal with regular motion hearings is attractive."
From your resume, I see you love to bake…what kind of things do you bake?
When writing your resume, ensure you write what you actually do on your Hobbies and Interests Section, as this could be used in an interview to create a more person-to-person connection with the interviewer. When asked anything from resume, relax and give details of the answer, this will go a long way in boosting your chances of landing the Legal Job interview.
Question: Why do you think we should hire you?
This is the question that you could use to differentiate yourself.  Focus on them: You ought to explain how you meet nearly all the criteria they require, including two to three more abilities that they don't realise they need…yet. You have to tell them you are not just useful to them in the present but that you will be a valuable asset for where they are headed in the future. Would they require another set of skills as they grow as an organisation? Or probably you noticed you have talent that you noticed are in a different description of job they want to fill? These are areas you be of help to the company until they get someone (or be a support to the they employ). Do you have a negative experience you turned to a lesson which they want to start. Offering "lessons learned" can be a very strong boost to landing the job.
Question: What challenges do you look for in this role?
Tip: This question is used to determine your views about the role and whether you are good match for the position being employed for. The most efficient to respond to questions on the challenges you are looking for is to demonstrate how you would like to be able to efficiently make good use of your experience and skills if you landed the job. Furthermore, you can also say that you are easily motivated by challenges, possess what it takes to efficiently meet challenges, and have the skills and flexibility necessary to deal with a challenging job. In order to drive your message you can describe specific instances of challenges you have met and set goals you have achieved previously.
Question: What experience do you have in this law field?
Expectedly, if you're seeking this position you have loads of related experience, you should mention it all if that is the case and state a few accomplishments. But if you're changing careers or venturing into something a bit different, the type of experience necessary for the position may not be in your kitty. However, you can be honestly creative in the way you match the experience you have with the one you have.
Question: How do you fare when working under pressure?
Answer: Working under can very challenging and at the same time demanding. Answer the question in a positive way; you could say "Under pressure I work well, I thrive under pressure."