SAP SD-SLS sub module is an application component stands for Sales in SD. It is coming under the SD module (Sales & Distribution). Here is a quick overview tutorial about its sub modules, transaction codes and tables for your training purpose.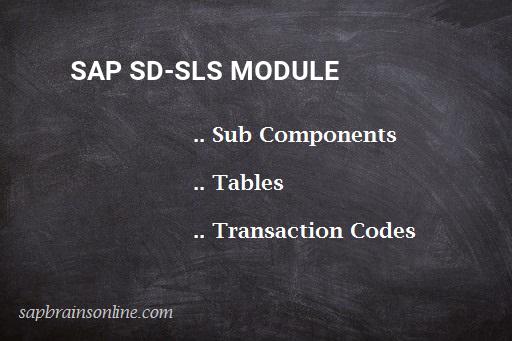 SAP SD-SLS SUB COMPONENTS
Here is the list of sub components coming under the SAP Sales in SD application component with the package name they belong to.
HLA0009601 → SD-SLS → Sales
E4A0000033 → SD-SLS-API → SD API Interface, LORD
E380000052 → SD-SLS-ES → Enterprise Services in Sales
HLA0006007 → SD-SLS-GF → Basic Functions
HLA0006010 → SD-SLS-OA → Outline Agreements (Customer)
HLA0001826 → SD-SLS-OA-CCO → Customer Contract
HLA0001827 → SD-SLS-OA-SCH → Customer Scheduling Agreement
HLA0100731 → SD-SLS-OA-SCO → Service Contracts
ALN0000008 → SD-SLS-PLL → Part Load Lift Orders
ALN0000012 → SD-SLS-PLL-OBS → Remaining Beverage – Obsolete Objects
HLA0006008 → SD-SLS-QUT → Customer Inquiries / Quotations
HLA0006011 → SD-SLS-RE → Complaints
ALN0000435 → SD-SLS-RE-SR → Sales Returns
HLA0006009 → SD-SLS-SO → Sales Orders
SAP SD-SLS (Sales in SD) TABLES
Here is a list of sample 15 tables coming under SD-SLS component. Full list will be available from the mentioned link after this list.
/BEV3/CHRGDNAM → Assortment Type Rule
/BEV3/CHCMVWOBJ → Customizing Manual Contract Handling Object
/BEV1/SRABF → Filling Facilities for Sales Returns
/BEV3/CHCTM2OTHE → Modules called by the date
/BEV1/CLT999 → Table for Order Types Allowed in CL
/BEV3/CHKATMABUM → Customer Evaluation Table: Sales per Date
/BEV3/CHCVBWBKRI → RI, DAPART,contract view dependent on contract movement type
/BEV3/CHBABSATZ → Agreement Sales
/BEV3/CHCSTVCHCK → Reset: Settings for Variable Check Criteria
/BEV3/CHCTAAKZLK → Customizing Settlement Information from /BEV3/CHABRKZL_T
/DSD/LD_CR_STAT → DSD – LD: Load Delivery Shipment Status
ERP_SLS_WORKSET → Worklist Workset
/BEV1/TZLZONE → Weekday-Dependent Transportation Zones
/BEV3/CHRGANWFRM → Rule Statement Form
/BEV3/CHCTFSOS → Status Maintenance: Handling of Release/Lock Objects
View full list of SAP SD-SLS Tables with description
SAP SD-SLS (Sales in SD) TCODES
See some sample transaction codes used with SAP SD-SLS sub module. I have added Full list with details in another tutorial (see the link after this list).
/BEV1/91000143 → '
OVA3 → C_RV_Tab. TAUUM SlsDocType Convers.
VOVD → Header Field Selection Group
EWUO → Transaction data for EMU conversion
OVAG → C SD Tab. VAG Rejection Reasons
/BEV1/91000142 → '
V.25 → Release Customer Expected Price
VA26 → Collective Processing for Quotations
T_SLS_CHAN_USER_STAT → Change User Status
VORS → Group Reference Procedures
T_SLS_CREATE_SDOC → Transaction to create a sales doc.
VA52 → Change Item Proposal
OVBT → Modification Report Billing Plan
/BEV1/91000122 → IMG
OVC6 → C SD Tab. TVC6 Activity Status
View full list of SAP SD-SLS tcodes with details