SAP SD-MD sub module is an application component stands for Master Data in SD. It is coming under the SD module (Sales & Distribution). Here is a quick overview tutorial about its sub modules, transaction codes and tables for your training purpose.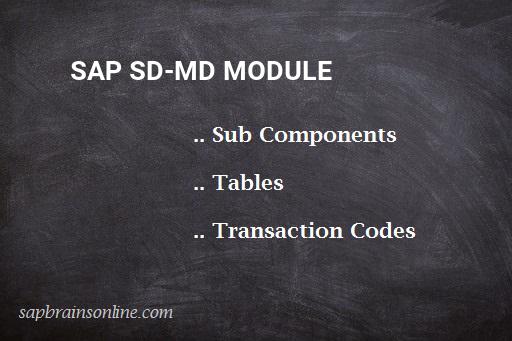 SAP SD-MD SUB COMPONENTS
Here is the list of sub components coming under the SAP Master Data in SD application component with the package name they belong to.
HLA0009606 → SD-MD → Master Data
HLA0006003 → SD-MD-AM → Agreements
HLA0001823 → SD-MD-AM-CMI → Customer Material Information
HLA0001825 → SD-MD-AM-PRO → Promotions / Sales Deals
HLA0001824 → SD-MD-AM-RAG → Rebate Agreements
AC00000045 → SD-MD-CH → Customer Hierarchy
HLA0006002 → SD-MD-CM → Conditions
HLA0006859 → SD-MD-MM → Material Maintenance
PR00000051 → SD-MD-MM-CS → Additional Material Functions
HLA0001822 → SD-MD-MM-DET → Material Determination
HLA0001821 → SD-MD-MM-LIS → Material Listing / Exclusion
HLA0001820 → SD-MD-MM-PPR → Item Proposal
SAP SD-MD (Master Data in SD) TABLES
Here is a list of sample 15 tables coming under SD-MD component. Full list will be available from the mentioned link after this list.
KOTH030 → Order Type/Plant/Component
A362 → Country/NBM-NCM Code
KOTE011 → Vendor Hierarchy: Material Rebate
C008 → SlsOrg/Dist.chan.
KOTF005 → Search Term
A021 → Vendor/Material/Unit of Measure
KOTF001 → Material/Sales Org./Distrib.Channel
A156 → Country of Departure/Destination Country/Del. Country
A104 → Service Conditions (Own Estimate)
TVSM → Material statistics groups
A884 → YTEL01 – Listprice Multiplier
A028 → Info Record for Non-Stock Item
A821 → Advanced Returns Management – Returns Refund Code
A105 → Controlling Area/Company Code/Business Area
A064 → Customer Hierarchy
View full list of SAP SD-MD Tables with description
SAP SD-MD (Master Data in SD) TCODES
See some sample transaction codes used with SAP SD-MD sub module. I have added Full list with details in another tutorial (see the link after this list).
OV43 → Diagram: Cross-selling
OVL7 → Assigning Shipping Point/Ctry/Zone
V-72 → Display Price grp Disc/Surch.
EANC1 → Cond.: Field Cat. GTIN Mapping
S_XBO_45000006 → IMG Activity: CMPC_0006
WSD_KW_NRANGE → Number range maintenance: WSD_KW
VK13 → Display Condition
S_ALR_87100150 → Disc. and Surch. for Price Grp/Mat
OV01 → Access Sequence: Matl Listng/Exclsn
OV74 → Cash account det.: Access sequences
OVK7 → C SD Table T459 "Reqt/PlanOrd.Type"
VOR2 → Joint Master Data: Division
S_ALR_87007697 → IMG Activity: SIMG_CFMENUOLSDVLIC
V12L3V_B → Change Pricing Report for Camp. Det.
VOFC → Billing: Document Types
View full list of SAP SD-MD tcodes with details