SAP SD-BF sub module is an application component stands for Basic Functions in SD. It is coming under the SD module (Sales & Distribution). Here is a quick overview tutorial about its sub modules, transaction codes and tables for your training purpose.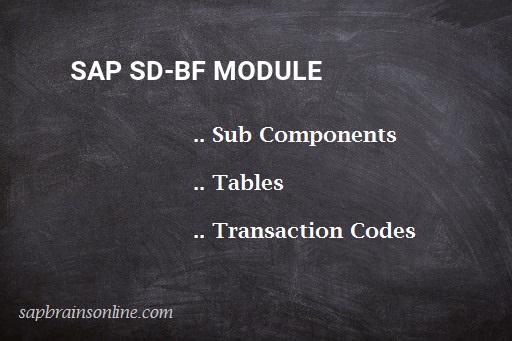 SAP SD-BF SUB COMPONENTS
Here is the list of sub components coming under the SAP Basic Functions in SD application component with the package name they belong to.
HLA0006560 → SD-BF → Basic Functions
HLA0006562 → SD-BF-AC → Availability Check
EB50000001 → SD-BF-AC-SOA → Enterprise SOA
HLA0006568 → SD-BF-ACT → Account Determination
ALN0000433 → SD-BF-AS → Material Sorting
HLA0006563 → SD-BF-CM → Credit Management
PR00000062 → SD-BF-CPE → CPE in SD
PCO0000002 → SD-BF-CS → Cross Selling
ALN0000007 → SD-BF-EC → Extra Charge
HLA0100730 → SD-BF-FG → Free Goods
PCO0000001 → SD-BF-FM → Funds Management
HLA0006564 → SD-BF-MD → Material Determination
HLA0006565 → SD-BF-OC → Output Determination
P450002041 → SD-BF-PD → Partner determination
HLA0006561 → SD-BF-PR → Pricing and Conditions
E4E0000001 → SD-BF-SMI → Supplier Managed Inventory
HLA0006566 → SD-BF-TP → Word Processing
HLA0006567 → SD-BF-TX → Taxes
SAP SD-BF (Basic Functions in SD) TABLES
Here is a list of sample 15 tables coming under SD-BF component. Full list will be available from the mentioned link after this list.
TVKOT → Organizational Unit: Sales Organizations: Texts
SDPROTCALT → SD Monitor: Value Table for Protocol Callers
LEDRUCKPROFIL → Assignment of a Printer to an Object
T180 → Screen Sequence Control: Transaction Default Values
TTSEGVERT → Time Segment Version Types
CPED_KNUMHTOGUID → CPE Caller – Mapping ERP Condition to GUID
T180P → Reporting: Display Variants: Selection Fields per Variant(s)
TFRC3 → Application Assignments
T691S → Description of document guarantee procedure
CPEC_SD_FA_PROC → CPE in SD: Determination of Procedure for Formula Assembly
T190HT → Product Allocation: Text for Planning Hierarchy
TTSEGEVTY → Time Segment for Event Type
TVM5T → Material pricing group 5: Description
TVP9 → Contact Person: Attribute 9
TVP9T → Contact person attribute 9: Texts
View full list of SAP SD-BF Tables with description
SAP SD-BF (Basic Functions in SD) TCODES
See some sample transaction codes used with SAP SD-BF sub module. I have added Full list with details in another tutorial (see the link after this list).
VCPE_FA_FC → SD Field Catalog
V/G3 → Output CondTab/Display Group
CMD2 → Change output: Direct procurement
VCPE_FA_DET_PROC → Det. Procedure for Formula Assembly
V-48 → Display Price List
PRPR → Parameter transf. to V_LEDRUCKPROF1
OV66 → Cond. types: Acc. det. rec. accounts
ORF2 → C SD TVLK in Route Determination
OVKH → C SD Table TVAK Sales Document Types
SMI_AGREEMENTS → Maintain SMI Agreements
V/48 → Access Sequences (Sales Document)
V/94 → Output -CondTable- Change Packaging
SMI_PROFILE_D → Delete SMI planning Profile
VP01_AG → Print parameter maint. agency bus.
CCV2 → Change Output: Document Management
View full list of SAP SD-BF tcodes with details