SAP Real Estate Management module is used for managing residential and commercial real estate processes for an organization. It shortly known as SAP RE module.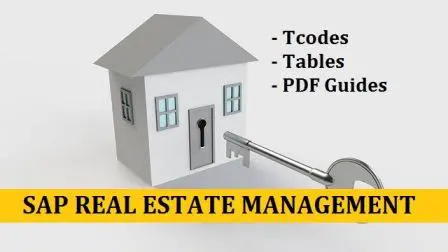 The main features of SAP RE module are
Real estate objects management
Contract management
Space optimization
Credit-side view of lease-in processes
Centralized business processes
SAP RE (Real Estate Management) module is tightly integrated with financial (SAP FI) and Controlling (SAP CO) modules. These two modules are required for real estate management module configuration.
SAP REAL ESTATE MANAGEMENT MODULE COMPONENTS
Here is the list of application components (Sub modules) coming under SAP RE module in SAP. List provides component short form, its purpose and the package it belongs to.
RE → Real Estate Management → Package (I090004600)
RE-BD → Basic Data → Package (I090004603)
RE-BD-BE → Business Entity → Package (I090004605)
RE-BD-BU → Building → Package (I090004607)
RE-BD-LR → Land Register → Package (I090004604)
RE-BD-PR → Land → Package (I090004606)
RE-BD-RO → Rooms → Package (I090004609)
RE-BD-RU → Rental Unit → Package (I090004608)
RE-BP → Business Partners → Package (I090004601)
RE-CO → Real Estate Controlling → Package (I090004646)
RE-CO-AA → Activity Allocation → Package (ALR0000041)
RE-CO-CR → Cost and Revenue Planning → Package (I090004647)
RE-CO-SE → CO Settlement → Package (I090004648)
RE-CP → Correspondence → Package (I090004636)
RE-FX → Flexible Real Estate Management → Package (ALN0000031)
RE-FX-AJ → Rent Adjustment → Package (ALN0000032)
RE-FX-AR → Real Estate Search → Package (ALN0000033)
RE-FX-BD → Basic Data → Package (ALN0000034)
RE-FX-BP → Business Partner → Package (ALN0000035)
RE-FX-CF → Conditions and Cashflow → Package (EE60000001)
RE-FX-CN → Real Estate Contract → Package (ALN0000036)
RE-FX-CO → Real Estate Controlling → Package (ALN0000037)
RE-FX-CP → Correspondence → Package (ALN0000038)
RE-FX-GI → Graphic Interface → Package (AER0000073)
RE-FX-IS → Information System → Package (ALN0000039)
RE-FX-IT → Input Tax Treatment → Package (ALN0000040)
RE-FX-LC → Real Estate Localization → Package (PEN0000001)
RE-FX-LC-AT → Real Estate Localization Austria → Package (PEN0000003)
RE-FX-LC-CH → Real Estate Localization Switzerland → Package (PEN0000002)
RE-FX-LC-CZ → Real Estate Localization Czech Republic → Package (/CEERE/EE50000033)
RE-FX-LC-ES → Real Estate Localization Spain → Package (EEI1000011)
RE-FX-LC-FR → Real Estate Localization France → Package (EE60000021)
RE-FX-LC-HU → Real Estate Localization Hungary → Package (EE50000031)
RE-FX-LC-IN → Real Estate Localization India → Package (EE50000041)
RE-FX-LC-IT → Real Estate Localization Italy → Package (PEN0000004)
RE-FX-LC-JP → Real Estate Localization Japan → Package (EE50000092)
RE-FX-LC-NL → Real Estate Localization Netherlands → Package (EE50000034)
RE-FX-LC-PT → Real Estate Localization Portugal → Package (E360000041)
RE-FX-LC-SK → Real Estate Slovakia → Package (EE50000091)
RE-FX-LM → Land Use Management → Package (AEN0000002)
RE-FX-MI → Migration → Package (ALN0000041)
RE-FX-MM → Third Party Management/COA → Package (AEN0000001)
RE-FX-OR → Offer and Rental Request → Package (AEN0000003)
RE-FX-RA → Rental Accounting → Package (ALN0000042)
RE-FX-RS → Room Reservations and Seating Arrangements → Package (AER0000072)
RE-FX-SC → Service Charge Settlement → Package (ALN0000043)
RE-FX-SR → Sales-Based Rent and Settlement → Package (ALN0000044)
RE-IS → Information System → Package (I090004650)
RE-IS-BD → Basic Data → Package (I090004651)
RE-IS-CD → Contract Data → Package (I090004652)
RE-IS-CO → Controlling → Package (I090004654)
RE-IS-OE → Other Evaluations → Package (I090004656)
RE-IS-PC → Profit Center → Package (I090004655)
RE-IS-SE → Settlements → Package (I090004653)
RE-IT → Input Tax Treatment → Package (I090004658)
RE-PR → Real Estate General Contract → Package (ALR0002171)
RE-RT → Rental → Package (I090004610)
RE-RT-AD → Rent Adjustment → Package (I090004620)
RE-RT-AO → Management of Interested Parties → Package (I090004611)
RE-RT-RA → Rental Accounting → Package (I090004614)
RE-RT-RC → Lease-Out Management → Package (I090004612)
RE-RT-SC → Service Charge Settlement → Package (I090004628)
RE-RT-SR → Sales-Based Settlement → Package (I090004631)
RE-TP → Third-Party Management → Package (I090004632)
SAP REAL ESTATE MANAGEMENT TABLES
SAP REAL ESTATE MANAGEMENT TCODES
SAP REAL ESTATE MANAGEMENT Tutorials
SAP Real Estate Management PDF