Full form of PP is Production Planning. SAP PP is one of the largest and widely used functional modules in SAP ERP software. Here is a list of important SAP PP module related terms and their full form. This list will be useful for beginners and those who are trying to familiar with Production Planning module.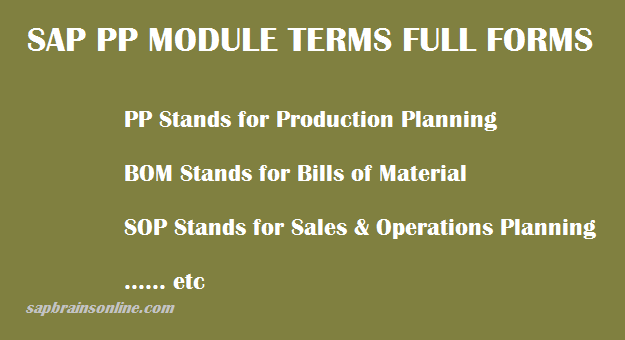 PP: Production Planning
BOM: Full form is Bills of Material
WBS: Stands for Work Breakdown Structure
DMS: Document Management System
CAD: Computer-Aided Design
PLM: Product Life cycle Management
SSCR: SAP Software Change Registration
MRP: Full form is Materials Requirement Planning
GR: Goods Receipt
MPS: Master Production Scheduling
LTP: Long Term Planning
ECR: Engineering Change Request
ECO: Engineering Change Order
CCA: Cost Center Accounting
SFC: Shop Floor Control
ABC: Full form is Activity Based Costing
CAPP: Computer Aided Process Planning
PRT: Production Resource Tool
PCP: Product Cost Planning
PD: Personnel Planning & Development
ATP: Available to Promise (Material availability Check)
CRP: Capacity Requirements Planning
MO: Maintenance Orders
JIT: Just in Time
SEQ: Sequencing
EWS: Early Warning System
DEM: Demand Management
MFC: Material Forecast
PE: Planning Evaluation
WOT: Full form is Work Order Time Recording
CFB: Consumer Products for Foods & Beverages
MIR: Material Identification & Reconciliation
PEV: Process Data Evaluation
CWD: Campaign Weighing and Dispensing
OCL: Order Closing
OPC: Order Processing
GIS: Geographical Information System
NM: Network Modeler
GM: Goods Movements
DFM: Stands for Decision Flow Management
Hope this list will be a useful reference for you. It's only a partial list. We will add more PP related terms and it will be great if you can share some missing terms with their full form. (Can send to the mentioned contact email address in site bottom / contact page). If you want to see some other useful SAP PP module references, please refer PP Tables, PP Transaction Codes etc from the Production Planning Module Tutorial.