SAP PP-MRP sub module is an application component stands for Material Requirements Planning – PP. It is coming under the PP module (Production Planning). Here is a quick overview tutorial about its sub modules, transaction codes and tables for your training purpose.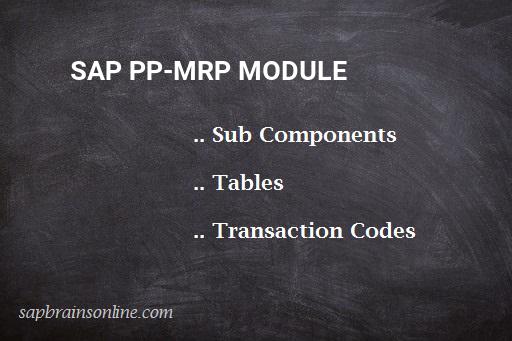 SAP PP-MRP SUB COMPONENTS
Here is the list of sub components coming under the SAP Material Requirements Planning – PP application component with the package name they belong to.
HLA0009524 → PP-MRP → Material Requirements Planning
HLA0006450 → PP-MRP-BD → Master Data
HLA0006457 → PP-MRP-PE → Planning Evaluation
HLA0006456 → PP-MRP-PP → Procurement Proposal
HLA0006451 → PP-MRP-PR → Planning Execution
SAP PP-MRP (Material Requirements Planning – PP) TABLES
Here is a list of sample 15 tables coming under PP-MRP component. Full list will be available from the mentioned link after this list.
PLPT → Long-term planning: Plants of planning scenario
U444B → User Settings for Flexible Transaction Calls
T438U → Absolute Intervals for Range of Coverage Profile
PSPL → Index project -> planned order
PLPW → Index of the production/delivery plant in the planned order
T444V → Text Table for T444C
MDSM → Simulative dependent requirements
T457I → MPS evaluations: long texts
T437V → Distribution key in MRP
T439B → Scope of Planning MRP Unit: Header
PUMS → Project number new key assignment (structure)
T460C → Order/Purchase order types for planned order
T449B → Period split: language-dependent description
MDPARMAT → Intra-Material Parallelization: Affected Materials MOD
MDCOV → Table with Range of Coverage Information
View full list of SAP PP-MRP Tables with description
SAP PP-MRP (Material Requirements Planning – PP) TCODES
See some sample transaction codes used with SAP PP-MRP sub module. I have added Full list with details in another tutorial (see the link after this list).
S_ALR_87000754 → IMG Activity: SIMG_XXMENUOLMDU
MS20 → Planning File Entry: Long-Term Plnng
MS29 → Calculate Sim. Initial Stock
S_ALR_87000716 → IMG Activity: SIMG_CFMENUOLMDOMD0
S_ALR_87000738 → IMG Activity: SIMG_CFMENUOLMDOMIA
MS06 → Long-term plnng: collective MRP list
S_ALR_87000727 → IMG Activity: SIMG_CFMENUOLMDOMDW
S_ALR_87006283 → IMG Activity: SIMG_CFMENUOPP1OMDA
MS32 → Change planning scenario
MS12 → LTP: Change planned order
MP11 → Create message for direct production
OMDB → Marking Material for MRP Termination
S_ALR_87006535 → IMG Activity: SIMG_CFMENUOPP1OPPD
S_ALR_87000654 → IMG Activity: SIMG_CFMENUOLMDOMIL
OMDH → C RM-MAT MD Plnned Order Types T460D
View full list of SAP PP-MRP tcodes with details