SAP PP-CRP sub module is an application component stands for Capacity Requirements Planning – PP. It is coming under the PP module (Production Planning). Here is a quick overview tutorial about its sub modules, transaction codes and tables for your training purpose.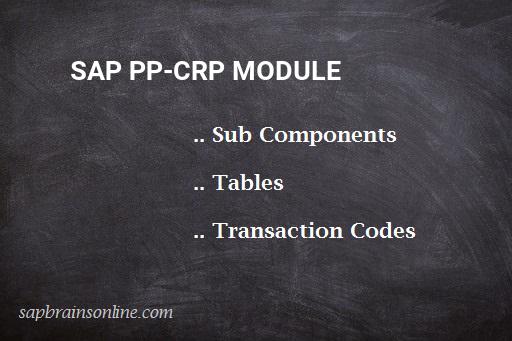 SAP PP-CRP SUB COMPONENTS
Here is the list of sub components coming under the SAP Capacity Requirements Planning – PP application component with the package name they belong to.
HLA0009526 → PP-CRP → Capacity Requirements Planning
HLA0006472 → PP-CRP-ALY → Capacity Evaluations
HLA0006471 → PP-CRP-LD → Capacity Loads
HLA0006233 → PP-CRP-LVL → Capacity Leveling
HLA0006470 → PP-CRP-SCH → Scheduling
SAP PP-CRP (Capacity Requirements Planning – PP) TABLES
Here is a list of sample 15 tables coming under PP-CRP component. Full list will be available from the mentioned link after this list.
TCY56T → Texts for profiles for pln. tab.(tab. form) in cap. leveling
TCY62K → Representation profile – header
TCY40 → Control tables for flow control
TCY55T → Graphic object type: Texts
TCY50K → Chart sequence: Header
TCY45 → Graphical element category
TCY31_H → Definition of a sort per layout and chart
TCY18 → Variable overview – description of overview versions
TCYS → Profile detailed list: Sort criteria
TCY07 → Sel. profiles (Sets for sel. screens & interv. for display)
ISTBED → Actual requirements records
TCY31_D → Description of a grouping per layout and chart
TCY32 → Selection profile for capacity leveling
TCY42 → Actions in flow control
TCY49 → Control profile for capacity leveling
View full list of SAP PP-CRP Tables with description
SAP PP-CRP (Capacity Requirements Planning – PP) TCODES
See some sample transaction codes used with SAP PP-CRP sub module. I have added Full list with details in another tutorial (see the link after this list).
CM0X → Capacity planning
OPG9 → Graphical object type/obj.represent.
OPDM → Define detail list (leveling)
S_ALR_87003778 → IMG Activity: SIMG_CFMENUOLPKOPD1
S_ALR_87004290 → IMG Activity: SIMG_CFMENUOLPKOPCH
CMS4 → Delete Set
S_ALR_87004223 → IMG Activity: SIMG_CFMENUOLPKOPCR
S_ALR_87003823 → IMG Activity: SIMG_CFMENUOLPKCY38
OPJS → PP: Maintain reduction strategies
S_ALR_87003833 → IMG Activity: SIMG_CFMENUOLPKOPG2
S_ALR_87003813 → IMG Activity: SIMG_CFMENUOLPKCY39
OPU5 → Parameter long term planning PlndOrd
S_ALR_87003803 → IMG Activity: SIMG_CFMENUOLPKCY40
S_ALR_87004035 → IMG Activity: SIMG_CFMENUOLPKOPC2
CM21 → Capacity leveling SFC planning table
View full list of SAP PP-CRP tcodes with details