SAP PP-BD sub module is an application component stands for Basic Data – PP. It is coming under the PP module (Production Planning). Here is a quick overview tutorial about its sub modules, transaction codes and tables for your training purpose.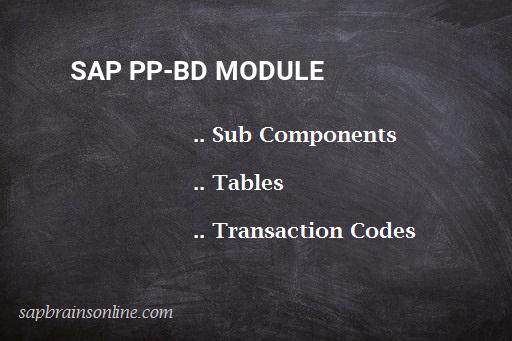 SAP PP-BD SUB COMPONENTS
Here is the list of sub components coming under the SAP Basic Data – PP application component with the package name they belong to.
HLA0009521 → PP-BD → Basic Data
HLA0006403 → PP-BD-BOM → Bills of Material (See LO-MD-BOM)
HLA0006230 → PP-BD-CAP → Computer Aided Process Planning
HLA0006833 → PP-BD-PRT → Production Resources/Tools
HLA0006406 → PP-BD-RTG → Routing
HLA0006404 → PP-BD-WKC → Work Center
SAP PP-BD (Basic Data – PP) TABLES
Here is a list of sample 15 tables coming under PP-BD component. Full list will be available from the mentioned link after this list.
TCA01A → SAP Table for Task List Types
T425 → Setup group keys
TCA71 → Task lists: Verification of function modules
TC35T → Text for period pattern key
T488 → Assignment of Table Fields to Groups
T430 → Operation/Activity control key
PLKZ → Task list: main header
TCA36 → Task lists: Ctrl.tab. for callng. popups from functn.modules
TCRCOT → Alternative Texts for Describing an Activity
T412T → Language-dependent texts for T412: Task list status
VFORP → Characteristics for formulas
TCA52 → Alignment key used for scheduling parallel sequences
TCERS → Rounding & additional values keys
KAKO → Capacity Header Segment
TCA9T → Language-dependent table for TCA09: Task list applications
View full list of SAP PP-BD Tables with description
SAP PP-BD (Basic Data – PP) TCODES
See some sample transaction codes used with SAP PP-BD sub module. I have added Full list with details in another tutorial (see the link after this list).
S_ALR_87004394 → IMG Activity: SIMG_CFMENUOLPSOP70
CNR3 → Display Work Center
CRNK → Number Range Maintenance: CR_KAPA
CE16 → Use of CAPP elements (single-level)
OPE2 → Maintain Machine Type
OP82 → Define Formula
CA62 → Documents for Ref. Op. Sets
CEWB → PP: Engineering Workbench
OP43 → Maintain Setup Group Categories
CA95 → Replace Ref. Op. Set in Task Lists
OP85 → Profiles: Default Values for QM
S_ALR_87004543 → IMG Activity: SIMG_CFMENUOLPSOS21
CA77 → Bulk Replacemt PRT: Equip.TL Type
S_ALR_87004605 → IMG Activity: SIMG_CFMENUOLPSOP7B
OP22 → Maintain Wage Groups
View full list of SAP PP-BD tcodes with details