SAP IS-OIL-DS sub module is an application component stands for Downstream in IS-OIL. It is coming under the IS-OIL module (Oil & Gas). Here is a quick overview tutorial about its sub modules, transaction codes and tables for your training purpose.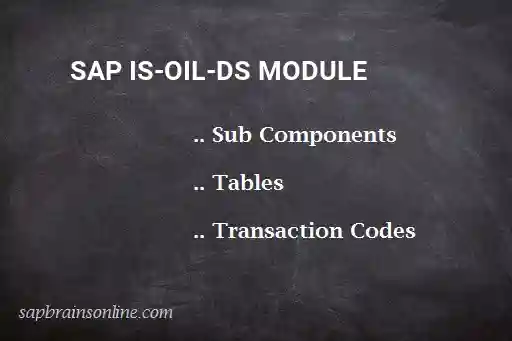 SAP IS-OIL-DS SUB COMPONENTS
Here is the list of sub components coming under the SAP Downstream in IS-OIL application component with the package name they belong to.
I270009302 → IS-OIL-DS → Downstream
I270009303 → IS-OIL-DS-BDR → Bulk Distribution Requirements Planning
I270009305 → IS-OIL-DS-EXG → Exchanges
I270009306 → IS-OIL-DS-HPM → Hydrocarbon Product Management
I270009307 → IS-OIL-DS-MAP → Marketing, Accounting and Pricing
I270009308 → IS-OIL-DS-MCO → Marketing, Contract and Order Entry
I270009309 → IS-OIL-DS-MRN → Marketing Retail Network
I400022112 → IS-OIL-DS-SSR → Service Station Retailing
I400022111 → IS-OIL-DS-TAS → Interface to Terminal Automation System
I270009310 → IS-OIL-DS-TD → Transportation and Distribution
I270009311 → IS-OIL-DS-TDP → Tariffs, Duties and Permits
I400022113 → IS-OIL-DS-TPI → Transportation Planning Interface
I400022114 → IS-OIL-DS-TSW → Trader's and Scheduler's Workbench
SAP IS-OIL-DS (Downstream in IS-OIL) TABLES
Here is a list of sample 15 tables coming under IS-OIL-DS component. Full list will be available from the mentioned link after this list.
OIREDISC → SSR PC: Clearing house discounts by cardtype/co code/CH
OIREPCNUM → SSR PC: Number Ranges
OIRC_PROC_LOG → SSR Fuels – Process log
S413E → S413 – Structural information
OIISCPLWK → Site control: lead time applicabilities – plant
OIRE_RECON_VALT → SSR PC Reconciliation Logic BADI Texts
OIH_J1B_APR → Brazil tax: Acquisition price table
OIREBR → SSR PC: Block reasons (IS-Oil SSR)
OIH_J1B_ACSVAL → Brazil: Oil Access Values
OIRBOPROJ → Object links – PS project or project item (IS-Oil SSR)
OIREDTFCAPT → SSR PC: Controls the tabstrips in the DTF transaction
OIRHCVGRDEFC → Conversion Group Definitions(IS-Oil, SSR)
OIJ_IF_CIF_IMV → IMod Reference Table for TD Vehicle
OIJSCALT → OIL-TSW: Safety stock calendar usage profile text
OIJ_TKTEV_CHK_A → Assignment of ticket event check routines to val.grp.
View full list of SAP IS-OIL-DS Tables with description
SAP IS-OIL-DS (Downstream in IS-OIL) TCODES
See some sample transaction codes used with SAP IS-OIL-DS sub module. I have added Full list with details in another tutorial (see the link after this list).
S_SOG_81000088 → IMG activity: SIMG_OIJ_TSW_103
O5TNR_OIJ_SIM → Number range maintenance: OIJ_SIM
O3RAPL1 → Location Based Collective output
S_SO5_65000249 → IMG activity: SIMG_TSW_0010
O5TE → Assign forms and programs – NOM
O4PS → Load data shipment
O3RH31 → Display of Location master data
S_SO5_65000264 → IMG activity: SIMG_TD_TAS_0006
O3RECON2 → Reverse Paymt Card Reconciliation
S_SO7_65001334 → IMG activity: SIMG_OIH_ETAX_0003
O4P5 → Display released LID's
S_SO5_65000228 → IMG activity: SIMG_BDRP_0003
O4TBB → Stock Projection Worksheet
O3RA_ARCHIVING → SSR – Archiving customizing
S_SO5_65000278 → IMG activity: SIMG_TD_TPI_0001
View full list of SAP IS-OIL-DS tcodes with details