SAP IS-OIL module is focused on the companies engaged with Oil & Gas industry related business. This SAP Oil & Gas module tutorial provides the details about its components, transaction codes, tables and free PDF training material.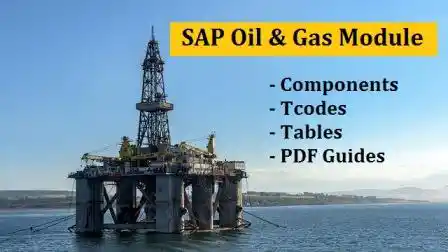 SAP Oil & Gas Module Components
Here is the list of application components (Sub modules) coming under SAP IS OIL module. List provides component short form, its purpose and the package it belongs to.
IS-OIL → Industry Solution Oil → Package (I270009301)
IS-OIL-CRP → Current Replacement Price → Package (I270009304)
IS-OIL-DS → Downstream → Package (I270009302)
IS-OIL-DS-BDR → Bulk Distribution Requirements Planning → Package (I270009303)
IS-OIL-DS-EXG → Exchanges → Package (I270009305)
IS-OIL-DS-HPM → Hydrocarbon Product Management → Package (I270009306)
IS-OIL-DS-MAP → Marketing, Accounting and Pricing → Package (I270009307)
IS-OIL-DS-MCO → Marketing, Contract and Order Entry → Package (I270009308)
IS-OIL-DS-MRN → Marketing Retail Network → Package (I270009309)
IS-OIL-DS-SSR → Service Station Retailing → Package (I400022112)
IS-OIL-DS-TAS → Interface to Terminal Automation System → Package (I400022111)
IS-OIL-DS-TD → Transportation and Distribution → Package (I270009310)
IS-OIL-DS-TDP → Tariffs, Duties and Permits → Package (I270009311)
IS-OIL-DS-TPI → Transportation Planning Interface → Package (I400022113)
IS-OIL-DS-TSW → Trader's and Scheduler's Workbench → Package (I400022114)
IS-OIL-EP-LV → List Viewer → Package (I400001072)
IS-OIL-NET → eNetting → Package (I400001091)
IS-OIL-OLM → Remote Logistics Management → Package (I400001175)
IS-OIL-PRA → Production and Revenue Accounting → Package (I400022115)
IS-OIL-PRA-EIA → Energy Integration Architecture / Upstream Graphics → Package (I400000011)
IS-OIL-PRA-EIA-EIA → Energy Integration Architecture → Package (I400000012)
IS-OIL-PRA-EIA-UG → Upstream Graphics → Package (I400000013)
IS-OIL-PRA-PRD → Production → Package (I400000014)
IS-OIL-PRA-REP → Reporting → Package (I400001082)
IS-OIL-PRA-REP-REG → Regulatory Reporting → Package (I400001083)
IS-OIL-PRA-REP-ROY → Royalty Reporting → Package (I400001074)
IS-OIL-PRA-REP-RTL → Reporting Tools / List Viewer → Package (I400001085)
IS-OIL-PRA-REP-TAX → Tax Reporting → Package (I400001084)
IS-OIL-PRA-REV → Revenue → Package (I400000015)
IS-OIL-PRA-REV-AR → Accounts Receivable → Package (I400001101)
IS-OIL-PRA-REV-BL → Balancing → Package (I400000018)
IS-OIL-PRA-REV-CA → Contractual Allocation → Package (I400000016)
IS-OIL-PRA-REV-CI → Check Input → Package (I400001075)
IS-OIL-PRA-REV-CP → Contracts & Pricing → Package (I400000019)
IS-OIL-PRA-REV-CW → Check Write → Package (I400001102)
IS-OIL-PRA-REV-DIS → Revenue Distribution → Package (I400001073)
IS-OIL-PRA-REV-JE → Journal Entry → Package (I400001076)
IS-OIL-PRA-REV-OW → Ownership → Package (I400000020)
IS-OIL-PRA-REV-PC → Product Control → Package (I400000017)
IS-OIL-PRA-REV-PSC → Production Sharing Agreements → Package (I400000022)
IS-OIL-PRA-REV-VAL → Valuation → Package (I400000021)
IS-OIL-US → Upstream → Package (I270009312)
SAP Oil & Gas Module Tables
SAP Oil & Gas Tcodes
SAP Oil & Gas Tutorials