Advantages & Use of SAP GTS , Functionalities , PDF tutorials
SAP Global Trade Services shortly known as SAP GTS is used for automate the international trades for a company. Large companies who trade with many countries and customers can use this feature to make their trades more fast and efficient and hassle free. SAP Global Trade Services System is based on Netwevaer Platform.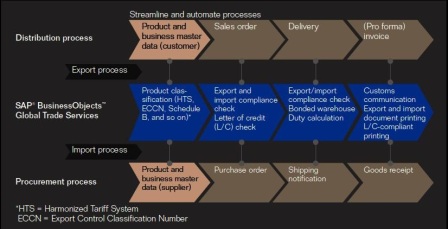 The main advantages of using SAP GTS are
Saving the time by automated processes
Expenditure reduction
Less human work involved
Automatic checking the compliance violation and banned dealers
Can keep the company brand and trust by avoiding the fines and penalties
Fast trade processing and customer satisfaction

The functionalities involved in SAP GTS are
Compliance Management: For check international trade compliance issues
Customs Management: Deals with customs-relevant transactions
Risk Management: To minimize the risks involved with financial transactions.
Electronic Compliance Reporting: For submitting the reports for intra-European trade
System Administration: Deals with settings and monitoring of the GTS feeder system.
SAP Global Trade Tables
Here is a list of possible system tables storing Global Trade related data in SAP.
Table Fields with Global Trade data
Here is a list of possible table fields which are used for storing Global Trade related data in SAP.
FTPTY – Foreign trade: Classification of foreign trade document
STADU – Foreign Trade: Print Status for Foreign Trade Document
GBNUM – Foreign Trade:Customs declaration list no. for Foreign Trade
.INCLUDE – Processing Trade: Settlement Calculation – Qty Way of Trade
GTIN – Global Trade Item Number (GTIN)
LOC_GUID – Letter of Credit GUID from SAP Global Trade Services
GTIN_GUID – GUID for Global Trade Item Number (GUID)
.INCLUDE – Extensions of Extension Global Trade Item Number
ROUTE_GTS – Route Code for SAP Global Trade Services
SPE_GTS_RT_CDE – Route Code for SAP Global Trade Services
SAKES – SAP Global Trade Services: Storage Status of Delivery
GTIN_VARIANT – Global Trade Item Number Variant
LEVEL_IN_MKTPL – Field Level (Global, Trade Spend)
GTS – Check on GTS (Global Trade Services) valid partners
QUAN_DISTRIB – Global Trade: Reassociation Strategy
COMP_PUSH – Global Trade: Complete Flag is Returned
QUAN_DIS_POD – Global Trade: Offer More Quantity Fields for Maintenance
STOCK_TYPE – Global Trade: Stock Type
WBGTA – Indicator: Global Trade is Active
WB2_EXP_ACTIVE – Global Trade: Expenses Settlement Active