Career is always a big question unless and until you have a passion for it. But sometimes passion also may not help. The trendiest career path finding is sometimes hectic. Here we discuss about the career of SAP MM consultant, their job responsibilities and description,  their career future, salary in different countries like India, USA, UK, Germany, Canada etc, how to mold you to become an SAP MM consultant etc.
Let us first see what or who is a SAP MM consultant and what is their role?
SAP MM Consultants are the professionals working with SAP MM (Material Management) module. Their main job is Material management module configuration, consulting on Material management related processes etc.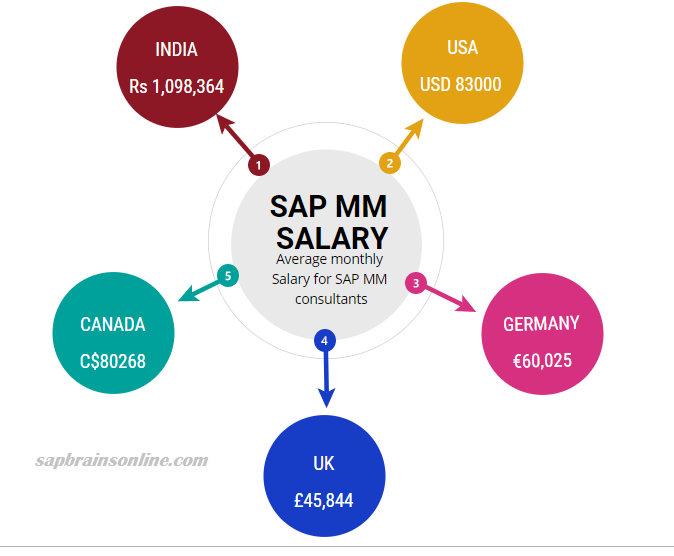 How to become SAP MM consultant
A SAP MM job basic requisites or job requirement is always as laid down:
A minimum bachelor's degree in computer science/business from a recognized institution
A solid background with designing & developing or interfacing with SAP data targets, extractors and ASAP methodology and experience in customization of SAP MM business processes (vendor creation, material availability, procure to pay, delivery, shipping, shipping costs, and invoice, etc.).
Like all other jobs, SAP MM consultant ought to have excellent oral and written communication skill
Skill to survive with regularly varying significances and work pressures.
SAP MM functional consultant means those, who are having a background of material management related job or such education qualification can have SAP MM module training. It's not a mandatory to have MM background, but those who know the material management related processes inside a company can easily learn it and will be preferred by the hiring companies. SAP also provides a certification on same named "SAP Certified Application Associate – Procurement with SAP ERP 6.0 EhP7" (Certification Code C_TSCM52_67). It's not a must to have official SAP certification, but it will add value to your profile. This Certification will cost around Rs.38, 871 (around USD 550).
Salary structures of SAP MM Consultant in each country
SAP MM Consultant Salary in India
In India, the average salary of a SAP MM consultant is around Rs 1,098,364. It will vary from 770k to 2m as per the experience and company. The main cities where SAP MM consultants working in India are Bangalore, New Delhi, Hyderabad, Pune, Kolkata, Mumbai, Chennai.
SAP MM Consultant Salary in USA
Average salary of such a SAP MM Consultant employee in USA is USD 83000 per month. It shall vary up and down. A SAP MM consultant is on demand in the cities such as Philadelphia, Houston, Dallas, Atlanta, San Francisco, New York, and Chicago.
SAP MM Consultant Salary in Germany
While moving to Germany, a SAP MM Consultant can avail an average of €60,025. The salary range can fall in between 49k to 79k. Cities seeking such an employee in Germany are Munich, Stuttgart, Frankfurt am Main, Berlin, Mannheim, Hamburg, Walldorf.
SAP MM Consultant Salary in Canada
Now it's the turn of Canada, where the average salary of such consultant is C$80268, while their salary range falls in between range 59k to 140k.The cities where SAP MM consultant jobs, available are at Calgary, Montréal, Toronto, Mississauga, Vancouver, Ottawa, Halifax.
SAP MM Consultant Salary in UK
IN UK, their average salary is £45,844, when the salary range is between 38k and 59k. The job seekers of SAP MM can browse in the cities of Birmingham, Manchester, London, Nottingham.
SAP MM Consultant Salary in Australia
While travelling to Australia, a SAP MM Consultant is eligible to get an average salary of AU$113,860. Their salary range is 73k to 130k. Sydney is the only city where such a person can survive, I should say..lol
SAP MM Consultant Salary in Singapore
At Singapore, the average salary is S$96,000, while the salary range is 84k to 106k
SAP MM Consultant Salary in South Africa
We shall discuss about the situation in Africa, towards the end. The average salary in S.Africa of a SAP MM Consultant is R450,000, whereas their salary range is 224k to 680k.
The above discussed salary in different places doesn't mean that the career of a SAP MM Consultant is limited to these places only. We were just pointing the places where they are on great demand.