SAP LO-VC sub module is an application component stands for Variant Configuration in LO. It is coming under the LO module (Logistics). Here is a quick overview tutorial about its sub modules, transaction codes and tables for your training purpose.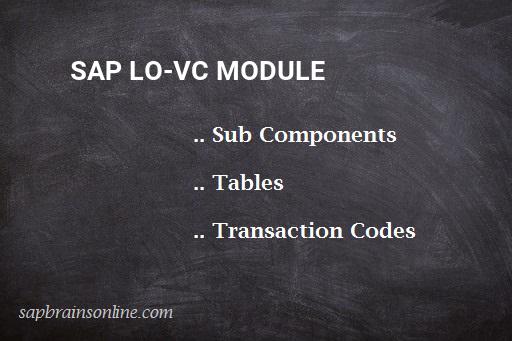 SAP LO-VC SUB COMPONENTS
Here is the list of sub components coming under the SAP Variant Configuration in LO application component with the package name they belong to.
HLA0006411 → LO-VC → Variant Configuration
ALR0009203 → LO-VC-CHR → Characteristic Value Assignment / Interface Design
ALR0009204 → LO-VC-CLN → Class Node
HLA0006412 → LO-VC-CPR → Configuration Profile
HLA0006815 → LO-VC-DEP → Dependencies
HLA0100812 → LO-VC-DEP-NET → Dependency Net
HLA0100811 → LO-VC-DEP-SIN → Single Dependency
ALR0009201 → LO-VC-ECO → Engineering Configuration (Order BOM)
AEN0000112 → LO-VC-IAD → IPC Adapter
HLA0006818 → LO-VC-INT → Integration
ALR0009206 → LO-VC-LOI → LO Integration
ALR0009205 → LO-VC-MAT → Material Variants / Type Matching
AC00000044 → LO-VC-PME → Product Modeling Environment
HLA0006817 → LO-VC-REP → Reporting
ALR0009202 → LO-VC-SCO → Sales Configuration
HLA0100815 → LO-VC-SIM → Simulation
HLA0100814 → LO-VC-VFU → Variant Functions
HLA0100813 → LO-VC-VTA → Variant Tables
EB50000011 → LO-VC-WUI → Variant Configuration Web User Interface
SAP LO-VC (Variant Configuration in LO) TABLES
Here is the list of standard SAP tables coming under LO-VC component.