SAP LO-SRS sub module is an application component stands for SAP Retail Store in LO. It is coming under the LO module (Logistics). Here is a quick overview tutorial about its sub modules, transaction codes and tables for your training purpose.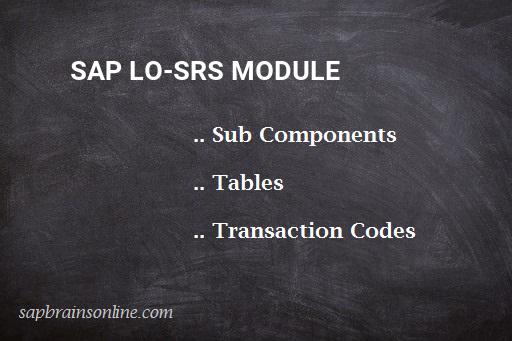 SAP LO-SRS (SAP Retail Store in LO) TABLES
Here is a list of sample 15 tables coming under LO-SRS component. Full list will be available from the mentioned link after this list.
TWIC0403A → SAP Retail Store II: Accounts for Cash Payment
TWIC0301 → SAP Retail Store PO: Allowed Document Types
WSRS_DB_PLNT_CC → SAP Retail Store: Assignment of Cost Centers to Plants
TWIC1000FM → SAP Retail Store: Master for Fields on Tabstrips
WGMH_SRS → Head for SRS PDC Goodsmovement
WOSCR_RSN_GRPT → Group for Reasons for Deviations
TWIC0518 → Retail Store: Customer Maint. – Customizing Baisic Data
TWIC1291PLRT → SAP Retail Store Material Search: Related Plants Text
WSAO_T439 → SRS STO: Order Times in Planning Calendar
TWICHIDEVKEY → Retail Store HH: Define Function Keys
WOSCR_EXI_002T → Text Table – G/L Accounts for Expense Invoice
WOSCR_RSN_GRP → Group for Reasons for Deviations
WOSCR_EXI_003 → Tax Code Lines for Expense Invoice
WSMAN_PT_BUFFER → Store Manager Portal: Buffer for Availability Display
TWIC0251T → Retail Store GM: Text for Business Transaction Group
View full list of SAP LO-SRS Tables with description