SAP LO-PDM sub module is an application component stands for Product Data Management in LO. It is coming under the LO module (Logistics). Here is a quick overview tutorial about its sub modules, transaction codes and tables for your training purpose.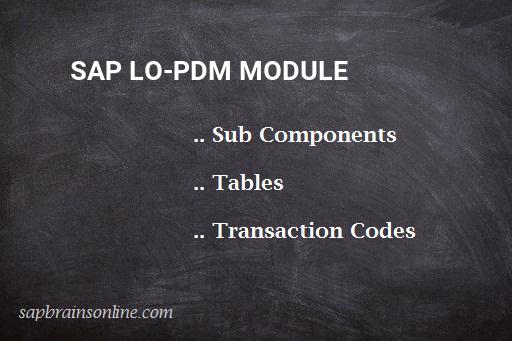 SAP LO-PDM SUB COMPONENTS
Here is the list of sub components coming under the SAP Product Data Management in LO application component with the package name they belong to.
HLA0100782 → LO-PDM → Product Data Management
HLA0100783 → LO-PDM-GF → General Functions
HLA0100784 → LO-PDM-GF-OBR → Product Structure Browser
SAP LO-PDM (Product Data Management in LO) TABLES
Here is a list of sample 15 tables coming under LO-PDM component. Full list will be available from the mentioned link after this list.
CONVERT_LOC → Location-Dependent Conversion
CEPRECEIVERS → Recipients of the distributed CM folder in CEP scenario
FILTERDEF → Operative Filter Entries for Product Structure Browser
DMUPOB → DMU item object (head for DMU transformation matrices)
CONV_MATRICES → Matrixes that must be checked into BOMs
PLM_USERGROUPS → Data Fields for User Groups
TPRBO → Business Objects with ALE Change Authorizations
FOX_INST_DB → Data Storage for FOX Instances
CEPDBL → B2E [Base] PDoc <-> Master PDoc Mapping
DMUTMX → Transformation matrix parameter in STEP format(ISO 10303-42)
CEPDOCDOCTYPES → Allowed Assignments for Document Linkages
EXPO_DATE_DB → Storage Date Elements
TCPDM01T → Function Enhancement in the Browser Toolbar – Texts
CEPDOCBOMTYPES → Allowed Assignments for Document Structures
CMAP_MCXT → Mapping Context
View full list of SAP LO-PDM Tables with description