SAP LO-MDS sub module is an application component stands for Merchandise Distribution in LO. It is coming under the LO module (Logistics). Here is a quick overview tutorial about its sub modules, transaction codes and tables for your training purpose.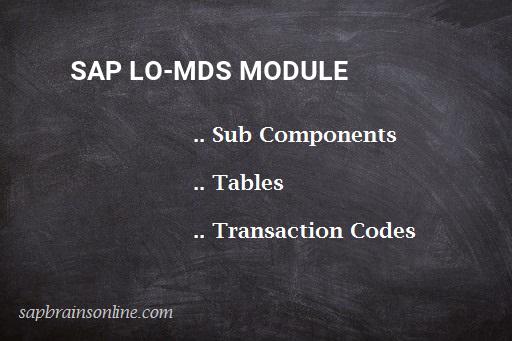 SAP LO-MDS SUB COMPONENTS
Here is the list of sub components coming under the SAP Merchandise Distribution in LO application component with the package name they belong to.
ALR0000095 → LO-MDS → Merchandise Distribution
I020004210 → LO-MDS-AL → Allocation
ALR0002161 → LO-MDS-CPO → Collective Purchase Order
ALR0000096 → LO-MDS-DPR → Distribution Processing
SAP LO-MDS (Merchandise Distribution in LO) TABLES
Here is a list of sample 15 tables coming under LO-MDS component. Full list will be available from the mentioned link after this list.
T625T → Texts for Field Rel. for Info Structure
SVUP → Allocation Rule Sub-Item (Stores)
T623 → Transaction Control, Standard Distribution
T620T → Texts for Alloc. Tbl Doc. Types
T629 → Allocation Table Rejection Reasons
AUFG → Allocation Table Sub-Item, Store Group
AUWEI → Index, Adjust Alloc Tbl After Entering Doc.
T627T → Texts for Allocation Strategies
T622T → Texts for Allocation Rule Document Types
T626 → Allocation Table Notification Categories
T621 → Item Categories for Allocation Tables
TPARA_VARIANTS_T → Parallel Processing Variants Retail – Texts
T625 → Field Relationship for Info Structure
FRET → Assignment of Procurement to Issue Docs in Mdse Distribution
SVKO → Allocation Rule / IS-R Allocation
View full list of SAP LO-MDS Tables with description