SAP LO-HU sub module is an application component stands for Handling Unit Management in LO. It is coming under the LO module (Logistics). Here is a quick overview tutorial about its sub modules, transaction codes and tables for your training purpose.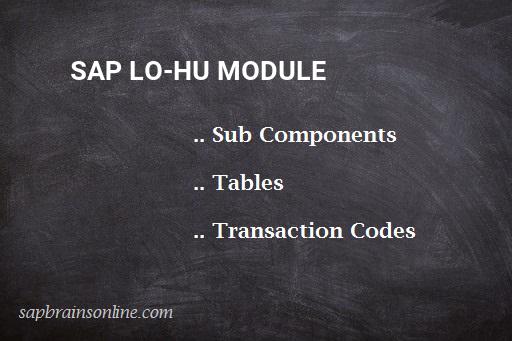 SAP LO-HU SUB COMPONENTS
Here is the list of sub components coming under the SAP Handling Unit Management in LO application component with the package name they belong to.
HUM0000001 → LO-HU → Handling Unit Management
HUM0000013 → LO-HU-AP → Automatic packing
HUM0000002 → LO-HU-BF → Basic functions
HUM0000014 → LO-HU-IS → Information system
HUM0000012 → LO-HU-MD → Master data
HUM0000011 → LO-HU-PR → Editing
SAP LO-HU (Handling Unit Management in LO) TABLES
Here is a list of sample 15 tables coming under LO-HU component. Full list will be available from the mentioned link after this list.
KOTP210 → Material/plant/storage location
KOTP100 → Material/ship-to party
TVEGR → Material Group: Packaging Materials
KOTP200 → Material/Plant
VEVW → Where-Used List for Handling Units
PACKPO → Packing Object Item
THUWBEVENT → Definition of Possible Events for HU Goods Movements
TVTYT → Packaging Material Types: Descriptions
HUEXIDV → Table with key 'external ID'
KONDP → Conditions: Packing Object Data Section
PACKKPS → Texts for Packing Object Header (PACKPO)
THUWBBWART → Movement Type per HU Goods Movement Event
KOTP410 → Material/Plant/Vendor
HUPAST_T → Packing Station Profile
PACKKP → Packing Object Header
View full list of SAP LO-HU Tables with description