SAP LO-BM sub module is an application component stands for Batches in LO. It is coming under the LO module (Logistics). Here is a quick overview tutorial about its sub modules, transaction codes and tables for your training purpose.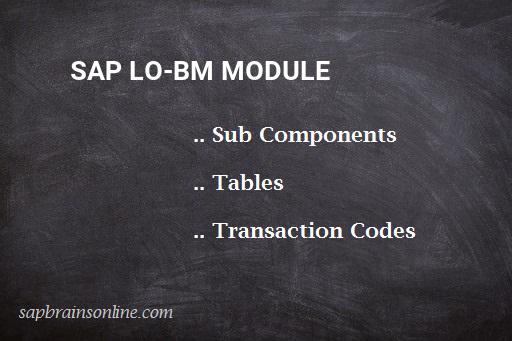 SAP LO-BM SUB COMPONENTS
Here is the list of sub components coming under the SAP Batches in LO application component with the package name they belong to.
HLA0009761 → LO-BM → Batches
HLA0100729 → LO-BM-AI → Active Ingredient Management
HLA0100725 → LO-BM-BC → Batch Specification
HLA0100727 → LO-BM-BD → Batch Determination
AL00000025 → LO-BM-BF → Basic Functions
E4A0000061 → LO-BM-BH → Batch History
AL00000026 → LO-BM-BIC → Batch Information Cockpit
HLA0100726 → LO-BM-BS → Batch Status Management
AC00000042 → LO-BM-DOB → Documentary Batches
ALR0078972 → LO-BM-DRV → Derivation
AL00000027 → LO-BM-DX → Data exchange
/GBTINT/NWC8000001 → LO-BM-GBT → Global Batch Traceability
AL00000028 → LO-BM-INT → Integration
ALR0008402 → LO-BM-MD → Batch master
PL00000011 → LO-BM-OB → Original Batch
ALR0078971 → LO-BM-SA → Overall rel.
ALR0008403 → LO-BM-SL → MHD processing
AL00000053 → LO-BM-UOM → Batch-specific Units of Measure
HLA0100728 → LO-BM-WUL → Batch Where-Used List
SAP LO-BM (Batches in LO) TABLES
Here is a list of sample 15 tables coming under LO-BM component. Full list will be available from the mentioned link after this list.
CHVW_INC_PUR → Batch Where-Used List – N:M Assignment Table – Purch. Order
ALE_BATCHES_RECP → Received Batches
TBICST → Texts for BIC Selection Tab Titles – Standard –
TBICACTT → Follow-Up Actions in Batch Information Cockpit: Texts
TCUCD → Customizing for Batch Documents for Rel. 4.6C
TOBJ_D_UPLOAD → Table to store Plant and Material relevant to Batch History
TCUCH → Customizing: Batch Configuration for Rel.3.0
CHVW_WM → Batch Where-Used List for Documentary Batches in WM
TBIC_SC_SO → BIC – Selection Variants: Select Options
TBICFT → Texts Selection Fields Batch Information Cockpit
PUROB → Original Batch for Purchase Order
TBICUG → Batch Information Cockpit User Groups
TBICSUT → Texts for Batch Information Cockpit Selection Tab Titles
TCUDB_PRODUCT → Documentary Batch – Product (Material Type)
KOTR012 → Receiving Material + Sending Material
View full list of SAP LO-BM Tables with description