SAP PA-PF sub module is an application component stands for Pension Schemes in PA. It is coming under the PA module (Personnel Management) of SAP HR. Here is a quick overview tutorial about its sub modules, transaction codes and tables for your training purpose.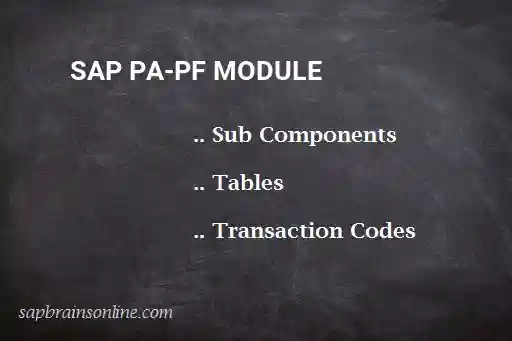 SAP PA-PF SUB COMPONENTS
Here is the list of sub components coming under the SAP Pension Schemes in PA application component with the package name they belong to.
PH40000031 → PA-PF → Pension Schemes
L9C0000521 → PA-PF-CH → Pension Fund Switzerland
HLA0100987 → PA-PF-DE → Company Pension Scheme Germany
IGA0000001 → PA-PF-NL → Pension fund Netherlands
HLA0003789 → PA-PF-XX → Pension fund: General Parts
SAP PA-PF (Pension Schemes in PA) TABLES
Here is a list of sample 15 tables coming under PA-PF component. Full list will be available from the mentioned link after this list.
T72AD → Value types of a variant for the Wage Maintenance Debugger
P01CST → Status Information CPS
T5DW4 → Control Data for Basic Calculation (Income/Contributions)
P01CSO → Special Information
T5CA8 → PC Method Determination
P01CET → Incorrect Actions CPS
T72P1 → HR-PF: Wage Type Categories for PF
P01CSL → Social Benefits CPS
T5NK4 →
T5CBI → Group Formation Types
T5CAD → PC Parameter Values
T5CPW → Ad Hoc Query Field Assignment
T5NA1 → GBA status
T5CPI → HR-CH: Settings for PC Schemata for PF
P01RBM_MZ01_BTGD → Reporting Data MZ01 Pension Receipt Notif.: Contribut. Data
View full list of SAP PA-PF Tables with description
SAP PA-PF (Pension Schemes in PA) TCODES
See some sample transaction codes used with SAP PA-PF sub module. I have added Full list with details in another tutorial (see the link after this list).
S_AHR_61012613 → IMG Activity: OHADBAV030B
S_AHR_61012519 → IMG Activity: OHADBAV350BAA
P01A_VM01 → Create Dataset
PFDESS_12PKB1 → HR-PF-BE: ESS Pension Certificate
PC00_M02_LPKPC0 → Person Selection for Pension Fund
S_AHR_61012598 → IMG Activity: OHADBAV330AA
PFDESS_12PKB3 → HR-PF-BE: ESS Retirement Statement
S_AHR_61012603 → IMG Activity: OHADBAV050A
P01A_FO03D → Check Reimbursements
PUCV → Entity copier for PC objects
S_AHR_61012521 → IMG Activity: OHADBAV330BAA
P01A_RE02 → Transfer Data to CPS Database
PAC0 → PC Editor: Initial screen
S_L7D_24000208 → IMG-Aktivität: OHPKNLAF200
S_AHR_61012555 → IMG Activity: OHADBAV630
View full list of SAP PA-PF tcodes with details