SAP PA-OS sub module is an application component stands for Organizational Structure in PA. It is coming under the PA module (Personnel Management) of SAP HR. Here is a quick overview tutorial about its sub modules, transaction codes and tables for your training purpose.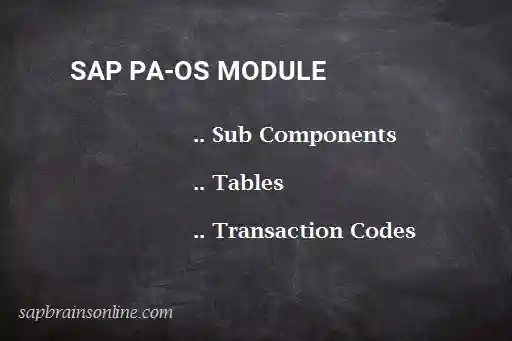 SAP PA-OS SUB COMPONENTS
Here is the list of sub components coming under the SAP Organizational Structure in PA application component with the package name they belong to.
HLA0100342 → PA-OS → Organizational Structure
HLA0100343 → PA-OS-BS → Bases
HLA0100344 → PA-OS-ST → Staffing
SAP PA-OS (Organizational Structure in PA) TABLES
Here is a list of sample 15 tables coming under PA-OS component. Full list will be available from the mentioned link after this list.
T77I8 → Assignment of Users to User Groups
HRP1013 → Infotype 1013 DB Table
T777W → Authorities/Resources Texts
T77I3 → Task Functions
T777C → Texts Restrictions
T777N → Name Format
T77WS → Person Group/Subgroup per Work Schedule Group
T777X → Reasons Texts
T77OMAHQ_FUNCARS → OM-Search Function "Free Search": Obj. Type InfoSet (Std.)
T77IB → Areas
HRP1004 → Infotype 1004 DB table
T770C → Restrictions
HRP1006 → Infotype 1006 DB table
T77I7 → View Texts
HRP1011 → Infotype 1011 DB Table
View full list of SAP PA-OS Tables with description
SAP PA-OS (Organizational Structure in PA) TCODES
See some sample transaction codes used with SAP PA-OS sub module. I have added Full list with details in another tutorial (see the link after this list).
S_AHR_61003177 → IMG Activity: SIMG_CFMENUOHP1OO9M
RE_RHXDESC1 → Position Description
S_AHR_61003078 → IMG Activity: SIMG_CFMENUOHP0UE02
S_AHR_61000364 → IMG Activity: SIMG_OALE_HRDST_49
RE_RHXIAW00 → Work Centers with Restrictions
S_AHR_61000350 → IMG Activity: OALE_HRDST_PATRV
S_AHR_61000380 → IMG Activity: OALE_HRDST_PAINW
OOOU → Create Organizational Unit
S_AHR_61000402 → IMG Activity: OALE_HRDST_PP08002
OOCDIST → Integration with Cost Distribution
OOIL → Integration Cost Allocation
PPO5 → Change attributes
S_AHR_61000346 → IMG Activity: OALE_HRDST_26
RTHCOM → Change Retail Object Assignment
OOPP → Consistency Check for Integration
View full list of SAP PA-OS tcodes with details