SAP PA stands for Personnel Administration. SAP HCM PA is a sub-component of the HCM module in SAP. As the name says this module handles the task of administration of Employees. It saves time and cost by easing regular administrative task on employee related data and functions.
SAP PA Tables SAP PA Transaction codes SAP PA Pdf tutorials
SAP Personnel Administration module stores the complete employee related data in a structured way and automatically checks the integrity of data. Using SAP HR PA, employee administration will be easy and effective. It helps to manage the functions like payroll calculations, employee benefits, their personal data etc. It also helps to track various details like cost and compensations spend for employees. Country specific variations of this module are available to deal the employee data for the companies that have operations on various countries. It helps he large organizations to deal the employees in a standardized way.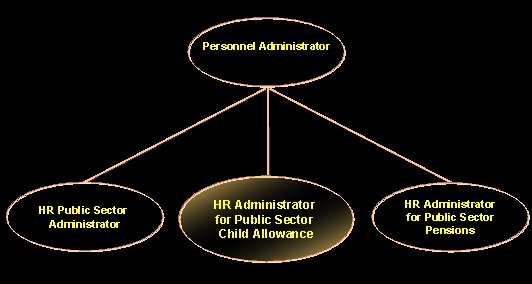 Important Tables in SAP PA
Important SAP HCM PA Transaction codes
Here is the list of application components (Sub modules) coming under Personnel Management module of SAP HR. List provides component shortform, its purpose and thye package it belongs to.
PA → Personnel Management → Package (HLA0009700)
PA-AS → HR Administrative Services → Package (AEN0000011)
PA-BN → Benefits → Package (HLA0006874)
PA-BN-AD → Administration → Package (HLA0006759)
PA-BN-BP → Administration → Package (L6B0000034)
PA-BN-CL → Claims Processing (Asia) → Package (AHR0000574)
PA-BN-CO → COBRA → Package (HLA0006873)
PA-BN-CO-EN → Enrollment → Package (HLA0100335)
PA-BN-CO-IN → Initial Notification → Package (HLA0100334)
PA-BN-ES → Employee Self-Service → Package (AHR0000884)
PA-BN-FB → Flexible Benefits → Package (PLN0000013)
PA-BN-FB-GB → Great Britain → Package (PLN0000014)
PA-BN-FB-XX → General Parts → Package (PLN0000015)
PA-BN-PL → Plans → Package (HLA0100327)
PA-BN-PL-CR → Credit → Package (HLA0100332)
PA-BN-PL-FS → Flexible Spending Accounts → Package (HLA0100331)
PA-BN-PL-HL → Health Plan → Package (HLA0100328)
PA-BN-PL-IN → Insurance → Package (HLA0100329)
PA-BN-PL-MS → Other → Package (HLA0100333)
PA-BN-PL-SP → Stock Purchase → Package (AHR0000161)
PA-BN-PL-SV → Savings → Package (HLA0100330)
PA-CE → Concurrent Employment → Package (AL00000061)
PA-CM → Compensation Management → Package (HLA0003852)
PA-CM-AD → Administration → Package (HLA0003851)
PA-CM-AD-AD → Adjustments → Package (HLA0100339)
PA-CM-AD-CS → Long-Term Incentives → Package (AHR0000584)
PA-CM-AD-EL → Eligibility → Package (HLA0100338)
PA-CM-AD-GL → Guidelines → Package (HLA0100337)
PA-CM-AD-PG → Compensation Packages → Package (HLA0100336)
PA-CM-CP → Personnel Cost Planning → Package (HLA0009709)
PA-CM-JP → Job Pricing → Package (PH40000021)
PA-CM-PL → Budgeting → Package (HLA0003853)
PA-CM-PSD → Pay Structure Design → Package (HLA0003854)
PA-CM-SC → Pay Scale Changes → Package (PH40000022)
PA-CP → Personnel Cost Planning and Simulation → Package (ALN0000051)
PA-EC → Enterprise Compensation Management → Package (ALN0000351)
PA-EC-AD → Compensation Administration → Package (ALN0000353)
PA-EC-BD → Compensation Budgeting → Package (ALN0000352)
PA-EC-JP → Job Pricing → Package (ALN0000355)
PA-EC-LT → Long-Term Incentives → Package (ALN0000354)
PA-EC-TC → Total Compensation Statement → Package (ALN0000391)
PA-EIC → Employee Interaction Center → Package (AEN0000012)
PA-ER → E-Recruiting → Package (ALN0000022)
PA-ER-AN → Analytics → Package (ALN0000026)
PA-ER-AT → Applicant Tracking → Package (ALN0000024)
PA-ER-CO → Collaboration → Package (ALN0000027)
PA-ER-RM → Requisition Management → Package (KER0000001)
PA-ER-SC → Service Center → Package (ALN0000025)
PA-ER-SP → Succession Planning → Package (KER0000011)
PA-ER-TW → Talent Warehouse → Package (ALN0000023)
PA-ESS → Employee Self-Service → Package (AHR0000441)
PA-ESS-DE → Germany → Package (PRN0000093)
PA-ESS-OCY → Other Countries → Package (PRN0000094)
PA-ESS-US → Other Countries → Package (PRN0000092)
PA-ESS-XX → Common Parts → Package (PRN0000091)
PA-ESS-XX-CE → Employee Self-Service for Concurrent Employment → Package (EH40000001)
PA-ESS-XX-CE → Concurrent Employment → Package (PRN0000111)
PA-ESS-XX-WDA → ESS Based on WD ABAP → Package (EH50000041)
PA-GE → Management of Global Employees → Package (ALN0000081)
PA-IS → HR Information Systems → Package (HLA0100341)
PA-MA → HR Manager's Desktop → Package (AHR0000442)
PA-OS → Organizational Structure → Package (HLA0100342)
PA-OS-BS → Bases → Package (HLA0100343)
PA-OS-ST → Staffing → Package (HLA0100344)
PA-PA → Personnel Administration → Package (HLA0009715)
PA-PA-AE → United Arab Emirates → Package (XNP0000002)
PA-PA-AR → Argentina → Package (AHR0000172)
PA-PA-AR-OD → Organizational Data → Package (AHR0000175)
PA-PA-AR-PD → Personal Data → Package (AHR0000173)
PA-PA-AR-PY → Payroll Data → Package (AHR0000174)
PA-PA-AT → Austria → Package (HLA0100256)
PA-PA-AT-OD → Organizational Data → Package (HLA0100259)
PA-PA-AT-PD → Personal Data → Package (HLA0100257)
PA-PA-AT-PY → Payroll Data → Package (HLA0100258)
PA-PA-AU → Australia → Package (HLA0100260)
PA-PA-AU-CE → Concurrent Employment – Personnel admin. for Australia → Package (XZ10000001)
PA-PA-AU-OD → Organizational Data → Package (HLA0100263)
PA-PA-AU-PD → Personal Data → Package (HLA0100261)
PA-PA-AU-PY → Payroll Data → Package (HLA0100262)
PA-PA-BE → Belgium → Package (HLA0100264)
PA-PA-BE-OD → Organizational Data → Package (HLA0100267)
PA-PA-BE-PD → Personal Data → Package (HLA0100265)
PA-PA-BE-PY → Payroll Data → Package (HLA0100266)
PA-PA-BR → Brazil → Package (AHR0000083)
PA-PA-BR-OD → Organizational Data → Package (AHR0000084)
PA-PA-BR-PD → Personal Data → Package (AHR0000085)
PA-PA-BR-PY → Payroll Data → Package (AHR0000086)
PA-PA-CA → Canada → Package (HLA0100268)
PA-PA-CA-OD → Organizational Data → Package (HLA0100271)
PA-PA-CA-PD → Personal Data → Package (HLA0100269)
PA-PA-CA-PY → Payroll Data → Package (HLA0100270)
PA-PA-CH → Switzerland → Package (HLA0100272)
PA-PA-CH-OD → Organizational Data → Package (HLA0100275)
PA-PA-CH-PD → Personal Data → Package (HLA0100273)
PA-PA-CH-PY → Payroll Data → Package (HLA0100274)
PA-PA-CL → Chile → Package (L4H0000002)
PA-PA-CN → China → Package (AHR0000557)
PA-PA-CN → China → Package (JD10000018)
PA-PA-CN-OD → Organizational Data → Package (JD10000021)
PA-PA-CN-PD → Personal Data → Package (JD10000019)
PA-PA-CN-PY → Payroll Data → Package (JD10000020)
PA-PA-DE → Germany → Package (HLA0100276)
PA-PA-DE-OD → Organizational Data → Package (HLA0100279)
PA-PA-DE-PD → Personal Data → Package (HLA0100277)
PA-PA-DE-PY → Payroll Data → Package (HLA0100278)
PA-PA-DK → Denmark → Package (HLA0100280)
PA-PA-DK-OD → Organizational Data → Package (HLA0100283)
PA-PA-DK-PD → Personal Data → Package (HLA0100281)
PA-PA-DK-PY → Payroll Data → Package (HLA0100282)
PA-PA-ES → Spain → Package (HLA0100284)
PA-PA-ES-OD → Organizational Data → Package (HLA0100287)
PA-PA-ES-PD → Personal Data → Package (HLA0100285)
PA-PA-ES-PY → Payroll Data → Package (HLA0100286)
PA-PA-FI → Finland → Package (AHR0000835)
PA-PA-FR → France → Package (HLA0100288)
PA-PA-FR-OD → Organizational Data → Package (HLA0100291)
PA-PA-FR-PD → Personal Data → Package (HLA0100289)
PA-PA-FR-PY → Payroll Data → Package (HLA0100290)
PA-PA-FR-TNM → Talent Needs Management → Package (EG40000001)
PA-PA-FR-TNM → Training Need Management → Package (L7D0000002)
PA-PA-GB → Great Britain → Package (HLA0100292)
PA-PA-GB-OD → Organizational Data → Package (HLA0100295)
PA-PA-GB-PD → Personal Data → Package (HLA0100293)
PA-PA-GB-PY → Payroll Data → Package (HLA0100294)
PA-PA-HK → Hong Kong → Package (AHR0000342)
PA-PA-HK-OD → Organizational Data → Package (AHR0000345)
PA-PA-HK-PD → Personal Data → Package (AHR0000343)
PA-PA-HK-PY → Payroll Data → Package (AHR0000344)
PA-PA-ID → Indonesia → Package (HLA0100841)
PA-PA-ID-OD → Organizational Data → Package (HLA0100847)
PA-PA-ID-PD → Personal Data → Package (HLA0100845)
PA-PA-ID-PY → Payroll Data → Package (HLA0100846)
PA-PA-IE → Ireland → Package (AHR0000032)
PA-PA-IE-OD → Organizational Data → Package (AHR0000035)
PA-PA-IE-PD → Personal Data → Package (AHR0000033)
PA-PA-IE-PY → Payroll Data → Package (AHR0000034)
PA-PA-IN → India → Package (AHR0000558)
PA-PA-IN-OD → Organizational Data → Package (WSD0000003)
PA-PA-IN-PD → Personal Data → Package (WSD0000001)
PA-PA-IN-PY → Payroll Data → Package (WSD0000002)
PA-PA-IT → Italy → Package (AHR0000374)
PA-PA-IT-OD → Organizational Data → Package (AHR0000377)
PA-PA-IT-PD → Personal Data → Package (AHR0000375)
PA-PA-IT-PY → Payroll Data → Package (AHR0000376)
PA-PA-JP → Japan → Package (HLA0100296)
PA-PA-JP-OD → Organizational Data → Package (HLA0100299)
PA-PA-JP-PD → Personal Data → Package (HLA0100297)
PA-PA-JP-PY → Payroll Data → Package (HLA0100298)
PA-PA-KR → Korea → Package (AHR0000559)
PA-PA-KR → South Korea → Package (JD1000001)
PA-PA-KR-OD → Organizational Data → Package (JD1000004)
PA-PA-KR-PD → Personal Data → Package (JD1000002)
PA-PA-KR-PY → Payroll Data → Package (JD1000003)
PA-PA-KW → Kuwait Personnel Administration → Package (HRI0000006)
PA-PA-MX → Mexico → Package (HLA0100300)
PA-PA-MX-CE → Concurrent Employment – Personnel Administration Mexico → Package (PR00000131)
PA-PA-MX-OD → Organizational Data → Package (HLA0100303)
PA-PA-MX-PD → Personal Data → Package (HLA0100301)
PA-PA-MX-PY → Payroll Data → Package (HLA0100302)
PA-PA-MY → Malaysia → Package (HLA0100842)
PA-PA-MY-OD → Organizational Data → Package (HLA0100850)
PA-PA-MY-PD → Personal Data → Package (HLA0100848)
PA-PA-MY-PY → Payroll Data → Package (HLA0100849)
PA-PA-NL → Netherlands → Package (HLA0100304)
PA-PA-NL-OD → Organizational Data → Package (HLA0100307)
PA-PA-NL-PD → Personal Data → Package (HLA0100305)
PA-PA-NL-PY → Payroll Data → Package (HLA0100306)
PA-PA-NO → Norway → Package (AHR0000293)
PA-PA-NO-OD → Organizational Data → Package (AHR0000296)
PA-PA-NO-PD → Personal Data → Package (AHR0000294)
PA-PA-NO-PY → Payroll Data → Package (AHR0000295)
PA-PA-NZ → New Zealand → Package (HLA0100843)
PA-PA-NZ-OD → Organizational Data → Package (HLA0100853)
PA-PA-NZ-PD → Personal Data → Package (HLA0100851)
PA-PA-NZ-PY → Payroll Data → Package (HLA0100852)
PA-PA-PH → Philippines → Package (AHR0000297)
PA-PA-PH-OD → Organizational Data → Package (AHR0000300)
PA-PA-PH-PD → Personal Data → Package (AHR0000298)
PA-PA-PH-PY → Payroll Data → Package (AHR0000299)
PA-PA-PT → Portugal → Package (AHR0000541)
PA-PA-PT-OD → Organizational Data → Package (AHR0000544)
PA-PA-PT-PD → Personal Data → Package (AHR0000542)
PA-PA-PT-PY → Payroll Data → Package (AHR0000543)
PA-PA-QA → State of Qatar → Package (L4H0000031)
PA-PA-RU → State of Qatar → Package (AC00000021)
PA-PA-RU-OD → Organizational Data → Package (AC00000121)
PA-PA-RU-PD → Personal Data → Package (AC00000119)
PA-PA-RU-PY → Payroll Data → Package (AC00000120)
PA-PA-RU-RP → Personnel Administration reporting → Package (AC00000122)
PA-PA-RU-RP-BS → RU Basic PA reports → Package (AC00000124)
PA-PA-RU-RP-ORD → RU Orders → Package (AC00000123)
PA-PA-RU-RP-XX → Other RU reports → Package (AC00000125)
PA-PA-SA → Kingdom of Saudi Arabia → Package (XNP0000001)
PA-PA-SE → Sweden → Package (HLA0100308)
PA-PA-SE-CE → Concurrent employment (Sweden) → Package (EH40000011)
PA-PA-SE-OD → Organizational Data → Package (HLA0100311)
PA-PA-SE-PD → Personal Data → Package (HLA0100309)
PA-PA-SE-PY → Payroll Data → Package (HLA0100310)
PA-PA-SG → Singapore → Package (HLA0100312)
PA-PA-SG-OD → Organizational Data → Package (HLA0100315)
PA-PA-SG-PD → Personal Data → Package (HLA0100313)
PA-PA-SG-PY → Payroll Data → Package (HLA0100314)
PA-PA-SOA → Enterprise Services – Personnel Administration → Package (EH50000011)
PA-PA-TH → Thailand → Package (AHR0000443)
PA-PA-TH-OD → Organizational Data → Package (AHR0000446)
PA-PA-TH-PD → Personal Data → Package (AHR0000444)
PA-PA-TH-PY → Payroll Data → Package (AHR0000445)
PA-PA-TW → Taiwan → Package (HLA0100844)
PA-PA-TW-OD → Organizational Data → Package (HLA0100856)
PA-PA-TW-PD → Personal Data → Package (HLA0100854)
PA-PA-TW-PY → Payroll Data → Package (HLA0100855)
PA-PA-US → USA → Package (HLA0100316)
PA-PA-US-EFR → USA → Package (AEN0000061)
PA-PA-US-OD → Organizational Data → Package (HLA0100319)
PA-PA-US-PD → Personal Data → Package (HLA0100317)
PA-PA-US-PY → Payroll Data → Package (HLA0100318)
PA-PA-VE → Venezuela → Package (AHR0000176)
PA-PA-VE-OD → Organizational Data → Package (AHR0000179)
PA-PA-VE-PD → Personal Data → Package (AHR0000177)
PA-PA-VE-PY → Payroll Data → Package (AHR0000178)
PA-PA-XX → General → Package (HLA0100324)
PA-PA-XX-BS → Bases → Package (HLA0100325)
PA-PA-XX-ET → External personnel administration → Package (AHR0000346)
PA-PA-XX-ONB → Onboarding → Package (EH50000001)
PA-PA-XX-TL → Tools → Package (HLA0100326)
PA-PA-XX-TL-SEN → Calculation of Employment Period → Package (PL00000021)
PA-PA-ZA → South Africa → Package (HLA0100320)
PA-PA-ZA-EE → Employment Equity (EE) → Package (L9C0000525)
PA-PA-ZA-NQ → National Qualifications Framework (NQF) → Package (L9C0000524)
PA-PA-ZA-OD → Organizational Data → Package (HLA0100323)
PA-PA-ZA-PD → Personal Data → Package (HLA0100321)
PA-PA-ZA-PY → Payroll Data → Package (HLA0100322)
PA-PA-ZA-SP → Modeling: Salary → Package (L9C0000523)
PA-PAD-BAS → Bases → Package (HLA0009610)
PA-PAD-CON → Contractual and Corporate Agreements → Package (HLA0003705)
PA-PAD-EVA → Evaluation Basis → Package (HLA0003707)
PA-PAD-FS → Further Settings → Package (HLA0008978)
PA-PAD-INT → Integration → Package (HLA0009620)
PA-PAD-ORG → Organizational Data → Package (HLA0003704)
PA-PAD-PAY → Payroll Data → Package (HLA0003706)
PA-PAD-PAY → Payments → Package (HLA0009611)
PA-PAD-PAY → Standard Wage Maintenance → Package (HLA0009612)
PA-PAD-PAY → Loans → Package (HLA0009613)
PA-PAD-PAY → Legal Provisions and Deductions → Package (HLA0009614)
PA-PAD-PAY → Payroll Data → Package (HLA0009615)
PA-PAD-PER → Personal Data → Package (HLA0003703)
PA-PAD-SKI → Performance Appraisal → Package (HLA0003709)
PA-PAO → Personnel & Organization → Package (EHI0000002)
PA-PAY-AU → Deductions → Package (HLA0009584)
PA-PAY-DK → Further Reporting → Package (HLA0008920)
PA-PAY-DK → Data Medium Exchange → Package (HLA0008928)
PA-PAY-DK → Payroll Account → Package (HLA0008930)
PA-PAY-DK → Payroll Journal → Package (HLA0008931)
PA-PAY-DK → Cash Breakdown List → Package (HLA0008933)
PA-PAY-DK → DA/DS Statistics → Package (HLA0008934)
PA-PAY-JP → Monthly Payroll → Package (HLA0008505)
PA-PAY-MY → General → Package (HLA0003893)
PA-PAY-SG → General → Package (HLA0009805)
PA-PAY-SG → Further Reporting → Package (HLA0009811)
PA-PAY-SG → Evaluations/Statistics → Package (HLA0009812)
PA-PAY-SG → Statements → Package (HLA0009813)
PA-PAY-US → Statements → Package (HLA0009731)
PA-PD → Personnel Development → Package (HLA0009702)
PA-PD-AP → Appraisal Systems → Package (AHR0000222)
PA-PD-DP → Development Plans → Package (AHR0000221)
PA-PD-PA → Appraisal → Package (HLA0100345)
PA-PD-PM → Objective Setting and Appraisals → Package (ALN0000052)
PA-PD-QR → Qualifications and Requirements → Package (HLA0006864)
PA-PD-SP → Career and Succession Planning → Package (HLA0006866)
PA-PF → Pension Schemes → Package (PH40000031)
PA-PF-BE → Pension Schemes → Package (L6B0000031)
PA-PF-CH → Pension Fund Switzerland → Package (L9C0000521)
PA-PF-DE → Company Pension Scheme Germany → Package (HLA0100987)
PA-PF-NL → Pension fund Netherlands → Package (IGA0000001)
PA-PF-XX → Pension fund: General Parts → Package (HLA0003789)
PA-PM → Budget Management → Package (AL00000081)
PA-PM-FP → Human Resource Funds and Position Management → Package (AHR0000233)
PA-PM-FP-FM → Integration with Funds Management → Package (AHR0000624)
PA-PM-PB → Position Budgeting and Control → Package (ALN0000241)
PA-RC → Recruitment → Package (HLA0009716)
PA-RC-AA → Applicant Administration → Package (HLA0006875)
PA-RC-AS → Applicant Selection → Package (HLA0006876)
PA-RC-WA → Workforce Requirements and Advertising → Package (HLA0006753)
PA-SFI → Integration with SuccessFactors BizX → Package (HRI0000001)
PA-SFI-EC → Integration with SuccessFactors BizX Employee Central → Package (HRI0000002)
PA-SFI-TM → Integration with SuccessFactors BizX Talent Management → Package (HRI0000003)
PA-TM → Talent Management → Package (P7H1000001)
PA-TV → Travel Management (see Financial Acctg -> Travel Management) → Package (HLA0100993)
PDF Tutorials and Training Materials
Tutorials