SAP SRM is coming as part of Business Suite Software and its full form is Supplier Relationship Management. As the name says its dealing with suppliers for better performance and returns. This article contains the list of SAP SRM components, tables, transaction codes & SRM PDF tutorials & manuals.
It helps the organization to reduce their procurement expenses. Also it helps the coordination between business processes and suppliers relationship. Check the SRM pdf tutorial attached with this article , also refer the components, important tables, transaction codes using with SRM to gain more exposure.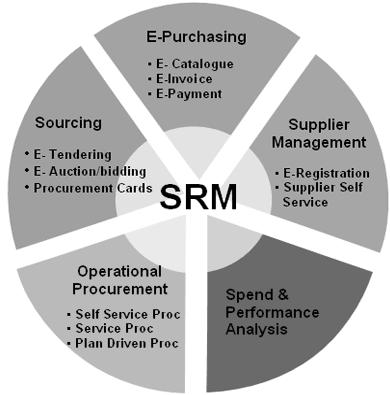 SAP SRM Components
Here is the full list of application components (Sub-modules) coming under SAP Supplier Relationship Management.
SRM → Supplier Relationship Management → Package (A4C0000121)
SRM-BW → SRM Analytics → Package (A4C0000184)
SRM-BW-EBP → Enterprise Buyer Analytics → Package (A4C0000185)
SRM-BW-SUS → Supplier Self-Services Analytics → Package (A4C0000186)
SRM-CAT → Catalogs → Package (A4C0000187)
SRM-CAT-ICA → Integrated Catalog → Package (A4C0000189)
SRM-CAT-PI → Product Information → Package (A4C0000190)
SRM-CAT-RQI → Requisite Catalog → Package (A4C0000188)
SRM-CI → Content Integrator → Package (A4C0000181)
SRM-CI-APP → Content Integrator Application → Package (A4C0000183)
SRM-CI-BAS → Content Integrator Basis → Package (A4C0000182)
SRM-CM → SRM Category Management → Package (PME0000011)
SRM-CM-BW → SRM Category Management – BI Content → Package (PME0000013)
SRM-CM-UI → SRM Category Management – WebDynp part → Package (PME0000012)
SRM-CMT → Content Management → Package (A4C0000191)
SRM-CMT-PCM → Product Catalog Maintenance → Package (A4C0000193)
SRM-CMT-PCW → Product Content Workbench → Package (A4C0000192)
SRM-CSD → Central Supplier Directory → Package (A4C0000194)
SRM-EBP → Enterprise Buyer → Package (AEC0000002)
SRM-EBP-ADM → Enterprise/Business Partner Management → Package (AEC0000019)
SRM-EBP-ADM-ORG → Organizational Management → Package (AEC0000494)
SRM-EBP-ADM-USR → User Maintenance → Package (AEC0000492)
SRM-EBP-ADM-XBP → External Business Partner → Package (AEC0000493)
SRM-EBP-ALR → Events and Alert Management → Package (E5S0000021)
SRM-EBP-APM → Application Monitors → Package (PFC0000001)
SRM-EBP-APP → Approval → Package (AEC0000016)
SRM-EBP-ARV → Archiving → Package (A3C0000006)
SRM-EBP-BID → RFx → Package (PFC0000002)
SRM-EBP-BW → Business Warehouse Integration → Package (A3C0000005)
SRM-EBP-CA → Cross-Application Functions → Package (AEC0000495)
SRM-EBP-CA-ACC → Account Assignment → Package (AEC0000496)
SRM-EBP-CA-ATT → Attachments → Package (A4C0000201)
SRM-EBP-CA-BUD → Budget → Package (A4C0000199)
SRM-EBP-CA-CND → SRM DO Conditions → Package (/SAPSRM/PMF0000001)
SRM-EBP-CA-DEX → Document Extensibility → Package (/SAPSRM/E9D0000011)
SRM-EBP-CA-DIF → Version comparison → Package (E9D0000012)
SRM-EBP-CA-HIS → History → Package (A4C0000200)
SRM-EBP-CA-LIM → History → Package (/SAPSRM/E6S0000041)
SRM-EBP-CA-MSP → MarketSet Procurement → Package (AEC0000498)
SRM-EBP-CA-NUM → SRM Configurable Line Item Numbering → Package (E9D0000013)
SRM-EBP-CA-PAY → SRM Payment Data DO → Package (E9D0000014)
SRM-EBP-CA-PRC → Pricing → Package (A3C0000001)
SRM-EBP-CA-PRS → Partner / Partner Screen → Package (PMC0000001)
SRM-EBP-CA-PRT → Document Output / Forms → Package (PMC0000003)
SRM-EBP-CA-PWL → Document Output / Forms → Package (/SAPSRM/E6S0000033)
SRM-EBP-CA-SCL → SRM Schedule Line DO → Package (E9D0000015)
SRM-EBP-CA-SIG → Digital Signature → Package (/SAPSRM/PMF0000033)
SRM-EBP-CA-SRH → Schnellsuche und erweiterte Suche → Package (/SAPSRM/E6S0000032)
SRM-EBP-CA-TAX → Taxes → Package (AEC0000497)
SRM-EBP-CA-TOL → SRM Tolerances DO → Package (E9D0000016)
SRM-EBP-CA-UI → User Interface/Templates → Package (A4C0000202)
SRM-EBP-CA-UWL → Zentraler Arbeitsvorrat → Package (/SAPSRM/E6S0000034)
SRM-EBP-CA-VRS → Versions → Package (PMC0000004)
SRM-EBP-CA-XML → XML Communication → Package (AEC0000499)
SRM-EBP-CAT → EBP Catalog Interface → Package (AEC0000012)
SRM-EBP-CGS → Confirmation Goods/Service → Package (PFC0000008)
SRM-EBP-CMT → Content Management → Package (AEC0000491)
SRM-EBP-CON → Contract Management → Package (AEC0000372)
SRM-EBP-CON-MC → SRM Mass Changes to Contracts → Package (/SAPSRM/PMF0000032)
SRM-EBP-CPO → Component Planning PM/CS Orders → Package (PFC0000004)
SRM-EBP-CRI → Cross-Industry Functions → Package (E9D0000072)
SRM-EBP-CRI-OPT → Options → Package (E9D0000073)
SRM-EBP-CRI-PA → Pricing Arrangements → Package (E9D0000074)
SRM-EBP-CRS → Collaboration-Room Services → Package (A3C0000004)
SRM-EBP-CUS → Customizing → Package (PFC0000007)
SRM-EBP-ESA → SRM Enterprise Services → Package (F5S0000001)
SRM-EBP-EXR → External Requirement → Package (A4C0000197)
SRM-EBP-FW → SRM Framework → Package (E9D0000081)
SRM-EBP-INB → Inbox → Package (AEC0000015)
SRM-EBP-INT → R/3 Plug-In Interfaces → Package (A4C0000203)
SRM-EBP-INV → Invoicing → Package (AEC0000021)
SRM-EBP-LCA → Authoring Tool for Legal Contracts → Package (E6S0000002)
SRM-EBP-MOB → Mobile Procurement → Package (PFC0000071)
SRM-EBP-PD → Purchase Document Methods → Package (A4C0000198)
SRM-EBP-POR → Local Purchase Order → Package (PFC0000005)
SRM-EBP-PPS → Public-Sector Functions → Package (/SAPPSSRM/E9D0000067)
SRM-EBP-PPS-FI → Public Sector Integrated with Financials → Package (/SAPPSSRM/E9D0000068)
SRM-EBP-PPS-GM → Guaranteed Minimum → Package (E9D0000071)
SRM-EBP-PRC → Procurement Card → Package (AEC0000017)
SRM-EBP-PRE → Purchase Order Response → Package (EBS0000001)
SRM-EBP-PRO → Product Master Data → Package (E6S0000001)
SRM-EBP-QUO → RFx Response → Package (PFC0000003)
SRM-EBP-REP → Reporting → Package (AEC0000018)
SRM-EBP-RMS → Integration with SAP Records Management → Package (/SAPPSSRM/PMF0000041)
SRM-EBP-SCL → Shopping Cart with Limit → Package (A4C0000195)
SRM-EBP-SHP → Shopping Cart → Package (AEC0000011)
SRM-EBP-SOC → Sourcing → Package (A3C0000003)
SRM-EBP-STA → Status → Package (AEC0000013)
SRM-EBP-TEC → Technical Problems → Package (A3C0000011)
SRM-EBP-TEC-ITS → ITS and Web Files → Package (A3C0000012)
SRM-EBP-TEC-MW → Middleware → Package (E9D0000017)
SRM-EBP-TEC-UPG → Upgrade → Package (E9D0000018)
SRM-EBP-VE → Vendor Evaluation → Package (A4C0000196)
SRM-EBP-VL → Supplier List → Package (A3C0000002)
SRM-EBP-VL-ASL → List of Preferred Suppliers → Package (/SAPSRM/PMF0000051)
SRM-EBP-VL-QTA → Quota Arrangement → Package (/SAPSRM/PMF0000052)
SRM-EBP-WFL → Workflow → Package (AEC0000022)
SRM-EBP-WKL → Redistribution of Workload → Package (PMC0000002)
SRM-ESO → E-Sourcing → Package (/SAPSRM/E7S0000014)
SRM-ESO-CLM → Contract Lifecycle Management → Package (/SAPSRM/E7S0000015)
SRM-LA → Live Auction → Package (E9D0000051)
SRM-LA-INT → Integration → Package (E9D0000052)
SRM-LA-MSG → Messaging → Package (E9D0000053)
SRM-LA-UI → User Interface → Package (E9D0000054)
SRM-LOC → Localization – Country Versions → Package (/LOCSRM/E9D0000061)
SRM-LOC-BR → Localization – Country Version Brazil → Package (/LOCSRM/E9D0000062)
SRM-LOC-ES → Localization – Country Version Spain → Package (/LOCSRM/E9D0000063)
SRM-LOC-FR → Localization – Country Version France → Package (/LOCSRM/E9D0000065)
SRM-LOC-IL → Localization – Country Version Israel → Package (/LOCSRM/E9D0000064)
SRM-LOC-IN → Localization – Country Version India → Package (/LOCSRM/E9D0000066)
SRM-ROS → Registration of Suppliers → Package (EBS0000011)
SRM-SUS → Supplier Self-Services → Package (PIC0000051)
SRM-SUS-ADM → Business Partner, User, Customizing → Package (E9D0000019)
SRM-SUS-COF → ASN / Confirmation → Package (E9D0000020)
SRM-SUS-INV → Invoice → Package (E9D0000021)
SRM-SUS-ORD → Order / Order Response → Package (E9D0000022)
SRM-SUS-XI → XI Mapping, Interfaces, Process Integration → Package (E9D0000023)
SRM-XXX → Supplier Self-Services (Not Used!) → Package (A4C0000204)
Important Tables
ADR10
BUT000
BBP_PDACC
CRMD_PARTNER
Important Transaction codes
PPOCV_BBP
BBPMAININT
R3AS
SAP SRM Tutorials