All you heard about SAP ERP software . But confused about functional modules ? What is called as a SAP Module or Which Module should I Select? Why there are several modules and what is the requirement for that. A lot of questions and doubts. Here is the answer with an overview about Modules in SAP.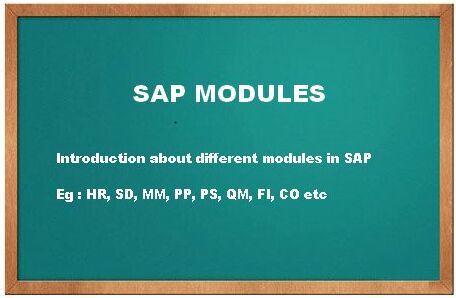 A company has different functions right? It will have a sales department , marketing department, HR department, accounting section etc etc. You all know all these section handles different functions of a company and all are integrated with each other.
For example HR department linked with financial ( accounting ) team for salary and other related things. Sales and Distribution need to link with material storage ( stores ) to check the balance stock and all. Different areas ( functions) of a company but all are interlinked for running as a single unit of company.
In SAP software all these functions are divided as Modules. SAP MM Module deals with material management sections , SAP SD module deal with Sales & Distribution etc. Now I am sure that you got the picture.
SAP now are moving away from describing their system as a set of modules, and now are using the term 'solutions', which is much better. Now let us look into an overview about the complete list of Modules ( Solutions ) in SAP.
Product Lifecycle Management
Supply Chain Management
If you're still looking for that list of sub-modules, here they are:
Sub Modules of FI Module – Financial Accounting (View SAP FI Tutorial)
Book close
Tax
Special ledgers
Sub Modules of CO Module – Controlling (View SAP CO Tutorial)
Cost elements
Cost centres
Profit centres
Internal orders
Activity based costing
Product costing
Sub Modules of AM Module – Asset Management 
Purchase
Sale
Depreciation
Tracking
PS Module – Project Systems (View SAP PS Tutorial)
Make to order
Plant shut downs (as a project)
Third party billing (on the back of a project)
HR Module – Human Resources (View SAP HR Tutorial)
Employment history
Payroll
Training
Career management
Succession planning
PM Module – Plant Maintenance (View SAP PM Tutorial)
Labour
Material
Down time and outages
MM Module – Materials Management (View SAP MM Tutorial)
Requisitions
Purchase orders
Goods receipts
Accounts payable
BOM's
Master raw materials,finished goods etc
QM Module – Quality Management  (View SAP QM Tutorial)
Planning
Execution
Inspections
Certificates
PP Module – Production Planning (View SAP PP Module)
Capacity planning
Master production scheduling
Shop floor
SD Module – Sales and Distribution (View SAP SD Tutorial)
RFQ
Sales orders
Pricing
Picking (and other warehouse processes)
Packing
Shipping
CA Module- Cross Application (View SAP CA Tutorial)
BW – business information warehouse
Office – for email
Workplace
Industry solutions
New Dimension products such as CRM, PLM, SRM, APO etc
SAP Warehouse management Module