SAP FS-CM sub module is an application component stands for Claims Management in FS. It is coming under the FS module (Financial Services). Here is a quick overview tutorial about its sub modules, transaction codes and tables for your training purpose.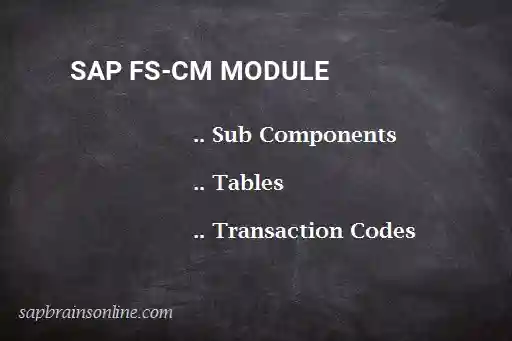 SAP FS-CM SUB COMPONENTS
Here is the list of sub components coming under the SAP Claims Management in FS application component with the package name they belong to.
ITB0000001 → FS-CM → Claims Management
/GSINS/E5M3000002 → FS-CM-LC → Financial Services Localization
SAP FS-CM (Claims Management in FS) TABLES
Here is a list of sample 15 tables coming under FS-CM component. Full list will be available from the mentioned link after this list.
TIAM110T → Activity Management: Tasks – Texts
TICL010 → Evaluation of Witness Report
TICL296 → FS-CM/FS-PM Interface: Parameters
ICLUS → Claim Handler
TICL297T → FS-CM/FS-PM Interface: Value Assignment Source/Target Value
TICL847 → Assignment of Reserve Groups to Reserve Group Clusters
TICL004 → Subclaim Type
TICL551 → Tax Payment Type
TIGN221 → Settings for Search Criteria in a Search
ICSREF → Coverage Referral in Claim
ICLDRIVER1 → Example 1 for IBNR Driver Table
TICL022 → Claim Item Rejection Reason
ICLLITITEM → Litigation Level
ICLITEMDD → Damaged Object – Damage Descriptor – Assignment
TICL019 → Navigation Targets in Claim
View full list of SAP FS-CM Tables with description
SAP FS-CM (Claims Management in FS) TCODES
See some sample transaction codes used with SAP FS-CM sub module. I have added Full list with details in another tutorial (see the link after this list).
S_KK4_08000366 → IMG Activity:
ICLWM1 → BDT ICL: Applications
S_KK4_08000028 → IMG Activity:
S_KK4_08000239 → IMG Activity:
ICLEBLKINV01 → Collective Invoice: Create
S_KK4_08000450 → IMG Activity:
S_KK4_08000250 → IMG Activity:
ICLSCWM7 → BDT ICLB: Events
SFCMT → IMG: Structured Facts Capture
ICLE102 → BDT-Event: Authorization Type
ICLE4 → BDT-Event: Sections
ICL_ICLIBNRQUART_MOD → Modify Incl. CI_ICLINBNRQUART
ICL_ULAEPEREDIT → Edit Reserve Parts Manually
S_KK4_08000293 → IMG Activity:
S_KK4_08000085 → IMG Activity:
View full list of SAP FS-CM tcodes with details