SAP Financial Services is a solution for handling Banking related operations. It is shortly known as FS. Financial Services is also known as Banking services. This post covers details about SAP FS components, tables, transaction codes, tutorials & PDF training materials.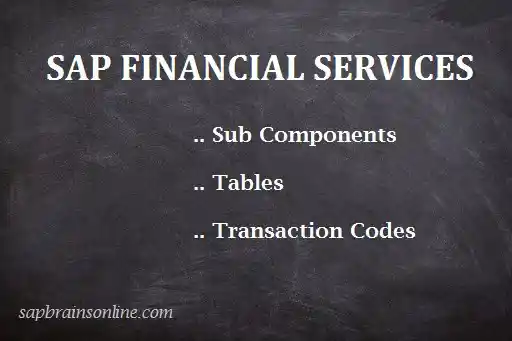 SAP Financial Services (Banking Services) Components
Here is the list of application components (Sub modules) coming under Financial Services module in SAP. List provides component short form, its purpose and the package it belongs to.
FS → Financial Services → Package (KK40000021)
FS-BP → Business Partner → Package (KFM0000891)
FS-CD → Collections/Disbursements → Package (I250008802)
FS-CM → Claims Management → Package (ITB0000001)
FS-CM-LC → Financial Services Localization → Package (/GSINS/E5M3000002)
FS-CML → Loans Management → Package (HLA0100074)
FS-CML-AC → Accounting → Package (HLA0100081)
FS-CML-AC-AD → Accruals/Deferrals → Package (HLA0100100)
FS-CML-AC-PE → Posting Evaluations → Package (HLA0100102)
FS-CML-AC-PO → Posting → Package (HLA0100082)
FS-CML-AC-PO-IP → Posting: Individual Processing → Package (HLA0100091)
FS-CML-AC-PO-MP → Posting: Mass Processing → Package (HLA0100090)
FS-CML-AC-PO-TR → Balance Sheet Transfer → Package (HLA0100084)
FS-CML-AC-PP → Prepare Posting → Package (HLA0100085)
FS-CML-AC-PP-PR → Update planned records → Package (HLA0100086)
FS-CML-AC-PP-PS → Posting simulation → Package (HLA0100087)
FS-CML-AC-RPM → Receivables/Payment Management → Package (HLA0100092)
FS-CML-AC-RPM-DU → Dunning → Package (HLA0100088)
FS-CML-AC-RPM-IAS → Incoming Bank Statement → Package (HLA0100096)
FS-CML-AC-RPM-IAS-AU → Automatic → Package (HLA0100097)
FS-CML-AC-RPM-IAS-MA → Manual → Package (HLA0100098)
FS-CML-AC-RPM-PAY → Payment Generation → Package (HLA0100095)
FS-CML-AC-RPM-PP → Payment Postprocessing → Package (HLA0100099)
FS-CML-AC-VA → Valuation → Package (HLA0100101)
FS-CML-BD → Basic Data → Package (HLA0100103)
FS-CML-BD-FD → Filed Documents → Package (HLA0100108)
FS-CML-BD-MD → Master Data → Package (HLA0100104)
FS-CML-BD-MD-BP → Business Partners → Package (HLA0100105)
FS-CML-BD-MD-CO → Collateral → Package (HLA0100111)
FS-CML-BD-MD-LT → Loan Types → Package (HLA0100107)
FS-CML-BD-MD-OB → Objects → Package (HLA0100106)
FS-CML-BD-RI → Risk Settings → Package (HLA0100109)
FS-CML-BD-RI-CS → Credit Standing Calculation → Package (HLA0100112)
FS-CML-BD-RI-CV → Collateral Value → Package (HLA0100110)
FS-CML-BD-RI-LI → Limit Management → Package (HLA0100113)
FS-CML-BD-RI-RH → Risk Hierarchies → Package (HLA0100114)
FS-CML-CN-CO → Correspondence → Package (HLA0100077)
FS-CML-CS → Current Settings → Package (ALN0000494)
FS-CML-IS → Information System → Package (HLA0100115)
FS-CML-NB → New business → Package (HLA0100075)
FS-CML-PO → Portfolio → Package (HLA0100078)
FS-CML-PO-CT → Capital Transfer → Package (HLA0100079)
FS-CML-PO-DI → Outgoing Payments → Package (HLA0100076)
FS-CML-PO-PR → Premium Reserve Fund → Package (HLA0100080)
FS-CML-PO-WA → Waiver → Package (HLA0100093)
FS-CML-PO-WBO → Workplace: Business Operations → Package (KFM0000032)
FS-CML-PO-WO → Depreciation → Package (HLA0100094)
FS-CMS → Collateral Management System → Package (ALN0000071)
FS-CMS-AO → Add On → Package (ALN0000076)
FS-CMS-BW → CMS-BW Interface → Package (PLN0000005)
FS-CMS-CAL → Calculations → Package (PEN0000012)
FS-CMS-IS → Information System → Package (ALN0000364)
FS-CMS-LIQ → Liquidation → Package (PEN0000011)
FS-CMS-MD → Master Data → Package (ALN0000072)
FS-CMS-MD-AST → Asset → Package (ALN0000073)
FS-CMS-MD-CAG → Collateral Agreement → Package (ALN0000074)
FS-CMS-MD-INV → Inventory → Package (PLN0000004)
FS-CMS-MD-LR → Land Register → Package (ALN0000363)
FS-CMS-MD-MOV → Movables → Package (PLN0000002)
FS-CMS-MD-RBL → Receivable → Package (ALN0000075)
FS-CMS-MD-RE → Real Estate → Package (ALN0000077)
FS-CMS-MD-RIG → Rights → Package (PLN0000003)
FS-CMS-MD-SEC → Securities → Package (ALN0000362)
FS-CMS-MD-SHP → Ship → Package (ALN0000361)
FS-CS → Commission → Package (I500000111)
FS-FND-AF → Commission → Package (FSD0000001)
FS-FND-MKD → Market Data → Package (/BA1/FNO0000038)
FS-FND-PSJ → Process Step Journal → Package (FSD0000011)
FS-RBD → Value Adjustment → Package (ALN0000281)
FS-RBD-IPX → Reserve for Bad Debts � impairment processing extension → Package (/IBX/EIS0000011)
FS-SR → Regulatory reporting for insurance companies → Package (I500000122)
FS-SR-AT → Austria → Package (ALN0000121)
FS-SR-CH → Switzerland → Package (ALN0000122)
FS-SR-DE → Germany → Package (ALN0000123)
SAP FS TABLES
SAP FS TCODES
SAP FS Tutorials
SAP Financial Services – PDF Training Materials