SAP FI-LOC sub module is an application component stands for Localization in FI. It is coming under the FI module (Financial Accounting). Here is a quick overview tutorial about its sub modules, transaction codes and tables for your training purpose.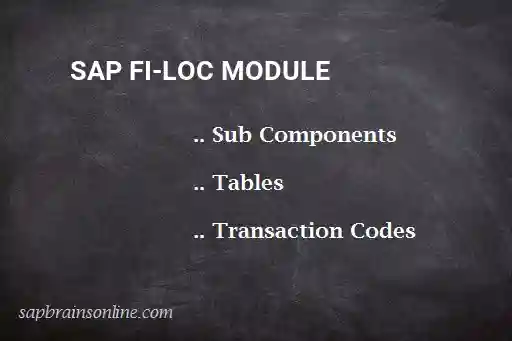 SAP FI-LOC (Localization in FI) TABLES
Here is a list of sample 15 tables coming under FI-LOC component. Full list will be available from the mentioned link after this list.
PTSAFT_MATPRE → SAFT PT : prefix for material numbers
IDCN_ZJFSKIPACC → Skip G/L Account from P&L Account Closing Posting (China)
IDUAE_FUND_TST → Settings for Fund Transfer Systems (Text)
J_3RF_CORR_INV → Define Correction Invoices (Russia)
J_1IEWTCALID → Calendar for Payment Due date-EWT India
EPIC_C_FORMCONF → EPIC: PDF Printing Form Configuration
IDCN_DOCTYP → Assign Account Document Type for Vorcher Type
IDREPFW_O_CSV_E → Rep.Framework: Output CSV Versions
TIVXCJPPRGROUP → Grouping of result in Payment Charges Report
FIITC_CONFIG → Italy Generic Configuration for Reporting
J_3RFSECTYPE → Define Secondary Event Types
J_1IEXCDEP → Excise information of vendor at detail level for depot
J_1ISTATECD → State Codes; e-Filing, Localization India
J_1ISRGRPS → Excise Document Series
IDREPFW_REPLI_T → Rep.Framework: Lines mapping
View full list of SAP FI-LOC Tables with description
SAP FI-LOC (Localization in FI) TCODES
See some sample transaction codes used with SAP FI-LOC sub module. I have added Full list with details in another tutorial (see the link after this list).
J1INCRT → Customizing for Certificate Printing
S_AL0_96000118 → IMG activity: J_1IEXSRDET
J3RFNKSSTARTUP → Verification of Invoices (Russia)
J3RFDEPRBONUS → Depreciation Bonus Calculation
J3RTAXAE → Assign Tax Hierarchy to CC/ledger
J2IUN → Monthly utilization
J3RFCNT → Maintain Internal Contract Numbers
S_AL0_96000159 → IMG activity: J_1IEWTSURC
S_AL0_96000154 → IMG activity: J_1IEWTCALID
J3RSDP → Deal Passport
S_P6B_12000301 → RFCNGAIS
FIWTSA_CERT → Withholding Tax Cert.for Ven(SAU)
J3RFF4V → Define Cash Flow Statement Versions
/KJRTAX01/PUPLOAD → Upl. Migrat.- Data from LY XML (JP)
S_AL0_96000120 → IMG activity: J_1IVTTXID
View full list of SAP FI-LOC tcodes with details