SAP EHS-SAF sub module is an application component stands for Product Safety in EHS. It is coming under the EHS module (Environment, Health and Safety). Here is a quick overview tutorial about its sub modules, transaction codes and tables for your training purpose.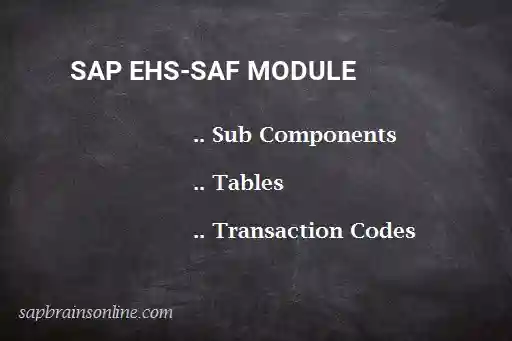 SAP EHS-SAF SUB COMPONENTS
Here is the list of sub components coming under the SAP Product Safety in EHS application component with the package name they belong to.
HLA0100681 → EHS-SAF → Product Safety
EE50000013 → EHS-SAF-GLM → Global Label Management
AER0000025 → EHS-SAF-RCK → Regulation Checks
HLA0003437 → EHS-SAF-REP → Report Management
ALR0000064 → EHS-SAF-RIS → Report Information System
ALR0000063 → EHS-SAF-RSH → Report Shipping
SAP EHS-SAF (Product Safety in EHS) TABLES
Here is a list of sample 15 tables coming under EHS-SAF component. Full list will be available from the mentioned link after this list.
TCGES_ATTRIBUTES → EHS: Search Form – Enterprise Search – Attributes
CVDDH → EHS: Report shipping orders
CCRCT_PRPL → EHS: Planned Produced Quantities
ESTRH → EHS: Specification Header
TCG3151 → EHS: Specification Type – Property Tree Assignment
ESTOCCADDINFO → EHS: OCC: Information About Additional Tables Loaded
CCRCT_DOCTYPE → EHS: Scenario Categories
ESTWL → EHS: BOMBOS – Worklist Table
TCGRULPOSUW → EHS: Easy Expert Set of Rules, Usage Entry for Writing
TCGGRPTREE → EHS: Group tree – group – assignment
TCG53 → EHS: Property Tree – Value Assignment Type Assignment
TCGST02 → EHS: Assignment Value Assignment Type to Status
TCG04 → EHS: Table for Names of Son-Type DDIC Objects
CCGLC_ARBPL → EHS: GLM Work Center
TCGRP → EHS: Key date for report generation and shipping
View full list of SAP EHS-SAF Tables with description
SAP EHS-SAF (Product Safety in EHS) TCODES
See some sample transaction codes used with SAP EHS-SAF sub module. I have added Full list with details in another tutorial (see the link after this list).
CG2B → Edit Generation Variant
OEH4 → Field Catalog Variants V_T681F
CGBB → EHS: Initial generation of phr. sets
CBGL_LS03 → EHS: Display Label Stock
S_SH1_20000006 → IMG Activity: CBRC_TRACK_SCENARIOS
CG42 → Edit Report Templates
CGA6 → EHS: Value Assignment Assessment
CGD1 → EHS: Phrase languages
CBGL_LS02 → EHS: Edit Label Stock
S_SH1_20000010 → IMG Activity: CBRC_ERR_MESSAGES
CBGL_CS03 → EHS: Transfer WWI Printer
CGCV → EHS: Customizing – usage profile
CGB4 → EHS: Number range phrase key
CGA4 → EHS: Identification Category
CVRC1WWIWP → RC1WWIWP – Authorization Test
View full list of SAP EHS-SAF tcodes with details