SAP EHS stands for Environment, Health and Safety. SAP EHS module is used for dealing risks related with environment like pollution, employees health & safety, accidents etc. This EHS tutorial provides details about its sub modules, tables, transaction codes and PDF training materials.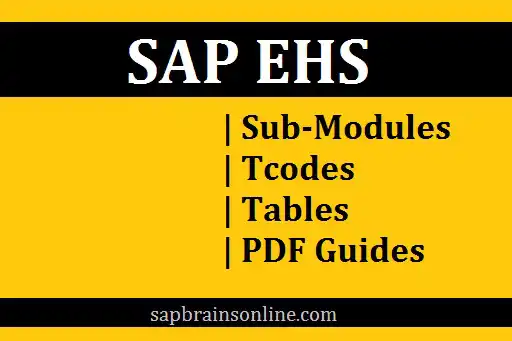 SAP Environment, Health & Safety Sub Modules
Here is the list of application components (Sub modules) coming under Environment, Health and Safety module in SAP. List provides component short form, its purpose and the package it belongs to.
EHS → Environment, Health and Safety → Package (HLA0003435)
EHS-BD → Basic Data and Tools → Package (ALN0000221)
EHS-BD-CCK → Compliance Check → Package (PRN0000031)
EHS-BD-PHR → Phrase Management → Package (ALR0000061)
EHS-BD-RDF → Report Definition → Package (ALR0000062)
EHS-BD-SIS → Specification Information System → Package (SH10000021)
EHS-BD-SPE → Specification Management → Package (HLA0003436)
EHS-BD-TLS → Tools → Package (ALR0000065)
EHS-DGP → Dangerous Goods Management → Package (HLA0100682)
EHS-DGP-BD → Basic Data → Package (ALR0000066)
EHS-DGP-CHK → Dangerous Goods Checks → Package (HLA0100684)
EHS-DGP-DOC → Dangerous Goods Documents → Package (HLA0100685)
EHS-DGP-HU → Integration in Handling Unit → Package (AER0000024)
EHS-DGP-MD → Master Data → Package (HLA0100683)
EHS-DGP-TLS → Tools → Package (ALR0000067)
EHS-DGP-TP → Template and One-Time Material Processing → Package (ALN0000242)
EHS-HEA → Occupational Health → Package (AHR0000431)
EHS-HEA-BD → Basic Data → Package (AHR0000432)
EHS-HEA-IIL → Injury/Illness Log → Package (SH10000016)
EHS-HEA-REP → Reporting → Package (AHR0000435)
EHS-HEA-SCH → Scheduling → Package (AHR0000433)
EHS-HEA-SRV → Medical Service → Package (AHR0000434)
EHS-HSM → Hazardous Substance Management → Package (ALN0000231)
EHS-HSM-CHK → Hazardous Substance Checks → Package (AER0000022)
EHS-HSM-MD → Master Data → Package (AER0000021)
EHS-HSM-TLS → Tools → Package (AER0000023)
EHS-IHS → Industrial Hygiene and Safety → Package (SH10000008)
EHS-IHS-EXP → Exposure Management → Package (SH10000012)
EHS-IHS-HSB → Health and Safety Briefings → Package (SH10000010)
EHS-IHS-IA → Incident/Accident Management → Package (SH10000009)
EHS-IHS-INS → Site Inspections → Package (SH10000013)
EHS-IHS-MEM → Measurement Management → Package (ALN0000312)
EHS-IHS-REP → Information System → Package (SH10000015)
EHS-IHS-RSK → Risk Assessment → Package (SH10000014)
EHS-IHS-WA → Work Area Management → Package (SH10000011)
EHS-MGM → SAP EHS Management → Package (EE50000001)
EHS-MGM-FND → Foundation for EHS Management → Package (EE50000002)
EHS-MGM-FND-BOC → Business Objects, Common Components → Package (EE50000008)
EHS-MGM-FND-EP → Portal Content → Package (EE50000007)
EHS-MGM-FND-FRM → Print Forms and Interactive Forms → Package (EE50000006)
EHS-MGM-FND-INT → Integration Objects → Package (EE50000021)
EHS-MGM-FND-LOC → Locations / Location Structure → Package (EH10000001)
EHS-MGM-FND-UI → User Interface, Common Components → Package (EE50000022)
EHS-MGM-FND-WF → Process Foundation → Package (EE50000004)
EHS-MGM-INC → Incident Management → Package (EE50000003)
EHS-MGM-INC-ANA → Incident Analytics, Dashboards, Reports → Package (EH10000002)
EHS-MGM-INC-FRM → Incident Interactive Forms and Print Forms → Package (EE50000011)
EHS-MGM-INC-REC → Incident Recording → Package (EE50000009)
EHS-MGM-INC-REP → Incident Reporting → Package (EE50000012)
EHS-MGM-INC-WF → Incident Workflow and Tasks → Package (EE50000010)
EHS-MGM-PRC → Product Compliance → Package (EH70000004)
EHS-MGM-PRC-DEC → Substance Declarations → Package (EH70000007)
EHS-MGM-PRC-EPT → Endpoint Data Management and IUCLID Interface → Package (EH70000011)
EHS-MGM-PRC-IMD → IMDS → Package (EH70000010)
EHS-MGM-PRC-MAT → Material and Product Structure Assessment → Package (EH70000005)
EHS-MGM-PRC-REG → Registration Management → Package (EH70000009)
EHS-MGM-PRC-REP → Product and REACH Compliance Reporting → Package (EH70000012)
EHS-MGM-PRC-SCC → Supply Chain Collaboration → Package (EH70000006)
EHS-MGM-PRC-SUB → Pure Substance Data Management → Package (EH70000008)
EHS-MGM-RAS → Risk Assessment → Package (EH70000021)
EHS-MGM-RAS-AEV → Risk Analysis and Evaluation → Package (EH70000022)
EHS-MGM-RAS-AME → Analysis Methods for Risk Assessment → Package (EH70000023)
EHS-MGM-RAS-ANA → Analytics and Reporting for Risk Assessment → Package (EH70000024)
EHS-MGM-RAS-FRM → Forms and Print Forms for Risk Assessment → Package (EH70000025)
EHS-MGM-RAS-IDN → Risk Identification → Package (EH70000026)
EHS-MGM-RAS-TMT → Risk Treatment → Package (EH70000027)
EHS-MGM-RAS-WF → Workflows and Tasks for Risk Assessment → Package (EH70000028)
EHS-SAF → Product Safety → Package (HLA0100681)
EHS-SAF-GLM → Global Label Management → Package (EE50000013)
EHS-SAF-RCK → Regulation Checks → Package (AER0000025)
EHS-SAF-REP → Report Management → Package (HLA0003437)
EHS-SAF-RIS → Report Information System → Package (ALR0000064)
EHS-SAF-RSH → Report Shipping → Package (ALR0000063)
EHS-WA → Waste Management → Package (SH10000001)
EHS-WA-BD → Basic Data → Package (SH10000002)
EHS-WA-DOC → Disposal Documents → Package (SH10000005)
EHS-WA-INT → Interfaces → Package (SH10000007)
EHS-WA-MD → Master Data → Package (SH10000031)
EHS-WA-PRO → Disposal Processing → Package (SH10000003)
EHS-WA-REP → Reporting → Package (SH10000006)
EHS-WA-SET → Disposal Settlement → Package (SH10000004)
SAP EHS TABLES
SAP EHS TCODES
SAP EHS Tutorials
SAP EHS PDF Training Materials