Service requests in SAP CRM are employed largely to evaluate and measure all kinds of services provided, both within an organization and outside it. With CRM Service Request Management, it is possible to service customers in a better way. In fact, through this software, it is possible to approve, submit, dispatch, fulfill requests, and submit service requests in a hassle-free way with customers.
There are different ways to register service requests. For example, these requests can be logged by contacting the service personnel directly or by logging into a service desk. Alternatively, users can put themselves into the system and, if required, have the services delivered through appropriate personnel. A business scenario where Service Request Management can be effectively put into practice is the IT Service Management. In this scenario, Service Request Management solutions are used for tracking and resolving issues that are present within the IT infrastructure of all employees within the organization.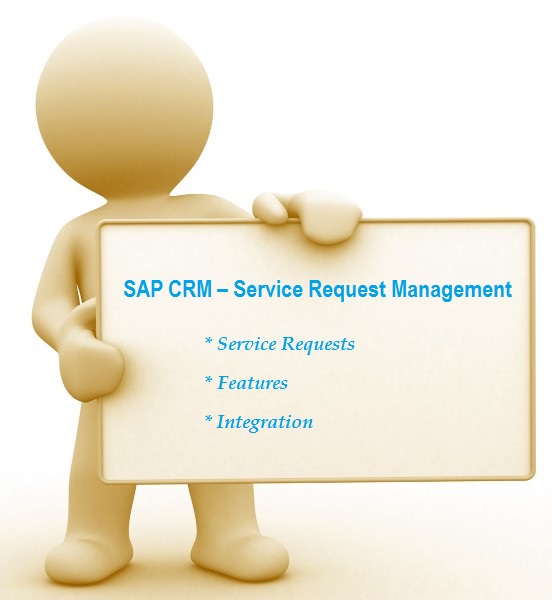 Service Requests
You can make Service Requests from CRM 7.0. Why are they used? They are made use of not just to provide functionality in service tickets, but also master service requests, knowledge articles, and multilevel categorization. Different Business Object Types are used while placing service requests. For example, the Business Object Type used for building master service requests is BUS2000224 and so on.
Service Request Management Features
Different features can be made use of in using Service Request Management.
For the specific requirements of Service Request Management, you can have the business transactions set up easily.
There are many helpful tools available that can be made use of to help monitor all the service requests that have been assigned to different service teams and your organizations.
There is also an option to have the information flow optimized to keep updating your service personnel at regular intervals about the reference objects, contracts, customers, and the status of the service requests.
How the service requests are processed can also be monitored.
Different functions can be used for supporting your service requests adequately. For example, for recording all the processing steps, you can make use of Processing Log, using Forwarding option that will help adapt your varied requirements, Text management option to have the information presented in the form of text for both external and internal documentation processes, etc.
Integration
You can use Service Request Management with SAP NetWeaver Business Intelligence for generating extensive content that can later be used for thorough analysis.
It is also possible to integrate Service Request Management with ERMS (E-Mail Request Management System). Therefore, when you send an e-mail to the service desk via ERMS, a service request will be generated automatically. Even the subsequent replies will be linked with that request.
CRM surveys can be used in the Employee Interaction Center and the Shared Services for evaluating different services that have been performed against a service request. The best part about this is that the surveys can be tagged to specific time periods or service request categories and can be initiated when the status of the service request is triggered.