Details about SAP CRM Service Contracts. The outline agreements that a business gets into with its partners is what constitutes Service Contracts. It is these contracts that define the type of services rendered to the party during the agreed period. For often than not, Service Contracts are established for long-term service agreements with business partners that are made against the scope of services and content guaranteed, including the specified tolerance limits that could be set for certain types of parameters, like a predefined timeframe, etc.
For example, Service Contracts could include a certain clause that could define the way a company will respond during times when the business with which they entered an agreement with makes a request. If the customer's machine, for example, runs into a technical glitch, they can be assured of getting the timely help from the company with whom they have an agreement, say like getting the required help or assistance within 24 hours, etc.
Typically, in a service contract, the detailed information is specified that will be agreed upon by the recipient of the service, like:
Prices for different routine tasks
Routine tasks for items that have either been rented or sold to the customer
Objects for which claiming can be made
Conditions under which the cancellation of contact can be made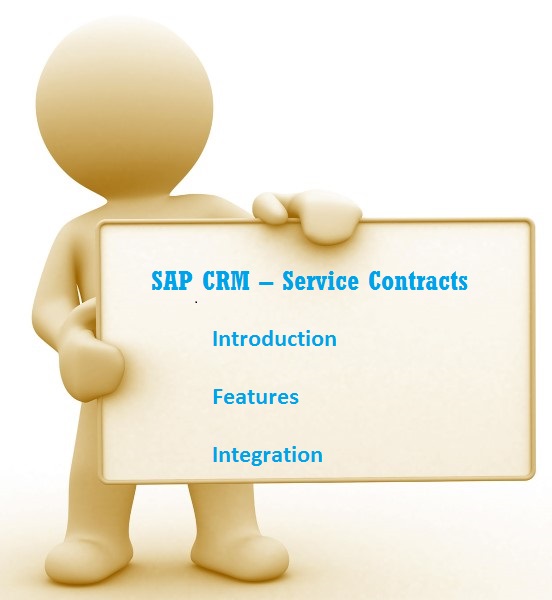 Service contacts can be used for different purposes all through the validity period. Here are some areas where they can be used:
Automatic billing can be automatically triggered using a service contract
Different follow-up activities can be triggered well before the service contract's validity period runs out
For finding out whether the service request generated by a customer has the backing from the service contract
For determining the validity of a cancellation request made by a customer
There are different ways to create a service contract. You either have the option to create it directly or as a transaction follow-up for a service contract template, or a service contract quotation, or a service agreement.
Features
Under normal circumstances, a service contract will include an item data and a header data. Against each service contract generated, a service product can be defined and this can be claimed at a specified time and over a certain period.
For service products, different types of services can be stipulated:
Individual services like a hotline
Usage-based services (for example, maintenance of a photocopier after a stipulated number of copies)
A service plan for which reoccurring planned services are entered (for example, maintaining pumps after every 4 months)
A service plan limited against a stipulated quantity or value (for example, free consultations via phone after purchasing software, valued at $200)
A complicated service that could include several materials and services, like the inspection of an automobile.
Integration
You can have service contacts downloaded onto a laptop and can have them assigned to any document. This way you can track the price changes that take place on the device. Service contracts can also be displayed by internet users. If such a user creates a complaint or a service request, then it can be tagged against a particular service contract and so on.