CRM in SAP stands for Customer Relationship Management. As the name says this application is mainly focused with the customers of an organization. It helps the organization to evaluate the customers needs and analyze their experience with the company. Refer the CRM tables, Transaction codes and PDF Tutorials after reading the overview.
SAP CRM is coming with Business Suite. Its main intention is to provide a centralized insights about their customers by integrating the required data from all sections like marketing, sales, billing etc. Customer interaction is also becoming easy and efficient by using CRM application. It helps the organization to take strategical decisions based on their customers.
As the business environment is getting competitive, the focus of a majority of companies has been on one of its most important assets – customers. Companies, both big and small, are increasingly using a suitable software solution to cater to different needs of customers which are easily customizable, user-friendly, can be integrated fully, and can be implemented in a hassle-free way. SAP CRM can be best described as a business strategy that can be employed for optimizing customer interactions. In a way, it can be used for understanding customers better.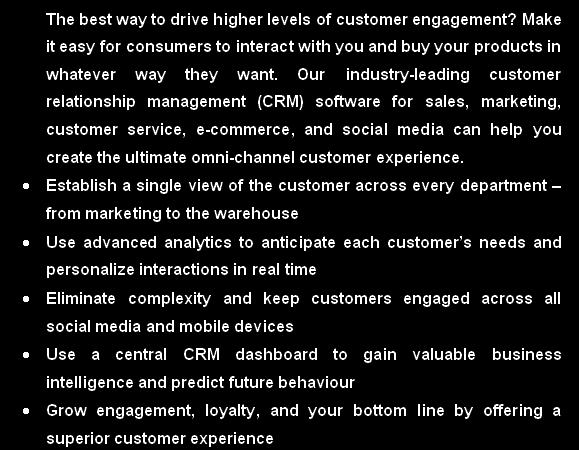 SAP CRM Overview
SAP provides a wide range of software solutions as a part of SAP Business Suite which is open and flexible and can support different types of operating systems, applications, hardware platforms, and databases from most of the vendors. SAP CRM is one of the major solutions that are provided in this suite. SAP CRM is based on SAP NetWeaver that can be used for custom development and integration with various systems and applications.
if you want to know the difference between CRM and ERP, please read our article about ERP vs CRM vs SAP.
SAP CRM Features
It covers all important customer-focused business areas like sales, marketing, and sales.
SAP CRM comes as a part of SAP Business Suite that can be used for effectively managing the customer relationship.
It can be employed on various customer interaction channels including the Internet, Mobile Clients (mobile, laptop, etc.), and Interaction Center.
A vital component of SAP CRM, CRM Analytics can be used for gathering necessary information about customers and analyze this knowledge base to gain insights into various strategic decision-making and operational process.
Important modules in SAP CRM
Sales
Marketing
Service
Analytics
Interaction Center
Web Channel ( Depriciated and using Hybris platform now )
SAP Hybris
SAP CRM Marketing
There are extensive marketing functionalities with SAP CRM. In fact, with SAP CRM Marketing functionality, you can easily automate the planning and execution of your marketing efforts. What's more, you can also measure your marketing efforts. SAP CRM facilitates the integration of important functions that are related to marketing on an interface that can be easily configured and is user-friendly. These functions include:
Marketing Planning
Lead Management
Campaign Management
Market Analytics
E-Marketing
Customer Segmentation
SAP CRM Sales
The SAP CRM Sales module is well equipped to handle customer contact anywhere, anytime. What's more, companies can choose among different CRM Sales implementation, including Field Sales, E-Selling, Enterprise Sales, and Telesales.
Help the sales force of your business to be more effective and efficient in working.
Help provide all necessary information that can be used for taking action and maintaining productive activities.
Help in sales forecasting and analytics that can be used for collecting historical information and thus predict future sales.
For ensuring the efficiency of the sales department of organization SAP CRM Sales includes opportunity and pipeline management of various processes that can easily lead to standardization of some of the best practices for the company.
SAP CRM Service
SAP CRM service helps companies respond to customer's query, right from the confirmation of the order stage till the billing stage. SAP CRM is also extremely beneficial for companies at it help them with quotation creation & processing, service order creation, and allotment of field service representative.
Some of the important transaction codes used in CRM are
CRMBS02
CRMCACTARC
CRMC_ACTIVITY_H
CRMC_ACT_SURVEY
CRMC_BL_COPY_QUERIES
CRMC_IC_CLMPROF
Important SAP CRM Tables
BUT000
ADRC
BUT050
BUT0BANK
BUT150
CRMM_BUT_BUHI_1
CRMM_BUT_CUSTNO
SAP CRM PDF Tutorials
SAP CRM Tutorials
Some Basic Questions & Answers
What is the full form of CRM?
Full form of CRM is Customer Relationship Management.
What are the important components of SAP CRM?
Some of the important components of SAP CRM are SAP CRM Sales, SAP CRM Marketing, SAP CRM Service, SAP CRM Interaction Center etc.