SAP CA-WUI sub module is an application component stands for WebClient UI in CA. It is coming under the CA module (Cross Application). Here is a quick overview tutorial about its sub modules, transaction codes and tables for your training purpose.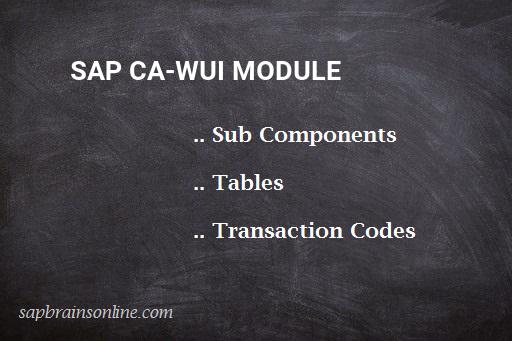 SAP CA-WUI SUB COMPONENTS
Here is the list of sub components coming under the SAP WebClient UI in CA application component with the package name they belong to.
PNF0000011 → CA-WUI → WebClient UI
PNF0000012 → CA-WUI-APF → Application Frame
PNF0000013 → CA-WUI-BI → BI Integration
PNF0000014 → CA-WUI-CON → UI Configuration & Design Layer
PNF0000001 → CA-WUI-EP → UI Portal Integration
PNF0000002 → CA-WUI-ES → Enterprise Search Integration
PNF0000021 → CA-WUI-GOL → Generic Object Layer
PNF0000023 → CA-WUI-GOL-BOL → Business Object Layer
PNF0000022 → CA-WUI-GOL-GIL → Generic Interaction Layer
PNF0000015 → CA-WUI-PRS → Personalization
A0F0000001 → CA-WUI-RA → Rapid Applications
PNF0000016 → CA-WUI-ROL → Roles Management
PNF0000017 → CA-WUI-SEA → Search
PNF0000018 → CA-WUI-UI → User Interface
PNF0000019 → CA-WUI-UI-RT → UI Runtime Environment
PNF0000020 → CA-WUI-UI-TAG → Tag Library
PNF0000024 → CA-WUI-WKB → Development Workbench
PNF0000025 → CA-WUI-WST → Web Services Tool
SAP CA-WUI (WebClient UI in CA) TCODES
See some sample transaction codes used with SAP CA-WUI sub module. I have added Full list with details in another tutorial (see the link after this list).
WCF_CC_LOG → Upgrade Tool Result List
BSP_DLC_SDESIGN → SAP Design Objects
WCF_ICONS → Maintain SAP icons
START_BSP → Start a BSP Application
BSP_WD_CMPWB_NEW → BSP WD Component Workbench
CRM_ES_MT → CRM_ES_ALL_MODEL_TRANSFER
LTX_SAPGUI → Launch SAPGUI with given BOR params
CRMOST_LOG → Show generation logs
WCF_CC → Upgrade Tool Central Check
CRMC_UI_CLIP → Activitiy Clipboard
WUI → Start the WebClient UI
WCF_AC_PROVC → Maintain Action Providers
CRM_UI → Start CRM WebClient
BSP_WD_CMPWB → UI Component Workbench
CRMC_UI_CONF_KEY → Define Role Config Keys
View full list of SAP CA-WUI tcodes with details