SAP CA-FS sub module is an application component stands for Financial Services in CA. It is coming under the CA module (Cross Application). Here is a quick overview tutorial about its sub modules, transaction codes and tables for your training purpose.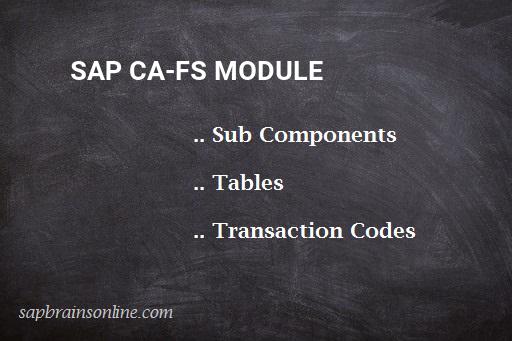 SAP CA-FS SUB COMPONENTS
Here is the list of sub components coming under the SAP Financial Services in CA application component with the package name they belong to.
ABA0000322 → CA-FS → Financial Services
ABA0000381 → CA-FS-AD → Link Between Address Management and Objects
KBI0000083 → CA-FS-ARE → Archiving Engine
PAB0000001 → CA-FS-BP → Business Partner Enhancements for Financial Services
ABA0000492 → CA-FS-CDC → Check Digit Calculation
ABA0000491 → CA-FS-ECH → Error and Conflict Handler
KBI0000075 → CA-FS-HDS → Hierarchical Derivation Service
/BA1/BT60000031 → CA-FS-MKD → Basic Market Data
ABA0000651 → CA-FS-XO → XO-Extensible Objects
SAP CA-FS (Financial Services in CA) TCODES
See some sample transaction codes used with SAP CA-FS sub module. I have added Full list with details in another tutorial (see the link after this list).
S_ALR_87009377 → IMG Activity: PHONETISCHE_SUCHE_GP
S_ALR_87009327 → IMG Activity: SIMG_CFMENUORFBOB10
S_ALR_87009381 → IMG Activity: SIMG_CFORFBOB27ZAFR
S_ALR_87009538 → IMG Activity: ROLLE-SICHT-ZUORD_GP
S_ALR_87009428 → IMG Activity: NUMMERNKREISE_GP
/BA1/F4_IRS03 → Display Interest Rate Spreads
S_ALR_87002786 → IMG Activity: SIMG_CFMENUOFTDOT33
S_ALR_87009413 → IMG Activity: GPZUSATZ5_GP
S_ALR_87009370 → IMG Activity: ROLLE-SICHT-ZUORD_GP
HDS → Initial Screen – HDS
ECH_RESOL_SYS → Define SAP Resolution Strategy
S_ALR_87009333 → IMG Activity: BRANCHE_GF
S_ALR_87009358 → IMG Activity: ANREDE_GP
V_TBD001 → Business Partner: Grpng to Acct Grp
S_ALR_87009443 → IMG Activity: SIMG_CFMENUORFBOB18
View full list of SAP CA-FS tcodes with details