SAP CA-CL sub module is an application component stands for Classification in CA. It is coming under the CA module (Cross Application). Here is a quick overview tutorial about its sub modules, transaction codes and tables for your training purpose.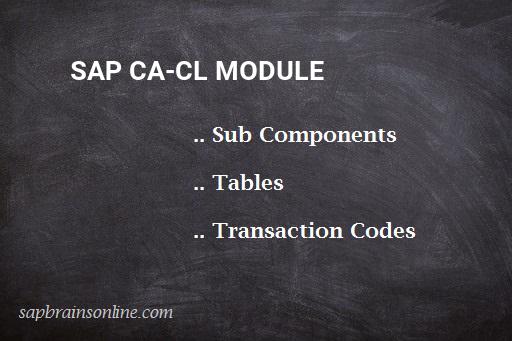 SAP CA-CL SUB COMPONENTS
Here is the list of sub components coming under the SAP Classification in CA application component with the package name they belong to.
HLB0006402 → CA-CL → Classification
HLB0006414 → CA-CL-CHR → Characteristics
HLB0006416 → CA-CL-CL → Classification
HLB0006415 → CA-CL-CLS → Classes
HLB0006810 → CA-CL-ENV → Environment
HLB0006855 → CA-CL-SEL → Object Selection
BTD0000001 → CA-CL-WUI → Classification Web User Interface
SAP CA-CL (Classification in CA) TCODES
See some sample transaction codes used with SAP CA-CL sub module. I have added Full list with details in another tutorial (see the link after this list).
S_ALR_87011758 → .
S_ALR_87003831 → IMG Activity: SIMG_CFMENUO000O005
BD91 → Send Characteristic
CLCO → 2.1A Copy Tables for Classes
S_ALR_87003789 → IMG Activity: SIMG_CFMENUO0002239
CT02 → Change Characteristic
O005 → C CL Characteristic Default Settings
S_AX7_68000287 → S_AX7_68000287
S_ALR_87003752 → IMG Activity: SIMG_CFMENUO000SMOD
O12A → Maintain Object Types
CL6O → Plus-Minus Object Display
O1CL → Maintain Class Types
CLB1 → Batch Input for Classification
CT06 → Display Characteristic
CLWL → Delete Generic Article (MMS)
View full list of SAP CA-CL tcodes with details