SAP CA-BK sub module is an application component stands for Bank in CA. It is coming under the CA module (Cross Application). Here is a quick overview tutorial about its sub modules, transaction codes and tables for your training purpose.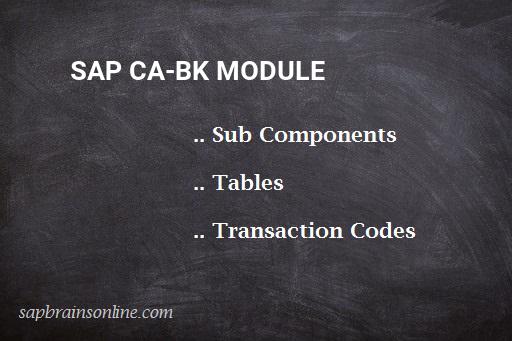 SAP CA-BK (Bank in CA) TCODES
See some sample transaction codes used with SAP CA-BK sub module. I have added Full list with details in another tutorial (see the link after this list).
BA01 → Table T005BU
BAUP → Bank Data Transfer
FIBAN → Maintain IBAN
FSEPA_M1 → SEPA: Create Mandate
OBA9 → C FI Maintain Table T015Z
FPSEPA_AR1 → SEPA Archiving
S_P00_07000057 → Distribution of the bank master data
FIPS → Create PSP Bank
IBANMD → Generate IBAN
FI04 → Display Bank Changes
OY17 → Countries – field checks
FI03 → Display Bank
FI08 → Distribution of the Bank Master Data
FI07 → Change Current Number Range Number
BIC2 → Transfer BIC Data
View full list of SAP CA-BK tcodes with details