SAP BW-PLA sub module is an application component stands for Planning in BW. It is coming under the BW module (Business Warehouse). Here is a quick overview tutorial about its sub modules, transaction codes and tables for your training purpose.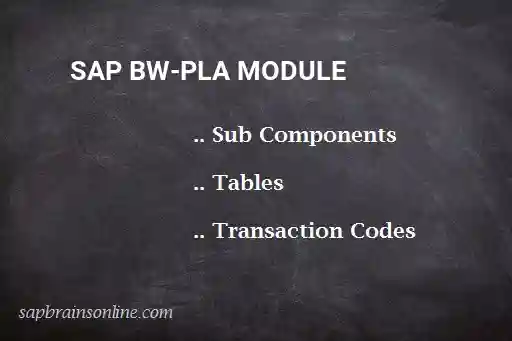 SAP BW-PLA SUB COMPONENTS
Here is the list of sub components coming under the SAP Planning in BW application component with the package name they belong to.
BR81000031 → BW-PLA → Planning
BR81000032 → BW-PLA-BPS → Business Planning and Simulation
BRA0000011 → BW-PLA-DOC → Documentation
SAP BW-PLA (Planning in BW) TABLES
Here is a list of sample 15 tables coming under BW-PLA component. Full list will be available from the mentioned link after this list.
UPP_SPREADS → Planning: Spreadsheet Customizing
RSBPCE_DAP_DIM → BPC: DAP Dimension & Hierarchy
UPWB_CLASS_ICONS → Table of Class Icons
UPB_PM_EXE_TYPES → Planning Folder Variants
UPC_VAR_HIE → Variables – Hierarchies
UPX_CHANMGROUP → UPX: Characteristic Groups – Header
RSBPCF_DOC → BPC File Service Document Master Table
UPC_NEVAL → Planning Functions: New Values
UPC_CHAPRO → Properties of a Characteristic
RSBPCB_RGN_ACC → BPC: BPF Step Region Access
UPS_LOCKS → Lock Table for Status and Tracking System
UPC_PACKAGE → Planning Packages
RSBPCR_VIEW_PROV → BPC: View provider
RSBPCB_SOBJ_LK → BPC: Semantic object link
UPF_EXITP → Planning: Data Elements – Exits
View full list of SAP BW-PLA Tables with description
SAP BW-PLA (Planning in BW) TCODES
See some sample transaction codes used with SAP BW-PLA sub module. I have added Full list with details in another tutorial (see the link after this list).
RSRTQ → Query Definition
UPARI_BUDG01 → Activation of Budget Type
UPARA_RA_IMPORT → Transport Retail Settings
UPARI_MSGTYPE → Define Messagetypes
UPAPM → Edit Assortment Planning Folders
UPXA → Select Planning Area
UPABPS0 → Customizing for Merchandise Planning
UPX_MNTN → Settings for Planning Services
UPY_PM_START_VC → PSM Manager of Planning Folder
UPY_PM_START_FA → PSM Planning Folder
UPC_BW_DESTINATION → BW Installation
UPX_XLA → Execute Planning with Excel
RSPLF1 → Start: Function Type Editing
UPARI_BUDG05 → Reorganization of old budget types
RSISW → Service Designer
View full list of SAP BW-PLA tcodes with details