SAP BW-EI sub module is an application component stands for Expanded Infrastructure in BW. It is coming under the BW module (Business Warehouse). Here is a quick overview tutorial about its sub modules, transaction codes and tables for your training purpose.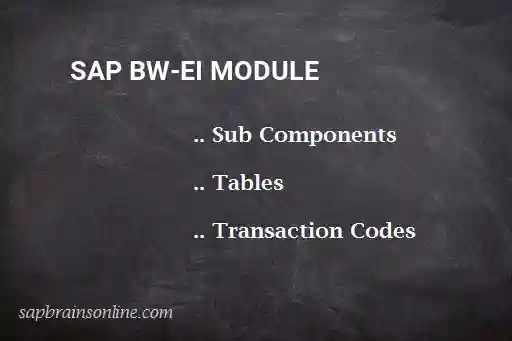 SAP BW-EI SUB COMPONENTS
Here is the list of sub components coming under the SAP Expanded Infrastructure in BW application component with the package name they belong to.
BR81000021 → BW-EI → Expanded Infrastructure
BR81000041 → BW-EI-APD → Analysis Process Designer
BR81000022 → BW-EI-DM → Data Mining
BR81000023 → BW-EI-RTR → Retraction
SAP BW-EI (Expanded Infrastructure in BW) TABLES
Here is a list of sample 15 tables coming under BW-EI component. Full list will be available from the mentioned link after this list.
RSDMTD_DTREE_SYS → Decision Tree Defaults
RSDMA_DBT_MODELS → DB: Models
RSDMTP_SRV_PARAM → Parameters required for the services
RSDMTD_NODE_DIST → Node Class Distribution
RSDMTC_ATTR_HEAD → Attribute Header
RSANT_PROCESST → Text Table for Process Definition
RSDMTA_LIST_INFO → Large Itemests information
RSDMTC_CLID_TEXT → Mean Header
RSDMESC_AGGR_VAL → Aggregated Data: Values for Indexes
RSANT_MDL_HIAGGR → Aggregation Behavior for Analysis Process
RSANT_FCT_TOOGT → Factory – Toolbar Groups – Texts
RSANT_UT_RSLT → Management Table for Interim Results
RSDMTC_DISTRIBUT → Distribution of Attribute Values among a Cluster
RSANT_FCT_CIDT → Factory – Repository for Class IDs – Texts
RSDMTP_SRVTY_DSC → Description of service type
View full list of SAP BW-EI Tables with description
SAP BW-EI (Expanded Infrastructure in BW) TCODES
See the list oftransaction codes used with SAP BW-EI sub module.