SAP BW is a data warehouse solution used for reporting & analysis. Full form of BW is Business Warehouse. SAP BW is like an ETL tool (Extract, Transform then Load) that can retrieve data from any source and prepare the intelligent reports from that.
SAP released the first version of BW in year 1998. Initially it was called as Business Warehouse Information system, shortly BIW. After the introduction of faster SAP HANA system, BW on HANA & BW/4HANA were introduced. Both these products are different. BW/4HANA provides more features and speed than traditional Business Warehouse and BW on Hana applications. Now majority of the BW installations are migrating to BW/4HANA. In this article you will be details about SAP BW sub modules, transaction codes, tables, tutorials and PDF training materials.
SAP BW Versions History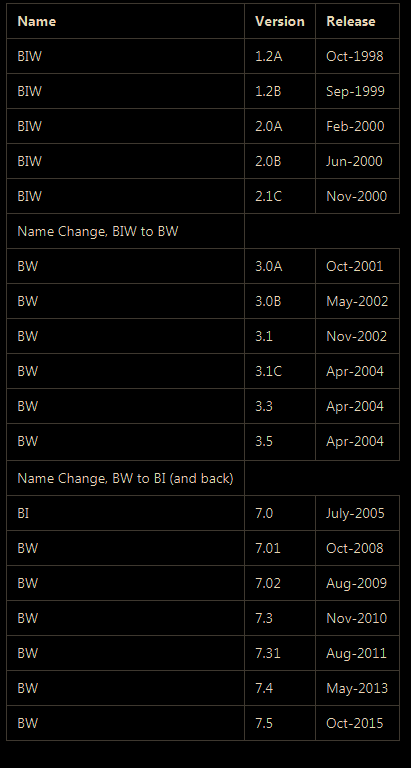 BW : Business Warehouse
BIW : Business Warehouse Information system
BI : Business Intelligence
SAP BW Sub Modules
Here is the list of application components (Sub modules) coming under Business Warehouse module in SAP. List provides component short form, its purpose and the package it belongs to.
BW → Without Description → Package (ARS0000001)
BW → Without Description → Package (ARS0000002)
BW → Without Description → Package (ARS0000003)
BW → Without Description → Package (ARS0000008)
BW → Without Description → Package (ARS0000009)
BW → SAP Business Information Warehouse → Package (ARS0000025)
BW-BCT → Without Description → Package (ARS0000006)
BW-BCT → Business Content and Extractors → Package (ARS0000023)
BW-BCT-ANA → BI Content Analyzer → Package (BH20000004)
BW-BCT-BPM → Business Process Management (BW Adapter) → Package (BH20000005)
BW-BCT-BPM-WFM → Business Workflow (BW Adapter) → Package (KIW0000001)
BW-BCT-CMS → Computing Center Management System → Package (B530000007)
BW-BCT-CSC → Country-Specific Reporting → Package (B520000006)
BW-BCT-SMG → SAP Solution Manager → Package (BH20000001)
BW-BCT-TCT → Technical Content → Package (B520000008)
BW-BEX → Without Description → Package (ARS0000004)
BW-BEX → Without Description → Package (ARS0000012)
BW-BEX → Business Explorer → Package (ARS0000021)
BW-BEX-ET → End User Technology → Package (BR81000011)
BW-BEX-ET-XC → Xcelsius Integration → Package (BRA0000031)
BW-BEX-MMR → BI Java Metamodel Repository → Package (BR81000014)
BW-BEX-OT → OLAP Technology → Package (BR81000012)
BW-BEX-OT-BICS → BI Consumer Services (ABAP) → Package (KIW0000031)
BW-BEX-OT-BICS-CONS → BICS Consumer → Package (KIW0000032)
BW-BEX-OT-BICS-EQ → BICS Easy Query → Package (KIW0000033)
BW-BEX-OT-BICS-PROV → BICS Provider → Package (KIW0000034)
BW-BEX-OT-BICS-RSRT → BICS Query Monitor → Package (KIW0000035)
BW-BEX-OT-ODP → Operational Data Provisioning (ODP) → Package (BY30000001)
BW-BEX-OT-WSP → BW Workspace → Package (B3S0000011)
BW-BEX-UDI → Universal Data Integration → Package (BR81000013)
BW-DXT → Without Description → Package (ARS0000010)
BW-EI → Expanded Infrastructure → Package (BR81000021)
BW-EI-APD → Analysis Process Designer → Package (BR81000041)
BW-EI-DM → Data Mining → Package (BR81000022)
BW-EI-RTR → Retraction → Package (BR81000023)
BW-MT → Modeling Tools (Eclipse) → Package (KIW0000017)
BW-PLA → Planning → Package (BR81000031)
BW-PLA-BPS → Business Planning and Simulation → Package (BR81000032)
BW-PLA-DOC → Documentation → Package (BRA0000011)
BW-RUI → BW Integration of Reporting User Interfaces → Package (KIW0000021)
BW-RUI-FPM → FPM Analytical GUIBB → Package (KIW0000022)
BW-SYS → Basis System and Installation → Package (ARS0000024)
BW-SYS-DB → BW Database platforms → Package (J040000001)
BW-SYS-DB-DB2 → BW DB2 for OS/390 → Package (J040000005)
BW-SYS-DB-DB4 → BW DB2 for AS/400 → Package (J040000006)
BW-SYS-DB-DB6 → BW DB2 Universal Database → Package (J040000007)
BW-SYS-DB-HDB → BW HDB → Package (BY30000011)
BW-SYS-DB-INF → BW Informix → Package (J040000003)
BW-SYS-DB-MSS → BW Microsoft SQL Server → Package (J040000004)
BW-SYS-DB-NV → BW Neoview → Package (BRA0000052)
BW-SYS-DB-ORA → BW Oracle → Package (J040000002)
BW-SYS-DB-SDB → BW MaxDB → Package (BR81000001)
BW-SYS-DB-SYB → BW on Sybase ASE Database Platform → Package (BY30000002)
BW-SYS-DB-TD → BW Teradata → Package (BRA0000053)
BW-SYS-GUI → BW Frontend GUI → Package (BR81000020)
BW-WHM → Without Description → Package (ARS0000005)
BW-WHM → Without Description → Package (ARS0000011)
BW-WHM → Warehouse Management → Package (ARS0000022)
BW-WHM-AWB → Data Warehousing Workbench → Package (BR81000017)
BW-WHM-DBA → Data Basis → Package (BR81000018)
BW-WHM-DBA-COPR → CompositeProvider → Package (KIW0000011)
BW-WHM-DBA-HPR → HybridProvider → Package (BRA0000054)
BW-WHM-DBA-SPO → Semantically Partitioned Object → Package (BRA0000055)
BW-WHM-DOC → Documentation → Package (BR81000015)
BW-WHM-DST → Data Staging → Package (BR81000019)
BW-WHM-DST-HAP → HANA Analysis Process → Package (KIW0000016)
BW-WHM-ESH → Enterprise Search Hub → Package (BRA0000021)
BW-WHM-MTD → Metadata (Repository) → Package (BR81000016)
BW-WHM-MTD-HMOD → HANA Model Generation in BW → Package (KIW0000015)
BW-WHM-TC → Technical Configuration → Package (KIW0000012)
BW-WHM-TC-CTC → System Configuration Automation → Package (KIW0000013)
BW-WHM-TC-SCA → System Copy Automation → Package (KIW0000014)
BW-XX → Without Description → Package (ARS0000007)
SAP BW TABLES
SAP BW TCODES
SAP BW Module Tutorials
SAP BW (Business Warehouse) PDF Training Materials