In SAP,  SHDB transaction code allows a user to record keystrokes and other keyboard actions so that they may be incorporated into a BDC session. While any session may be recorded, it does not mean that the recording can be used to create a session.Within a recording individual screens may not be allowed.Customized screens may present a problem. Only use the non-customized screens to record sessions.
In this example, the transaction MM is recorded.
Enter transaction SHDB, also called The Transaction Recorder:Recording Overview.
Click on the "New Recording button"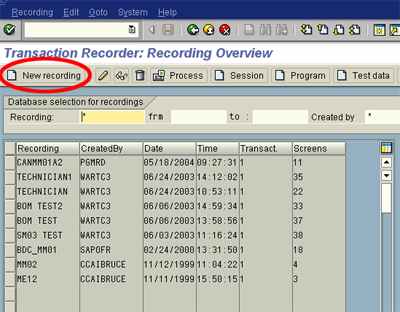 To start a new recording, enter a recording name (up to 10 letters) in the field labeled "Recording," and the Transaction Code MM01. Click either the "Start Recording" button or the green check mark at the bottom of the screen.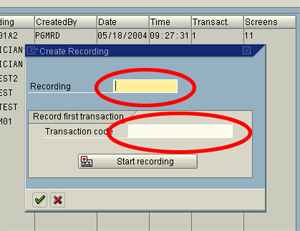 Recording the session:
Once the Start Recording button is pressed, the system displays the screens for the transaction code requested. Enter each field needed for the transaction, and proceed to the following screen. A "recording running" message may appear between screens. During a recorded session screen interaction time is extended.
Completing the transaction
End the transaction normally. When completed, the Transaction Recorder: Edit Recording screen is shown, Click the Save icon, which saves the recording. Green arrow back to the starting point (Transaction Recorder).