SAP BC-MUS sub module is an application component stands for Musing Tools in BC. It is coming under the BC module (BASIS). Here is a quick overview tutorial about its sub modules, transaction codes and tables for your training purpose.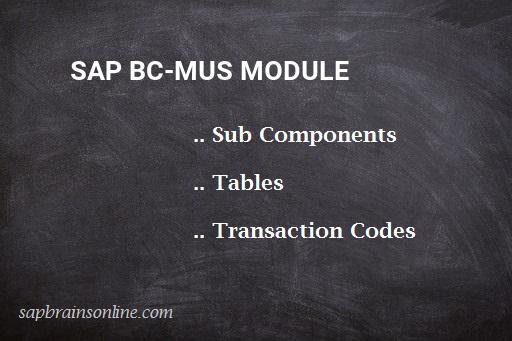 SAP BC-MUS SUB COMPONENTS
Here is the list of sub components coming under the SAP Musing Tools in BC application component with the package name they belong to.
ABA0000411 → BC-MUS → Musing Tools
ABA0000414 → BC-MUS-FPB → Personalization Framework
ABA0000413 → BC-MUS-KFM → Key Figure Monitor
B200003448 → BC-MUS-LP → Launchpad
ABA0000412 → BC-MUS-POW → Personal Object Worklist
B200003449 → BC-MUS-WDK → Batch Input Tools
SAP BC-MUS (Musing Tools in BC) TCODES
See the list oftransaction codes used with SAP BC-MUS sub module.