SAP Basis is the installation, administration & maintenance part of the SAP software. Here we are going to learn about SAP Basis. It shortly represent as SAP-BC. It deals with the complete SAP system administration. The role is similar to a network administration or a system admin. See Basis module Components, Transaction codes & PDF Tutorials for your training purpose.
The Basis administrator will deal with the SAP installations, its maintenance and up gradations, RDBMS and SAP GUI and everything related for a working SAP system. There are several tools for this administrators called Basis
SAP BASIS Module Sub Components
Here is the list of application components (Sub modules) coming under Basis module in SAP. List provides component short-form, its purpose and the package it belongs to.
BC → Basis Components → Package (HLB0009009)
BC-ABA → ABAP Runtime Environment → Package (HLB0009083)
BC-ABA-LA → Syntax, Compiler, Runtime → Package (HLB0100065)
BC-ABA-LA-EPC → Extended Program Check (SLIN) → Package (BYI3000973)
BC-ABA-LA-OBS → Object Services → Package (B200000042)
BC-ABA-LI → List Processing → Package (HLB0100064)
BC-ABA-NL → Use BC-I18 → Package (HLB0100066)
BC-ABA-SC → UI Services, Screen, Batch Input → Package (HLB0100067)
BC-ABA-TO → Logical DB, Selection Screens, Selection Variants → Package (HLB0100068)
BC-ABA-TV → Transaction Variant and Table Control Settings → Package (B200001278)
BC-ABA-XML → ABAP XML Processing → Package (B200003352)
BC-AC → Adaptive Computing – Use subcomponents → Package (B200003298)
BC-AC-1XX → Adaptive Computing Controller 1.xx → Package (B200003948)
BC-AC-7XX → Adaptive Computing Controller 7.xx → Package (B200003949)
BC-AC-CFG → Administration and Configuration → Package (B200003299)
BC-AC-ENG → Core Engine Services → Package (B200003300)
BC-ACD → Accelerated Application Delivery for SAP NetWeaver → Package (B200003616)
BC-ACD-IDR → Accelerated Application Delivery – Engine (Linux) → Package (B200003620)
BC-ACD-INS → Accelerated Application Delivery – Engine – installation → Package (B200004200)
BC-ACD-NEO → Accelerated Application Delivery – NEO Development → Package (BYI3000601)
BC-ACD-OEM → Accelerated Application Delivery – OOEM Development → Package (BYI3000602)
BC-ACD-RUN → Accelerated Application Delivery – Administration → Package (B200003617)
BC-ACD-WIN → Accelerated Application Delivery – Windows Client → Package (B200003998)
BC-ADM → System Administration → Package (HLB0009776)
BC-ADM-PRN → Printer Administration → Package (HLB0009777)
BC-BE-CUS-BNW → Business Navigator Web → Package (HLB0100209)
BC-BE-CUS-CFG → R/3 Business Configurator → Package (HLB0100205)
BC-BE-CUS-CFG-CCF → Customizing Navigation → Package (HLB0100208)
BC-BE-CUS-CFG-MCF → Model Configuration → Package (HLB0100206)
BC-BE-ICM → Implementation Support → Package (HLB0100195)
BC-BE-ICM-ASP → AcceleratedSAP → Package (HLB0100262)
BC-BE-ICM-PMG → Project Management → Package (HLB0100197)
BC-BE-RMC → R/3 Reference Model → Package (HLB0006921)
BC-BE-RMC-COH → Component Hierarchy → Package (HLB0100183)
BC-BE-RMC-GRM → Group Models → Package (HLB0100192)
BC-BE-RMC-ORG → R/3 Reference Model Organizational Units → Package (HLB0009787)
BC-BE-RMC-PRO → Process Model → Package (HLB0100184)
BC-BE-TEI → Templates + IDES → Package (HLB0100201)
BC-BEW-ALY → R/3 Analyzer → Package (HLB0006924)
BC-BMT → Business Management → Package (HLB0100190)
BC-BMT-BPM → Please use subcomponents → Package (B200003508)
BC-BMT-BPM-ANA → Process Analytics and Reporting → Package (B200004268)
BC-BMT-BPM-BAM → Business Activity Monitoring for BPM → Package (BYI3000171)
BC-BMT-BPM-CEL → BPMN2 Core Editor Layer → Package (BYI3000821)
BC-BMT-BPM-CMP → Process Composer → Package (B200003509)
BC-BMT-BPM-CPM → Collaborative Process Modeling (in Streamwork) → Package (BYI3000181)
BC-BMT-BPM-DSK → Process Desk → Package (B200004108)
BC-BMT-BPM-INB → BPM Inbox → Package (BYI3000102)
BC-BMT-BPM-LEI → Local Event Infrastructure → Package (B200004308)
BC-BMT-BPM-LPE → Local Process Engine – ABAP → Package (BYI3000101)
BC-BMT-BPM-MAP → Data mapping – Please use BC-DWB-JAV-MAP → Package (B200004528)
BC-BMT-BPM-MON → Process Monitoring → Package (B200004168)
BC-BMT-BPM-RAC → Reusable infrastructure component → Package (BYI3000103)
BC-BMT-BPM-SRV → Process Server → Package (B200003510)
BC-BMT-BPM-THL → Task Harmonization Layer → Package (B200004309)
BC-BMT-BRA → Business Rules Analytics → Package (B200004018)
BC-BMT-BRA-ANL → Analysis of Business Rules → Package (B200004019)
BC-BMT-BRA-TST → Testing of Business Rules → Package (B200004020)
BC-BMT-BRJ → Business Rules Java → Package (B200004021)
BC-BMT-BRJ-BLD → Java Business Rules Builder → Package (B200004022)
BC-BMT-BRJ-ENG → Java Business Rules Engine → Package (B200004023)
BC-BMT-BRJ-WED → Java Business Rules Web Editor → Package (B200004024)
BC-BMT-BRM → Business Rules Management → Package (B200004169)
BC-BMT-BRM-ENG → Rules Engine → Package (B200004170)
BC-BMT-BRM-RC → Rules Composer → Package (B200004171)
BC-BMT-BRM-WEB → Rules Manager → Package (B200004172)
BC-BMT-BRN → Business Rules .NET → Package (B200004025)
BC-BMT-BRN-BLD → .NET Business Rules Builder → Package (B200004026)
BC-BMT-BRN-ENG → .NET Business Rules Engine → Package (B200004027)
BC-BMT-BRN-REP → .NET Business Rules Repository → Package (B200004028)
BC-BMT-BRN-WED → .NET Business Rules Web Editor → Package (B200004029)
BC-BMT-BTM → Business Task Management – please use subcomponents → Package (B200003178)
BC-BMT-BTM-FWK → Backend → Package (B200003279)
BC-BMT-BTM-UI → Please use SRD-CC-BTM → Package (B200003280)
BC-BMT-CPL → Common Process Layer (internal use only) → Package (B200004560)
BC-BMT-IV → Integration Visibility → Package (BYI3000603)
BC-BMT-IV-DC → Integration Visibility Data Collectors → Package (BYI3000604)
BC-BMT-IV-DSC → Integration Visibility Discovery → Package (BYI3000605)
BC-BMT-LWE → Life and Work Events → Package (B200001681)
BC-BMT-OM → Organizational Management → Package (HLA0009701)
BC-BMT-OM-GRF → Structural Graphics → Package (HLA0009708)
BC-BMT-OM-OM → Organizational Plan → Package (HLA0006750)
BC-BMT-OPI → Operational Process Inteligence → Package (BYI3000606)
BC-BMT-OPI-PF → Process Facade → Package (BYI3000607)
BC-BMT-OPI-PVC → Process Visibility Content → Package (BYI3000608)
BC-BMT-OPI-PVE → Process Visibility Editor → Package (BYI3000609)
BC-BMT-OPI-PVW → Process Visibility Workspace → Package (BYI3000610)
BC-BMT-OPI-REP → Process Visibility Data Replication → Package (BYI3000611)
BC-BMT-PAF → Process Agent Framework → Package (B200003278)
BC-BMT-WFM → SAP Business Workflow → Package (HLB0009014)
BC-BMT-WFM-BND → Data Flow & Output → Package (B200001771)
BC-BMT-WFM-DEF → Definition Time → Package (B200001769)
BC-BMT-WFM-EVT → Event Manager → Package (B200001770)
BC-BMT-WFM-MON → Monitoring & Reporting → Package (B200001772)
BC-BMT-WFM-NOT → WebFlow Notifications → Package (B200001774)
BC-BMT-WFM-RUN → Runtime → Package (B200001768)
BC-BMT-WFM-WEB → Web Integration → Package (B200001773)
BC-BMT-WFM-WLC → Workflow Inbox → Package (B200001775)
BC-BMT-WMD → Workflow Modeler → Package (B200001668)
BC-BNM → Business Network Management → Package (BYI3000051)
BC-BSP → Business Server Pages → Package (B200000262)
BC-BSP-ACC → BSP Accessibility → Package (B200003282)
BC-BSP-MI → BSP MIME Repository → Package (B200000265)
BC-BSP-RT → BSP Runtime → Package (B200000263)
BC-BSP-RT-ABA → BSP Runtime ABAP → Package (B200000268)
BC-BSP-RT-EXT → BSP Runtime Extensions → Package (B200001428)
BC-BSP-RT-JS → BSP Runtime JavaScript → Package (B200000269)
BC-BW → BW Service API → Package (HLB0100455)
BC-BW-DOC → BW Service API Documentation → Package (B200003518)
BC-BW-SRV → BW generation tool and quantity object → Package (B200004574)
BC-CCM → Use Subcomponents → Package (HLB0009032)
BC-CCM-ADK → Archive Development Kit → Package (HLB0006315)
BC-CCM-ADK-AS → Archive Information System → Package (B200001279)
BC-CCM-ADK-J2E → J2EE Archiving Technology → Package (B200001788)
BC-CCM-API → Use Subcomponents → Package (HLB0100080)
BC-CCM-API-ADI → No longer supported → Package (HLB0100081)
BC-CCM-API-ADI-BTC → No longer supported → Package (HLB0100082)
BC-CCM-API-ADI-MOC → No longer supported → Package (HLB0100083)
BC-CCM-API-ADI-XPG → No longer supported → Package (HLB0100084)
BC-CCM-API-CSI → Use Subcomponents → Package (HLB0100086)
BC-CCM-API-CSI-XBP → eXternal Interface for Background Processing → Package (HLB0100088)
BC-CCM-API-CSI-XBR → eXternal Interface for Backup & Recovery (Backint) → Package (HLB0100087)
BC-CCM-API-CSI-XMB → No longer supported → Package (HLB0100089)
BC-CCM-API-CSI-XMI → eXternal Management Interface Framework → Package (HLB0100090)
BC-CCM-API-CSI-XOM → eXternal Interface for Output Management → Package (HLB0100091)
BC-CCM-BTC → Background Processing → Package (HLB0100092)
BC-CCM-BTC-EXT → External and Logical Commands → Package (HLB0100253)
BC-CCM-BTC-JOB → Job Scheduling and Monitoring → Package (HLB0100252)
BC-CCM-BTC-RUN → Background Processing Runtime Environment → Package (HLB0100251)
BC-CCM-CNF → Use Subcomponents → Package (HLB0100093)
BC-CCM-CNF-GRP → Workload Balancing and Group Management → Package (HLB0100094)
BC-CCM-CNF-OPM → Operation Modes → Package (HLB0100095)
BC-CCM-CNF-PFL → Maintain Profile → Package (HLB0100096)
BC-CCM-DAG → Data Aging → Package (BYI3000974)
BC-CCM-FIL → Platform-Independent File Names → Package (B200000038)
BC-CCM-HAG → Host Agent → Package (B200004270)
BC-CCM-HAV → High Availability → Package (HLB0009775)
BC-CCM-MC → SAP Management Console → Package (B200003988)
BC-CCM-MON → Monitoring → Package (HLB0100097)
BC-CCM-MON-BEM → Extrernal Monitoring for ByD → Package (BYI3000182)
BC-CCM-MON-CAN → Component Analyzer → Package (B200001945)
BC-CCM-MON-DB → Component to be replaced (see SAP Note 896273) → Package (HLB0100098)
BC-CCM-MON-INF → Informix Database Monitors → Package (B200002448)
BC-CCM-MON-ORA → Oracle Database Monitors → Package (B200002449)
BC-CCM-MON-OS → Operating System Monitors → Package (HLB0100099)
BC-CCM-MON-R3S → SAP System Monitors → Package (HLB0100100)
BC-CCM-MON-SHM → IMS: Agents and related topics → Package (B200004138)
BC-CCM-MON-SLG → SAP System Log → Package (HLB0100101)
BC-CCM-MON-TUN → Performance Monitors (TCC) → Package (B200003519)
BC-CCM-PRN → Print and Output Management → Package (HLB0009773)
BC-CCM-PRN-DVM → Device Management → Package (HLB0100254)
BC-CCM-PRN-PC → Printer Access via Frontend PC → Package (HLB0100257)
BC-CCM-PRN-PVP → SAP Printer Vendor Program → Package (B200004088)
BC-CCM-PRN-PVP-BR → SAP Printer Vendor Program: Brother → Package (B200004139)
BC-CCM-PRN-PVP-CN → SAP Printer Vendor program: Canon → Package (B200004529)
BC-CCM-PRN-PVP-DL → SAP Printer Vendor Program: DELL → Package (B200004140)
BC-CCM-PRN-PVP-EP → SAP Printer Vendor Program: Epson → Package (B200004141)
BC-CCM-PRN-PVP-FX → SAP Printer Vendor program: Fuji Xerox → Package (B200004298)
BC-CCM-PRN-PVP-HP → SAP Printer Vendor Program: HP → Package (B200004142)
BC-CCM-PRN-PVP-KO → SAP Printer Vendor Program: Konica Minolta → Package (B200004089)
BC-CCM-PRN-PVP-KY → SAP Printer Vendor program: Kyocera → Package (B200004143)
BC-CCM-PRN-PVP-LX → SAP Printer Vendor program: Lexmark → Package (B200004299)
BC-CCM-PRN-PVP-OC → SAP Printer Vendor Program: Oce → Package (B200004090)
BC-CCM-PRN-PVP-OK → SAP Printer Vendor program: Oki → Package (B200004458)
BC-CCM-PRN-PVP-RC → SAP Printer Vendor program: Ricoh → Package (B200004300)
BC-CCM-PRN-PVP-SH → SAP Printer Vendor Program: Sharp → Package (B200004091)
BC-CCM-PRN-PVP-SM → SAP Printer Vendor program: Samsung → Package (B200004271)
BC-CCM-PRN-PVP-TT → SAP Printer Vendor program: Toshiba TEC → Package (BYI3000011)
BC-CCM-PRN-SPO → Spool System → Package (HLB0100255)
BC-CCM-PRN-TMS → TemSe (Temporary Sequential Objects Repository) → Package (HLB0100256)
BC-CCM-SLD → System Landscape Directory/Component Repository → Package (B200001368)
BC-CCM-SLD-ABA → System Landscape Directory/Component Repository → Package (BYI3001021)
BC-CCM-TAN → Transaction TAANA for Table Analysis → Package (B200001682)
BC-CCM-USR-PER → Personalization → Package (B200000250)
BC-CCP → Contextual Collaboration Package (SAP internal only) → Package (B200004310)
BC-CCP-ADA → Page Adaption (SAP internal only) → Package (B200004311)
BC-CCP-ADP → Page Adaption (SAP internal only) → Package (B200004459)
BC-CCP-CHP → CCP CHIPs (SAP internal only) → Package (B200004312)
BC-CCP-CHP-COL → Collaboration CHIPs (SAP internal only) → Package (B200004313)
BC-CCP-CHP-COR → Core CHIPs (SAP internal only) → Package (B200004314)
BC-CCP-CPM → Chip Programming Model (SAP internal only) → Package (B200004315)
BC-CCP-CRP → CHIP Repository (SAP internal only) → Package (B200004316)
BC-CCP-MSH → CCP Mashups (for internal usage only) → Package (B200004321)
BC-CCP-PB → CCP Builder (for internal usage only) → Package (B200004317)
BC-CCP-SC → Scenario controller (SAP internal only) → Package (B200004318)
BC-CCP-SDK → Collaboration SDK (SAP internal only) → Package (B200004319)
BC-CCP-SPN → CCP Side panel (SAP internal only) → Package (B200004320)
BC-CFG → Business Configuration Tools → Package (B200003158)
BC-CFG-C2 → Business Configuration Tools: C2 → Package (B200001848)
BC-CFG-RT → Business Configuration Tools: Runtime → Package (B200003159)
BC-CFG-RT-AP → Please use AP-RC-BCI → Package (B200004173)
BC-CI → Component Integration / Installation Windows Components → Package (HLB0100172)
BC-CI-DYD → Dynamic Documents → Package (B200000272)
BC-CI-INST → Use BC-FES-INS → Package (HLB0100175)
BC-CI-LSX → See Note 691500 → Package (HLB0100422)
BC-CI-WEBR → WebRFC, Web Reporting → Package (HLB0100173)
BC-COM → Communities → Package (B200004388)
BC-COM-FOR → Forums → Package (B200003910)
BC-COM-WIK → Wiki → Package (B200003916)
BC-CST → Client/Server Technology → Package (HLB0009771)
BC-CST-DP → Dispatcher/Task Handler → Package (HLB0100052)
BC-CST-EQ → Enqueue → Package (HLB0100053)
BC-CST-GW → Gateway/CPIC → Package (HLB0100054)
BC-CST-IC → Internet Communication Manager → Package (B200000270)
BC-CST-LG → SAPLogon, Load Balancing → Package (HLB0100055)
BC-CST-LL → Low Level Layer → Package (HLB0100056)
BC-CST-MM → Memory Management → Package (HLB0100057)
BC-CST-MS → Message Service → Package (HLB0100058)
BC-CST-NI → Network Interface → Package (HLB0100059)
BC-CST-NU → Number Range Buffer → Package (HLB0100060)
BC-CST-RL → Tenant Runlevels → Package (BYI3000361)
BC-CST-SL → SAP License → Package (HLB0100061)
BC-CST-ST → Kernel Statistics → Package (HLB0100062)
BC-CST-STS → Startup Service → Package (B200003288)
BC-CST-UP → Update → Package (HLB0100063)
BC-CST-WDP → Web Dispatcher → Package (B200003289)
BC-CTS → Change & Transport System → Package (HLB0009161)
BC-CTS-CBS → Component Build Server & Component Infrastructure → Package (B200001638)
BC-CTS-CBS-CLI → CBS Client → Package (B200001644)
BC-CTS-CBS-PLG → CBS Build Plug-Ins → Package (B200001645)
BC-CTS-CBS-SRV → CBS Server → Package (B200001646)
BC-CTS-CCO → Client Copy → Package (HLB0009016)
BC-CTS-CMS → Change Management Service → Package (B200001658)
BC-CTS-DI → Development Infrastructure (NetWeaver) → Package (B200003458)
BC-CTS-DTR → Design Time Repository → Package (B200001808)
BC-CTS-DTR-CLI → Design Time Repository Client → Package (B200001809)
BC-CTS-DTR-SRV → Design Time Repository Server → Package (B200001810)
BC-CTS-DTR-SRV → Design Time Repository Server → Package (B200001811)
BC-CTS-LAN → Language Transport → Package (HLB0100115)
BC-CTS-LIS → Landscape Infrastructure Server → Package (B200001258)
BC-CTS-ORG → Transport Organizer → Package (HLB0009076)
BC-CTS-ORG-CR → Non-ABAP Change Recording → Package (B200004578)
BC-CTS-ORG-CTR → Central CTS – Collection Organizer → Package (BYI3000183)
BC-CTS-ORG-PLS → Central CTS – Collection Organizer → Package (B200004248)
BC-CTS-SDM → Software Delivery Manager → Package (B200001436)
BC-CTS-SLU → Transport Utilities Java → Package (B200003228)
BC-CTS-TIP → Transport System Composite Notes → Package (HLB0100116)
BC-CTS-TLS → Transport Tools → Package (HLB0100117)
BC-CTS-TLS-PLS → Transport Tools for non-ABAP (CTS+) → Package (B200004249)
BC-CTS-TMS → Transport Management System → Package (HLB0100118)
BC-CTS-TMS-CTR → Central CTS – Transport Management → Package (BYI3000184)
BC-CTS-TMS-PLS → TMS for non-ABAP (CTS+) → Package (B200004250)
BC-CTS-XS → SAP HANA XS Lifecycle Manager → Package (BYI3000975)
BC-CUS → Customizing → Package (B200000043)
BC-CUS-C2-DEV → Central Configuration Server: Development Environment → Package (B200001849)
BC-CUS-C2-DIR → Central Configuration Server: Directory Services → Package (B200001850)
BC-CUS-C2-REP → Central Configuration Server: Repository/Configuration Sets → Package (B200001851)
BC-CUS-DEF → Customizing Definitions (Structures and Content) → Package (B200000050)
BC-CUS-DEF-APR → Open Process API → Package (HLB0100291)
BC-CUS-DEF-BCS → Business Configuration Sets → Package (B200000054)
BC-CUS-DEF-IME → IMG Engineer → Package (B200000053)
BC-CUS-DEF-PFM → Process and Function Maintenance → Package (B200000051)
BC-CUS-DEF-TMB → Generated Tabe Maintenance Objects → Package (B200000055)
BC-CUS-TOL → Customizing Tools (Techniques) → Package (B200000044)
BC-CUS-TOL-ALO → Table History → Package (HLB0100155)
BC-CUS-TOL-API → Business Configuration API (SAP-internal) → Package (BYI3000061)
BC-CUS-TOL-BCD → Business Configuration Sets → Package (B200000047)
BC-CUS-TOL-CST → Cross-System Tools → Package (B200000048)
BC-CUS-TOL-ECP → Entity Copier → Package (B200000049)
BC-CUS-TOL-HMT → Hierarchy Storage → Package (HLB0100156)
BC-CUS-TOL-IMG → Implementation Guide → Package (HLB0100153)
BC-CUS-TOL-LT → SAP Landscape Transformation → Package (BYI3000941)
BC-CUS-TOL-NAV → Business Navigator → Package (HLB0006923)
BC-CUS-TOL-PAD → Customizing Project Management (IMG) → Package (B200000046)
BC-CUS-TOL-QAD → Question & Answer Database → Package (B200000052)
BC-CUS-TOL-RFM → Reference Modeler → Package (B200000045)
BC-CUS-TOL-TME → Table Maintenance Tool → Package (HLB0100154)
BC-DB → Database Interface, Database Platforms → Package (HLB0009780)
BC-DB-DB2 → DB2 for z/OS → Package (HLB0009132)
BC-DB-DB2-CCM → DB2 for z/OS – CCM/Database Monitors → Package (B200001319)
BC-DB-DB2-DBA → DB2 for z/OS – Database Administration → Package (B200001320)
BC-DB-DB2-ICL → DB2 for z/OS – ICLI → Package (BYI3000910)
BC-DB-DB2-INS → DB2 for z/OS – Installation → Package (B200001321)
BC-DB-DB2-SYS → DB2 for z/OS – Database Interface → Package (B200001322)
BC-DB-DB2-UPG → DB2 for z/OS – Upgrade → Package (B200001323)
BC-DB-DB4 → DB2 for AS/400 → Package (HLB0009782)
BC-DB-DB6 → DB2 Universal Database for UNIX / NT → Package (HLB0100139)
BC-DB-DB6-CCM → CCMS / Database Monitors for DB2 Universal Database → Package (HLB0100141)
BC-DB-DB6-DBA → Database Administration With DB2 Universal Database → Package (HLB0100140)
BC-DB-DB6-INS → SAP System Installation with DB2 Universal Database → Package (HLB0100142)
BC-DB-DB6-SYS → Database Interface / DBMS for DB2 Universal Database → Package (HLB0100143)
BC-DB-DB6-UPG → SAP System Upgrade with DB2 Universal Database → Package (HLB0100144)
BC-DB-DBI → DB-Independent Database Interface → Package (HLB0009781)
BC-DB-HDB → SAP HANA database → Package (BYI3000021)
BC-DB-HDB-AFL → SAP HANA Application Function Library → Package (BYI3000612)
BC-DB-HDB-AFL-DQ → SAP HANA Data Quality Library → Package (BYI3000901)
BC-DB-HDB-AFL-PAL → SAP HANA Predictive Analysis Library → Package (BYI3000613)
BC-DB-HDB-AFL-SOP → SAP HANA Sales&Operations Planning → Package (BYI3000614)
BC-DB-HDB-BAC → SAP HANA Backup & Recovery → Package (BYI3000615)
BC-DB-HDB-CCM → CCMS for SAP HANA → Package (BYI3000616)
BC-DB-HDB-CLI → SAP HANA Clients (JDBC, ODBC) → Package (BYI3000617)
BC-DB-HDB-DBA → Database Administration for SAP HANA → Package (BYI3000022)
BC-DB-HDB-DEC → Obsolete, please use BC-DB-HDB-DXC → Package (BYI3000701)
BC-DB-HDB-DXC → SAP HANA direct extractor connector → Package (BYI3000618)
BC-DB-HDB-ENG → Engine of SAP HANA DB → Package (BYI3000104)
BC-DB-HDB-HLM → SAP HANA Lifecycle Manager → Package (BYI3000976)
BC-DB-HDB-INS → Engine of SAP HANA DB → Package (BYI3000023)
BC-DB-HDB-LVC → SAP HANA integrated liveCache → Package (BYI3000977)
BC-DB-HDB-MDX → MDX Engine/Excel Client for SAP HANA → Package (BYI3000105)
BC-DB-HDB-PER → Database Persistence for SAP HANA → Package (BYI3000031)
BC-DB-HDB-POR → DB Porting for SAP HANA → Package (BYI3000619)
BC-DB-HDB-R → SAP HANA Integration with R → Package (BYI3000620)
BC-DB-HDB-SCN → Snapshot Management Environment → Package (BYI3000822)
BC-DB-HDB-SCR → SAP HANA SQL Script → Package (BYI3000621)
BC-DB-HDB-SCR-CLT → SQLScript Editor and Debugger Client → Package (BYI3000978)
BC-DB-HDB-SEC → SAP HANA Security & User Management → Package (BYI3000622)
BC-DB-HDB-SYS → Database Interface/DBMS for HDB → Package (BYI3000032)
BC-DB-HDB-TXT → SAP HANA Text & Search Features → Package (BYI3000623)
BC-DB-HDB-UPG → Upgrade of SAP HANA → Package (BYI3000033)
BC-DB-HDB-XS → SAP HANA Application Services → Package (BYI3000691)
BC-DB-HDB-XS-WB → Workbench / Team Provider for SAP HANA DB → Package (BYI3000624)
BC-DB-INF → Informix → Package (HLB0009164)
BC-DB-INF-CCM → CCMS / Database Monitors for Informix → Package (HLB0100123)
BC-DB-INF-DBA → Database Administration with Informix → Package (HLB0100122)
BC-DB-INF-INS → SAP System Installation with Informix → Package (HLB0100124)
BC-DB-INF-SYS → Database Interface / DBMS for Informix → Package (HLB0100126)
BC-DB-INF-UPG → SAP System Upgrade with Informix → Package (HLB0100127)
BC-DB-LCA → liveCache Applications → Package (B200001938)
BC-DB-LCA-APS → Advanced Planning and Scheduling Objects → Package (B200003520)
BC-DB-LCA-ATP → Object Availability Check → Package (B200003521)
BC-DB-LCA-COR → Customer Corrections → Package (B200003522)
BC-DB-LCA-DP → IC Applications for Demand Planning Objects → Package (B200003523)
BC-DB-LCA-INS → Installation and Handling of IC Applications → Package (B200003524)
BC-DB-LCA-REC → Recovery und Logging (< APO 3.0) → Package (B200003525)
BC-DB-LCA-REP → Reservation Planning Objects (Autom.) → Package (B200003526)
BC-DB-LCA-RPM → Rapid Planning Matrix Objects (Autom.) → Package (B200003527)
BC-DB-LCA-UTL → Test and Analysis Tools for IC Applications → Package (B200003528)
BC-DB-LVC → liveCache → Package (HLB0100441)
BC-DB-LVC-CCM → liveCache Administration and Monitor → Package (BIO0000011)
BC-DB-LVC-INS → liveCache Installation → Package (B200001939)
BC-DB-LVC-KNL → liveCache Kernel → Package (HLB0100442)
BC-DB-LVC-OMS → OMS Class for C++ → Package (HLB0100444)
BC-DB-LVC-SQL → SQL Class for C++ → Package (HLB0100443)
BC-DB-LVC-UPG → liveCache Upgrade → Package (B200001940)
BC-DB-MON → DBOS Cockpit Monitoring Infrastructure for Databases → Package (BYI3000979)
BC-DB-MSS → Microsoft SQL Server → Package (HLB0009133)
BC-DB-MSS-CCM → CCMS / Database Monitors for SQL Server → Package (HLB0100136)
BC-DB-MSS-INS → SAP System Installation for SQL Server → Package (HLB0100137)
BC-DB-MSS-UPG → Upgrade with SQL Server → Package (HLB0100138)
BC-DB-OPS → Oracle Parallel Server → Package (HLB0009163)
BC-DB-ORA → Oracle → Package (HLB0009162)
BC-DB-ORA-CCM → CCMS / Database Monitors for Oracle → Package (HLB0100128)
BC-DB-ORA-DBA → Database Administration with Oracle → Package (HLB0100129)
BC-DB-ORA-INS → SAP System Installation with Oracle → Package (HLB0100130)
BC-DB-ORA-RAC → Oracle Real Application Clusters (RAC) → Package (B200001548)
BC-DB-ORA-SEC → Oracle Security Messages → Package (BYI3000911)
BC-DB-ORA-SYS → Database Interface/DBMS for Oracle → Package (B200001468)
BC-DB-SDB → MaxDB → Package (HLB0009131)
BC-DB-SDB-BDG → Gateway for database (Terradata, etc.) connection to SAP BW → Package (B200004530)
BC-DB-SDB-CCM → CCMS/Database Monitors for MaxDB → Package (HLB0100132)
BC-DB-SDB-DBA → Database Administration on MaxDB → Package (HLB0100131)
BC-DB-SDB-INS → Installation with MaxDB → Package (HLB0100133)
BC-DB-SDB-SYS → Database Interface/DBMS for MaxDB → Package (HLB0100134)
BC-DB-SDB-UPG → Upgrade with MaxDB → Package (HLB0100135)
BC-DB-SYB → Sybase ASE Database Platform → Package (BYI3000091)
BC-DB-TD → Teradata database → Package (B200004531)
BC-DOC → Documentation and Translation Tools → Package (HLB0006320)
BC-DOC-DTL → Documentation Tools → Package (HLB0006323)
BC-DOC-HLP → F1 Help → Package (HLB0006317)
BC-DOC-IWB → SAP Knowledge Warehouse → Package (HLB0100228)
BC-DOC-IWB-AUT → Authoring Tools → Package (B200000063)
BC-DOC-IWB-DEL → Delivery → Package (B200000066)
BC-DOC-IWB-DIS → HTML Display → Package (B200000065)
BC-DOC-IWB-TRA → Translation Tools → Package (B200000064)
BC-DOC-RIT → Replacing standard texts with industry specific texts → Package (BYI3000532)
BC-DOC-SKT → Skate Proofing Tool → Package (B200001880)
BC-DOC-TER → Terminology/Glossary → Package (HLB0006321)
BC-DOC-TTL → Translation Tools → Package (HLB0006322)
BC-DOC-TTL-NAT → Tools for Translation in Non-ABAP Development Infrastructure → Package (B200003068)
BC-DOC-TTL-TWB → Translator's Workbench (TRADOS) → Package (B200000062)
BC-DWB → ABAP Workbench, Java IDE and Infrastructure → Package (HLB0009075)
BC-DWB-AIE → Installation and Infrastructure for ABAP Tools in Eclipse → Package (BYI3000851)
BC-DWB-AIE-ACI → ABAP Connectivity and Integration Tools → Package (BYI3000852)
BC-DWB-AIE-AHI → Tools for ABAP and HANA Integration → Package (BYI3000853)
BC-DWB-AIE-MSG → Message Class Editor for ABAP in Eclipse → Package (BYI3000861)
BC-DWB-AIE-PMT → Core Programming Modeling Tools → Package (BYI3000107)
BC-DWB-AIE-PMT-TRC → Trace Tools → Package (BYI3000110)
BC-DWB-AIE-PMT-TST → Test Tools → Package (BYI3000111)
BC-DWB-AIE-QTT → Quality and Test Tools: ABAP Unit Test, ABAP Test Cockpit → Package (BYI3000862)
BC-DWB-AIE-REF → Tools for Refactoring ABAP Artifacts → Package (BYI3000863)
BC-DWB-AIE-SRC → ABAP Source Code editors in ABAP in Eclipse → Package (BYI3000864)
BC-DWB-AIE-TRP → Transport Organizer UI for ABAP in Eclipse → Package (BYI3000865)
BC-DWB-AIE-TST → Trouble Shooting Tools: Debugger, Profiler → Package (BYI3000866)
BC-DWB-AIE-WDA → Web Dynpro ABAP Design Tool for ABAP in Eclipse → Package (BYI3000867)
BC-DWB-CEX → Customer Enhancements → Package (HLB0009086)
BC-DWB-CEX-BAD → Customer Enhancements: BAdIs → Package (B200002399)
BC-DWB-CEX-CF → Customer Enhancements: Customer Functions → Package (B200002398)
BC-DWB-CEX-MA → Customer Enhancements: Modification Assistant → Package (B200002400)
BC-DWB-COL → Common Object Layer Workbench → Package (B200001647)
BC-DWB-DIC → ABAP Dictionary → Package (HLB0009078)
BC-DWB-DIC-AC → Activation Program, Conversion Program, DB Utility, MC, SPDD → Package (HLB0100147)
BC-DWB-DIC-ED → Dictionary Maintenance → Package (HLB0100148)
BC-DWB-DIC-F4 → F4 Help → Package (HLB0100431)
BC-DWB-DIC-MDI → Meta data interface → Package (BYI3000012)
BC-DWB-EDI → Editors → Package (HLB0009079)
BC-DWB-ES → Enterprise Service Modeling – Use BC-DWB-JAV-ESM → Package (B200003609)
BC-DWB-ES-WSM → Web Services Modeling – Use BC-DWB-JAV-ESM → Package (B200003610)
BC-DWB-FLX → Flex Integration → Package (B200004322)
BC-DWB-FLX-DT → Flex Design time in NWDS → Package (B200004323)
BC-DWB-JAV → CE Developer Studio (read SAP Note 1179668) → Package (B200001358)
BC-DWB-JAV-CAF → Composite Application Framework → Package (B200004561)
BC-DWB-JAV-CE → CE Developer Studio → Package (BYI3000013)
BC-DWB-JAV-CE-INS → CE Developer Studio – Please read SAP note 1179668 → Package (BYI3000014)
BC-DWB-JAV-CE-TST → CE Developer Studio – Please read SAP note 1179668 → Package (BYI3000062)
BC-DWB-JAV-COD → Composite Designer → Package (B200003950)
BC-DWB-JAV-COR → Core NWDS Frameworks → Package (B200003529)
BC-DWB-JAV-DBG → Java Debugging in LAN → Package (B200001777)
BC-DWB-JAV-DCO → Data composition → Package (B200004532)
BC-DWB-JAV-DII → NWDS Development Infrastructure Integration → Package (B200003530)
BC-DWB-JAV-ECF → Extensibility Configuration → Package (B200004272)
BC-DWB-JAV-ECL → Non-SAP Eclipse.org OpenSource Platform → Package (B200001651)
BC-DWB-JAV-ECL-WTP → Eclipse WTP Issues → Package (B200003968)
BC-DWB-JAV-GEN → Generation Framework → Package (B200001641)
BC-DWB-JAV-J2E → NWDS JavaEE Tool Set → Package (B200003531)
BC-DWB-JAV-JCB → NWDS Java Connectivity Builder → Package (B200001642)
BC-DWB-JAV-LOC → NWDS Localization → Package (B200001652)
BC-DWB-JAV-MAP → Data mapping → Package (B200004269)
BC-DWB-JAV-MM → NWDS Meta Model → Package (B200001643)
BC-DWB-JAV-MT → Model-Based NWDS Merge Tools → Package (B200003532)
BC-DWB-JAV-NMC → NetWeaver Management Console → Package (B200004092)
BC-DWB-JAV-NMC-DPV → Management Console Deployment View → Package (B200004093)
BC-DWB-JAV-NMC-MCV → Management Console View → Package (B200004094)
BC-DWB-JAV-RDB → Remote Java Debugging → Package (B200003533)
BC-DWB-JAV-RFC → Adaptive Remote Function Call 2 → Package (BYI3000625)
BC-DWB-JAV-SA → NetWeaver component for service adaptation and composition → Package (B200004284)
BC-DWB-JAV-SEC → NWDS Secure Store → Package (B200004324)
BC-DWB-JAV-SIE → Service Interface Editor → Package (BYI3000015)
BC-DWB-JAV-TS → NWDS Togethersoft Integration → Package (B200001653)
BC-DWB-JAV-TST → JDTD, Abbot+Lift, SWTBot (SAP internal only) → Package (B200004325)
BC-DWB-JDD → Java Dictionary – Use subcomponents → Package (B200001539)
BC-DWB-JDD-DB → Java Dictionary: Database → Package (B200004389)
BC-DWB-JDD-ED → Java Dictionary: Editors → Package (B200001540)
BC-DWB-JDD-TYP → Java Dictionary: Types → Package (B200004390)
BC-DWB-LDB → Logical Databases → Package (HLB0009168)
BC-DWB-MDI → Meta-Data Interface → Package (B200001541)
BC-DWB-MOD → Modelling infrastructure (MOIN) → Package (B200004193)
BC-DWB-MOD-COR → MOIN Core Components – Please use BC-DWB-MOD → Package (B200004194)
BC-DWB-MOD-IOP → MOIN Interop. w. other model.techn. -Please use BC-DWB-MOD → Package (B200004195)
BC-DWB-MOD-JAS → MOIN JAS deployment – Please use BC-DWB-MOD → Package (B200004198)
BC-DWB-MOD-MIE → MOIN in Eclipse (MIE) → Package (B200003459)
BC-DWB-MOD-MIE-GFW → MIE Graphics Framework → Package (B200003534)
BC-DWB-MOD-MIE-INF → MIE Basic Infrastructure – Please use BC-DWB-MOD → Package (B200004192)
BC-DWB-MOD-MIE-MT → MOIN Tools: Use BC-DWB-MOD → Package (B200003535)
BC-DWB-MOD-MQL → MOIN Query Language – Please use BC-DWB-MOD → Package (B200004199)
BC-DWB-MOD-OCL → MOIN Object Constraint Language → Package (B200004196)
BC-DWB-MOD-PF → MOIN Primary Facility → Package (B200004197)
BC-DWB-MTS → Modeling Tools and Services → Package (BYI3000106)
BC-DWB-MTS-FRW → Modeling Framework – Generic Parts → Package (BYI3000108)
BC-DWB-MTS-TOO → Business Object, Design Time and Process Integration Tools → Package (BYI3000109)
BC-DWB-PRO → Prototyping → Package (HLB0009786)
BC-DWB-PRX → Proxy Generation → Package (B200001365)
BC-DWB-REP → Lean Stack Repository → Package (B200004519)
BC-DWB-REP-EXT → Extensibility → Package (BYI3000063)
BC-DWB-REP-JOB → System Background Job Repository → Package (BYI3000064)
BC-DWB-REP-MDR → Lean Stack Meta Data Repository → Package (B200004520)
BC-DWB-REP-XRP → Lean Stack xRepository → Package (B200004521)
BC-DWB-SCN-ATC → ATC Enhancements → Package (BYI3000531)
BC-DWB-SEM → Session Manager → Package (HLB0009784)
BC-DWB-SRV → Main Development Server Queue → Package (B200003536)
BC-DWB-THM → Theming → Package (BYI3000016)
BC-DWB-THM-DT → Tool for Theming → Package (BYI3000017)
BC-DWB-TND → Training and Demo → Package (BYI3000904)
BC-DWB-TOO → Workbench Tools: Editors, Painters, Modelers → Package (HLB0100157)
BC-DWB-TOO-ABA → ABAP Editor → Package (HLB0100158)
BC-DWB-TOO-ACP → Activatable Checkpoints → Package (B200004533)
BC-DWB-TOO-ATF → ABAP Test Frameworks ( ATC, CheckMan, Code Inspector) → Package (B200004535)
BC-DWB-TOO-BOB → Business Object Builder → Package (HLB0100161)
BC-DWB-TOO-BOE → Business Objects Editor → Package (BYI3000533)
BC-DWB-TOO-CLA → Class Builder → Package (HLB0100163)
BC-DWB-TOO-COV → Coverage Analyzer → Package (BYI3000868)
BC-DWB-TOO-DBG → Debugger → Package (B200004534)
BC-DWB-TOO-DMO → Data Modeler → Package (HLB0100164)
BC-DWB-TOO-ENH → Enhancement Tools → Package (B200001868)
BC-DWB-TOO-FUB → Function Builder → Package (HLB0100162)
BC-DWB-TOO-LDB → Logical Database Builder → Package (HLB0100165)
BC-DWB-TOO-MEN → Menu Painter → Package (HLB0100159)
BC-DWB-TOO-MI → Memory Inspector → Package (B200004536)
BC-DWB-TOO-ODS → odata Service tools → Package (BYI3000534)
BC-DWB-TOO-PAK → Package Tools → Package (B200003281)
BC-DWB-TOO-PIT → Process Integration tools → Package (BYI3000535)
BC-DWB-TOO-RTA → Runtime Analysis → Package (B200004537)
BC-DWB-TOO-SCR → Screen Painter → Package (HLB0100160)
BC-DWB-TOO-SFW → Switch Framework Tools → Package (B200001869)
BC-DWB-TOO-UT → ABAP Unit → Package (B200004538)
BC-DWB-TOO-WAB → Web Application Builder → Package (B200000271)
BC-DWB-UTL → Workbench Utilities → Package (HLB0009077)
BC-DWB-UTL-BRC → Class Browser → Package (HLB0100149)
BC-DWB-UTL-BRD → Data Browser → Package (HLB0100152)
BC-DWB-UTL-BRR → Repository Browser → Package (HLB0100151)
BC-DWB-UTL-CHK → Cross-Application Check Tools → Package (BIO0000071)
BC-DWB-UTL-CLS → Classification Toolset → Package (B200003229)
BC-DWB-UTL-INR → Repository Infosystem → Package (HLB0100150)
BC-DWB-VC → Use EP-VC → Package (B200003511)
BC-DWB-VC-COR → Base Kit and VCL – Use EP-VC → Package (B200003537)
BC-DWB-VC-IDE → VC in NW Developer Studio – Use EP-VC → Package (B200004218)
BC-DWB-VC-KIT → Kits – Use EP-VC → Package (B200003538)
BC-DWB-VC-PDE → Kit Development for Visual Composer – Please use EP-VC → Package (B200004326)
BC-DWB-VC-SRV → VC Server, Development Server – Use EP-VC → Package (B200003539)
BC-DWB-VC-UI → Storyboard Main Queue – Use EP-VC → Package (B200003540)
BC-DWB-VC-UNT → Visual Composer Testing Framework – Use EP-VC → Package (B200003541)
BC-DWB-WD → Use Subcomponent BC-DWB-WD-ABA or -JAV → Package (B200001495)
BC-DWB-WD-ABA → Web Screen Tools – ABAP → Package (B200001577)
BC-DWB-WD-JAV → Web Screen Tools – Java → Package (B200001578)
BC-DWB-WS → Use subcomponents → Package (B200001648)
BC-DWB-WS-ABA → Web Service Tools – ABAP → Package (B200001649)
BC-DWB-WS-JAV → Web Service Tools – Java → Package (B200001650)
BC-ECM → Enterprise Content Management (ECM) → Package (B200004174)
BC-ECM-ABA → ECM ABAP Stack → Package (B200004175)
BC-ECM-ABA-COR → ECM Core Infrastructure → Package (B200004176)
BC-ECM-ABA-DAV → ECM Web Dynpro → Package (B200004178)
BC-ECM-ABA-REP → ECM Repositories → Package (B200004177)
BC-ECM-JAV → ECM Java Stack → Package (B200004179)
BC-ECM-JAV-COR → ECM Core Infrastructure → Package (B200004180)
BC-ECM-JAV-DAV → ECM Web Dynpro → Package (B200004182)
BC-ECM-JAV-REP → ECM Repositories → Package (B200004181)
BC-EHP → Enhancement Package → Package (B200004273)
BC-EHP-INS → Enhancement Package Installer → Package (B200004274)
BC-EHP-INS-TLA → Enhancement Package Installer Tools ABAP → Package (B200004275)
BC-EHP-INS-TLJ → Enhancement Package Installer Tools Java → Package (B200004276)
BC-EIM → Enterprise Information Management (use subcomponents) → Package (B200003266)
BC-EIM-ESC → Enterprise Search Client Library → Package (BYI3000113)
BC-EIM-ESC-APP → Enterprise Search Client Libraries for Apple → Package (BYI3000114)
BC-EIM-ESC-JAV → Enterprise Search Client Libraries for Java → Package (BYI3000115)
BC-EIM-ESH → NetWeaver Enterprise Search → Package (B200003488)
BC-EIM-ILN → Information Logistics Network → Package (B200003267)
BC-EIM-IQM → Information Quality Management → Package (B200003268)
BC-EIM-IQM-IC → Information Consistency → Package (B200003269)
BC-EIM-MDM → Master Data Management → Package (B200004418)
BC-EIM-MDM-INT → MDM Integration → Package (B200004419)
BC-EIM-MDM-INT-ESH → Enterprise Search Adapter → Package (B200004420)
BC-EIM-ODP → Operational Data Provisioning (ODP) → Package (BYI3000065)
BC-ESI → Enterprise Service Infrastructure → Package (B200001941)
BC-ESI-BOF → Business Object Processing Framework → Package (BYI3000066)
BC-ESI-ESF → Enterprise Service Framework Layer → Package (B200001589)
BC-ESI-ESF-2 → Enterprise Service Framework Layer (ESF2) → Package (BYI3000441)
BC-ESI-ESF-ABA → ESF ABAP Backend → Package (B200004095)
BC-ESI-ESF-BSA → Business Service Adaptation → Package (B200004438)
BC-ESI-ESF-DT → Design Time (Mapping Tool, Condition Editor, MDRS) → Package (B200004539)
BC-ESI-ESF-GW → Gateway Integration for CDS and BOPF via SADL → Package (BYI3000980)
BC-ESI-ESF-JAV → ESF JAVA Client → Package (B200004096)
BC-ESI-ESF-MBS → Mass and Background Scheduling → Package (B200004030)
BC-ESI-ESF-TRC → Backend Tracing Tools → Package (BYI3000116)
BC-ESI-ESF-TS → Supportability Tools (TestShell, ESFUtil) → Package (B200004097)
BC-ESI-ESM → ESA Sales Model (Sample) → Package (B200003230)
BC-ESI-FM → Field Mapping → Package (BYI3000112)
BC-ESI-MPS → BYD Reuse Component MPS → Package (BYI3000405)
BC-ESI-SAM → Status and Action Management → Package (B200003231)
BC-ESI-SB → Service Bus → Package (B200004098)
BC-ESI-SEW → Service Extension Workbench → Package (BYI3000067)
BC-ESI-SIW → Service Implementation Workbench → Package (B200004518)
BC-ESI-WS → Web Service Infrastructure → Package (B200003232)
BC-ESI-WS-ABA → Web Service and SOAP – ABAP → Package (B200001549)
BC-ESI-WS-ABA-CFG → WebServices ABAP Configuration → Package (B200004277)
BC-ESI-WS-ABA-MON → WebServices ABAP Monitoring → Package (B200004278)
BC-ESI-WS-ABA-RT → WebServices ABAP Runtime → Package (B200004279)
BC-ESI-WS-JAV → Web Service and SOAP – Java → Package (B200001560)
BC-ESI-WS-JAV-CFG → WebServices Java Configuration → Package (B200004280)
BC-ESI-WS-JAV-MON → WebServices Java Monitoring → Package (B200004281)
BC-ESI-WS-JAV-RT → WebServices Java Runtime → Package (B200004282)
BC-FEP → Frontend Platforms → Package (HLB0009785)
BC-FEP-MAC → Apple Macintosh → Package (HLB0009169)
BC-FEP-OS2 → OS/2 PM → Package (HLB0009183)
BC-FEP-UNX → UNIX / Motif → Package (HLB0009184)
BC-FEP-W31 → Windows 3.1 → Package (HLB0009080)
BC-FEP-W95 → Windows 95 → Package (HLB0009081)
BC-FEP-WNT → Windows NT → Package (HLB0009082)
BC-FES → Frontend Services – Use subcomponents (see SAP Note 1322184) → Package (HLB0009040)
BC-FES-ADD → See SAP Note 837238 → Package (B200001798)
BC-FES-AIT → Intelligent Terminal / SAP Automation GUI/ SAP Assistant → Package (HLB0100145)
BC-FES-AIT-AST → SAP Assistant, Repository Server and Browser, BOE, BAPI Gat → Package (B200000174)
BC-FES-AIT-BAP → BAPI ActiveX → Package (HLB0100176)
BC-FES-AIT-CLS → Class Libraries (RFC, BAPI, IDOC) for C++/Java → Package (B200000172)
BC-FES-AIT-GLB → GUI Components (guilib, itole, autosap) → Package (B200000173)
BC-FES-BUS → Netweaver Business Client → Package (BYI3000185)
BC-FES-BUS-DSK → Netweaver Business Client Desktop → Package (BYI3000186)
BC-FES-BUS-HTM → Netweaver Business Client HTML → Package (BYI3000187)
BC-FES-BUS-RUN → Netweaver Business Client Runtime → Package (BYI3000188)
BC-FES-CON → SAP Console → Package (B200000212)
BC-FES-CTL → SAP GUI for Windows Controls → Package (B200001498)
BC-FES-CTL-F4 → Use BC-FES-CTL (SAP Note 835896) → Package (B200001538)
BC-FES-GRA → Graphic → Package (HLB0009156)
BC-FES-GRA-LAY → Use BC-WD-ACF (see SAP Note 1050270) → Package (B200001590)
BC-FES-GUI → Graphical User Interface → Package (HLB0009783)
BC-FES-GUI-JAV → SAP GUI for JAVA → Package (B200000249)
BC-FES-GXT → GuiXT → Package (B200000134)
BC-FES-IGS → Internet Graphics Service → Package (B200001348)
BC-FES-INS → Frontend Installation → Package (HLB0100146)
BC-FES-ITS → SAP Internet Transaction Server → Package (HLB0009819)
BC-FES-ITS-SUN → ITS on SUN Solaris → Package (B200001318)
BC-FES-JAV → SAP GUI for Java → Package (B5A0000011)
BC-FES-JNT → JNET Control → Package (BYI3000034)
BC-FES-MOB → Read SAP Note 836653 → Package (B200001349)
BC-FES-OAC → Use BC-FES-CTL (see SAP Note 842824) → Package (HLB0100321)
BC-FES-OFF → SAP Desktop Office Integration → Package (HLB0100174)
BC-FES-SCR → Use BC-FES-GUI (see SAP Note 1060949) → Package (B200001458)
BC-FES-WGU → SAP GUI for HTML → Package (B200000192)
BC-FES-WGU-RTL → Use Component BC-I18-BID → Package (B200001639)
BC-FES-WSW → See Note 539477 → Package (HLB0009015)
BC-FES-XXL → XXL List Viewer/Lotus Connections → Package (HLB0100421)
BC-GP → Guided Procedure → Package (B200001968)
BC-GP-FRM → Use BC-GP → Package (B200003179)
BC-GP-IDE → Use BC-GP → Package (B200003542)
BC-HAN → SAP HANA Appliance → Package (BYI3000117)
BC-HAN-IC → Information Composer → Package (BYI3000213)
BC-HAN-INS → For HANA DB use BC-DB-HDB, for HANA Studio use BC-HAN-MOD → Package (BYI3000442)
BC-HAN-LOA → Load Controller → Package (BYI3000118)
BC-HAN-LTR → Landscape Transformation-based Replication → Package (BYI3000221)
BC-HAN-MOD → SAP HANA Modeler → Package (BYI3000119)
BC-HAN-MOD-CLT → SAP HANA Modeler – Client Component → Package (BYI3000902)
BC-HAN-MOD-SRV → SAP HANA Modeler – Server Component → Package (BYI3000903)
BC-HAN-RDL → River Definition Language → Package (BYI3000626)
BC-HAN-RDL-CON → RDL Consumption → Package (BYI3000627)
BC-HAN-RDL-DBG → RDL Debugger → Package (BYI3000628)
BC-HAN-RDL-EDT → RDL Editor → Package (BYI3000629)
BC-HAN-RDL-JSC → RDL JSCompiler → Package (BYI3000630)
BC-HAN-RDL-LNG → RDL Parsers → Package (BYI3000631)
BC-HAN-RDL-NAT → RDL Native → Package (BYI3000632)
BC-HAN-REP → Replication Server → Package (BYI3000120)
BC-HAN-RUL → Rules in HANA → Package (BYI3000633)
BC-HAN-SL → Software logistics tools for HANA → Package (BYI3000634)
BC-HAN-SL-STP → HANA initial setup and On-site configuration → Package (BYI3000635)
BC-HAN-SRC → SAP HANA Search Infrastructure → Package (BYI3000812)
BC-HAN-TM → Task management in SAP HANA → Package (BYI3000869)
BC-HAN-UPD → HANA Update Tool → Package (BYI3000222)
BC-HLP → Help Infrastructure → Package (B200003354)
BC-HLP-ABA → Help Infrastructure for ABAP → Package (B200003355)
BC-HLP-JAV → Help Infrastructure for JAVA → Package (B200003356)
BC-I18 → Internationalization (I18N) → Package (B200001832)
BC-I18-BID → I18N BiDi → Package (B200001835)
BC-I18-JAV → I18N Java → Package (B200001834)
BC-I18-UNI → I18N Unicode → Package (B200001833)
BC-IAM → Identity and Access Management – Please use subcomponents → Package (BYI3000543)
BC-IAM-FED → Identity Federation (IdP/STS) → Package (BYI3000121)
BC-IAM-IDM → Identity Management → Package (B200003614)
BC-IAM-PWM → Password Manager → Package (BYI3000189)
BC-IAM-SL → Secure Login → Package (BYI3000190)
BC-ILM → Information Lifecycle Management → Package (B200003328)
BC-ILM-ACA → Archiving Connector ABAP → Package (B200003348)
BC-ILM-ADO → ILM Add On → Package (BYI3000225)
BC-ILM-ADO-47 → ILM Add On for R/3 Enterprise 4.7 → Package (BYI3000226)
BC-ILM-APE → ESF Archiving Plug-In → Package (B200003218)
BC-ILM-ART → Audit Area and Audit Package Template → Package (B200004428)
BC-ILM-CDE → Context Data Extractor → Package (B200004571)
BC-ILM-CHK → Checksums → Package (B200004508)
BC-ILM-DST → Data Destruction → Package (BYI3000981)
BC-ILM-IRM → Information Retention Manager → Package (B200003329)
BC-ILM-IRM-RT → IRM Run Time → Package (B200004588)
BC-ILM-LCM → Legal Case Management for ILM → Package (B200004109)
BC-ILM-RSE → Technical reuse → Package (BYI3000881)
BC-ILM-RW → Retention Warehouse → Package (ABA0000551)
BC-ILM-SRS → Storage and Retention Service → Package (BYI3000122)
BC-ILM-STO → Integrated Data Base Archive Store → Package (BYI3000982)
BC-ILM-WP → ILM Workplace → Package (BYI3000870)
BC-INS → Installation Tools → Package (HLB0009153)
BC-INS-AS4 → Installation and Upgrade for AS/400 → Package (HLB0100104)
BC-INS-CTC → Central Technical Configuration → Package (B200003141)
BC-INS-CTC-CNT → LM Automation Content → Package (B200004540)
BC-INS-CTC-CNT-BS → LM Automation Content – Business Suite → Package (B200004542)
BC-INS-CTC-CNT-BYD → LM Automation Content – Business By Design → Package (B200004543)
BC-INS-CTC-CNT-NW → LM Automation Content – Netweaver & Cross → Package (B200004544)
BC-INS-CTC-DT → LM Automation Design Time → Package (B200004541)
BC-INS-CTC-RT → LM Automation Runtime Framework → Package (B200004545)
BC-INS-CTC-STD → LM Automation Standalone Framework → Package (B200004579)
BC-INS-DSS → Dual-Stack Split Tool → Package (BYI3000381)
BC-INS-FWK → sapinst and syslib → Package (BYI3000068)
BC-INS-JCI → Java Component Installation → Package (B200003142)
BC-INS-JIF → Java Installation Framework → Package (B200003357)
BC-INS-KRN → UNIX Kernel and Registry Parameters → Package (HLB0100105)
BC-INS-MIG → DB/OS Migrations → Package (HLB0100108)
BC-INS-NGP → Installation for NGAP → Package (BYI3000191)
BC-INS-NT → Installation Windows → Package (HLB0100106)
BC-INS-TC → Automated Technical Configuration for ABAP based systems → Package (BYI3000227)
BC-INS-TC-CNT → Content for ABAP based automated TC → Package (BYI3000228)
BC-INS-TC-RT → Runtime for ABAP based automated TC → Package (BYI3000229)
BC-INS-TLS → Sapcpe and Sapcar tools → Package (BYI3000382)
BC-INS-UNX → Installation for UNIX → Package (HLB0100107)
BC-JAS → Java Application Server → Package (B200001429)
BC-JAS-ADM → Java stack local admin tools – Use subcomponents → Package (B200001434)
BC-JAS-ADM-ADM → Administration → Package (B200002401)
BC-JAS-ADM-ADM-CFT → Config Tool → Package (B200002405)
BC-JAS-ADM-ADM-JMX → JMX → Package (B200002403)
BC-JAS-ADM-ADM-VAD → Visual Administrator → Package (B200002404)
BC-JAS-ADM-ADM-WAD → WebAdmin → Package (B200002402)
BC-JAS-ADM-CEN → Admin Console → Package (B200002406)
BC-JAS-ADM-CEN-AIN → Use SV-SMG-DIA → Package (B200001942)
BC-JAS-ADM-LOG → Logging → Package (B200002407)
BC-JAS-ADM-LOG-API → Logging API → Package (B200002409)
BC-JAS-ADM-LOG-LCF → Log Configurator → Package (B200002408)
BC-JAS-ADM-LOG-LGV → Log Viewer → Package (B200002410)
BC-JAS-ADM-LOG-MSG → Message ID Plug-In → Package (B200003408)
BC-JAS-ADM-LOG-SHD → Short Dump → Package (B200002411)
BC-JAS-ADM-MON → Monitoring → Package (B200002412)
BC-JAS-ADM-MON-BYT → Byte Code → Package (B200002413)
BC-JAS-ADM-MON-DSR → JDSR and DSR → Package (B200002414)
BC-JAS-ADM-MON-IST → Monitoring Infrastructure, GRMG → Package (B200002415)
BC-JAS-ADM-MON-TOL → Tools: Leak Detector, Deadlock Detector → Package (B200002416)
BC-JAS-ADM-MON-TRC → SAT, AppTracer, Memory Trace → Package (B200002417)
BC-JAS-BTC → NetWeaver Scheduler (Java) → Package (B200003248)
BC-JAS-CCM → Use BC-JAS-ADM → Package (B200001598)
BC-JAS-CCM-GMG → Use BC-JAS-ADM → Package (B200001608)
BC-JAS-COR → Enterprise Runtime, Core J2EE Framework → Package (B200001431)
BC-JAS-COR-CLS → Clustering → Package (B200002418)
BC-JAS-COR-CSH → Common Cache Management → Package (B200002419)
BC-JAS-COR-RMT → RMI, P4, CORBA, IIOP → Package (B200002420)
BC-JAS-COR-SES → Session Management → Package (B200003460)
BC-JAS-DOC → Documentation → Package (B200002424)
BC-JAS-DPL → Deployment → Package (B200001430)
BC-JAS-DPL-TLS → Deploy Tool for Versions 6.30 to 7.0x → Package (B200002421)
BC-JAS-EJB → Container EJB → Package (B200001561)
BC-JAS-JMS → Messaging → Package (B200001432)
BC-JAS-LA → Core Java Infrastructure → Package (B200001564)
BC-JAS-LA-JC → Java Compiler, Java Source Code Processing → Package (B200001565)
BC-JAS-LA-JVM → Java Virtual Machine → Package (B200001566)
BC-JAS-MAT → Memory Analysis Tools → Package (B200003358)
BC-JAS-PER → Java Persistence → Package (B200001567)
BC-JAS-PER-DBI → Please use component BC-JAS-PER-SQL → Package (B200001568)
BC-JAS-PER-JDO → Java Data Objects → Package (B200001569)
BC-JAS-PER-JPA → Java Persistence API → Package (B200003312)
BC-JAS-PER-SQL → Relational Persistence: Open SQLJ, Open JDBC → Package (B200001570)
BC-JAS-PLG → Web Server Plug-Ins → Package (B200001562)
BC-JAS-PRT → Portal Runtime Java Services Layer for EP → Package (B200001890)
BC-JAS-RFE → Requests for Enhancement – See SAP Note 1376511 → Package (B200002423)
BC-JAS-SDO → Service Data Object → Package (B200004580)
BC-JAS-SEC → Security, User Management → Package (B200001563)
BC-JAS-SEC-AUT → ACLs, J2EE Roles, UME Actions → Package (B200003359)
BC-JAS-SEC-CPG → Cryptography → Package (B200004391)
BC-JAS-SEC-LGN → Logon, SSO → Package (B200003360)
BC-JAS-SEC-UME → User Management Engine → Package (B200003543)
BC-JAS-SEC-WSS → Web Services Security → Package (B200004392)
BC-JAS-SF → Startup Framework → Package (B200002425)
BC-JAS-SIG → E-mail Signatures – personal and corporate → Package (B200004393)
BC-JAS-TLS → Use BC-TWB-TST-JSC and BC-TWB-TST-JUT → Package (B200001571)
BC-JAS-TLS-ATS → Automatic Test Suite and Tests → Package (B200002422)
BC-JAS-TRH → Transactions and Resource Handling → Package (B200002426)
BC-JAS-TUN → Tuning, Configuration, Sizing, Performance → Package (B200001433)
BC-JAS-TUN-JAM → Java Application Monitor → Package (B200001884)
BC-JAS-WEB → Web Container, HTTP, JavaMail, JSP → Package (B200001435)
BC-JAS-WEB-JSF → JavaServer Faces → Package (B200003313)
BC-JAS-WEB-JSP → Java Server Pages, Expression Language, Java Stand.Tag Libr. → Package (B200003461)
BC-JAS-WEB-WD → Use component BC-WD-JAV → Package (B200003361)
BC-JAS-ZA → Java AS Zero Admin Templates → Package (B200004008)
BC-JAS-ZA-CE → Java AS Zero Admin Templates for CE → Package (B200004009)
BC-JVM → SAP Java Virtual Machine → Package (B200003290)
BC-JVM-JIT → Just-in-time Compiler → Package (B200003291)
BC-JVM-JRT → Java Runtime → Package (B200003292)
BC-JVM-VM → Java Virtual Machine → Package (B200003293)
BC-KRN → Kernel Components → Package (HLB0009770)
BC-LVM → LLVM Compiler Infrastructure → Package (BYI3000636)
BC-LVM-HDB → LLVM inside HANA DB → Package (BYI3000637)
BC-MAS-CB → MAS Catalog Builder → Package (B200000266)
BC-MAS-CO → MAS Controls → Package (B200000264)
BC-MID → Middleware → Package (HLB0100471)
BC-MID-ALE → ALE Integration Technology → Package (HLB0006330)
BC-MID-ALE-COM → Communication → Package (HLB0100225)
BC-MID-ALE-MOD → Modeling → Package (HLB0100223)
BC-MID-ALE-REP → Replication → Package (HLB0100224)
BC-MID-ALE-UTI → Tools → Package (HLB0100226)
BC-MID-API → BAPI Tools (for BAPIs see Note 813411) → Package (HLB0009822)
BC-MID-BUS → Business Connector → Package (HLB0100473)
BC-MID-COL-RPE → Remote Processing Engine → Package (B200001640)
BC-MID-CON → Connectors → Package (B5A0000013)
BC-MID-CON-DCO → DCOM Connector → Package (HLB0100472)
BC-MID-CON-JCO → JAVA Connector → Package (B5A0000014)
BC-MID-CON-NCO → SAP .NET Connector → Package (B200001758)
BC-MID-ICF → Internet Communication Framework → Package (B200000267)
BC-MID-ICF-LGN → ICF System Login → Package (BYI3000018)
BC-MID-INT → Mobile Sales / Middleware → Package (HLB0100474)
BC-MID-INT-ADM → Administration/Monitoring → Package (HLB0100484)
BC-MID-INT-ADP → Adapter → Package (HLB0100479)
BC-MID-INT-BDM → BDOC Modeling → Package (B200000071)
BC-MID-INT-CLI → Client → Package (B200000070)
BC-MID-INT-COM → Communication → Package (HLB0100478)
BC-MID-INT-INU → Installation/Upgrade → Package (B200000076)
BC-MID-INT-SRV → Server → Package (B200000077)
BC-MID-ME → Mobile Engine → Package (B200001288)
BC-MID-MSA-AUT → Authorizations → Package (B200000073)
BC-MID-MSA-BWA → Business Warehouse Adapter → Package (HLB0100481)
BC-MID-MSA-CDS → Consolidated Database → Package (HLB0100485)
BC-MID-MSA-FLA → Flat File Adapter → Package (HLB0100480)
BC-MID-MSA-FLO → Flow Control → Package (HLB0100477)
BC-MID-MSA-LOS → Logical Services → Package (B200000072)
BC-MID-MSA-LUP → Laptop Upgrade → Package (B200000075)
BC-MID-MSA-MAS → Data Mapping → Package (HLB0100486)
BC-MID-MSA-MES → Document Management System → Package (B200000074)
BC-MID-MSA-MSG → Message Warehouse → Package (HLB0100475)
BC-MID-MSA-PER → Performance → Package (B200000079)
BC-MID-MSA-PLA → Pool Adapter → Package (B200000078)
BC-MID-RFC → RFC → Package (B200000069)
BC-MID-RFC-BG → Background RFC (bgRFC) → Package (B200004581)
BC-MID-RFC-QT → Queued RFC (qRFC) and transactional RFC (tRFC) → Package (B200004582)
BC-MID-RFC-SDK → NetWeaver RFC SDK, classical RFC SDK → Package (BYI3000871)
BC-MID-RST → REST-based Protocols → Package (BYI3000192)
BC-MOB → SAP NetWeaver Mobile – Use subcomponents → Package (ABA0000121)
BC-MOB-ADM-DEP → Deployment of Mobile Components → Package (PAB0000054)
BC-MOB-ADM-DEP-CLN → Deployment of Mobile Client → Package (B200003050)
BC-MOB-ADM-TL → Mobile Administration UI / Tool → Package (B200003046)
BC-MOB-ADM-TL-ABA → Mobile Administration – ABAP Stack → Package (B200003047)
BC-MOB-ADM-TL-J2E → Mobile Administration – J2EE Engine → Package (B200003048)
BC-MOB-CFS → Mobile Client for Data Orchestration Engine (DOE) → Package (B200003369)
BC-MOB-CFS-ABC → Mobile Client Services from ABACO (DOE) → Package (B200003380)
BC-MOB-CFS-ABC-AGT → Mobile Client Services from ABACO for Agents (DOE) → Package (B200003381)
BC-MOB-CFS-ABC-PRN → Mobile Clt OS Specific Drivers from ABACO for Printer (DOE) → Package (B200003382)
BC-MOB-CFS-ABC-RFI → Mobile Client OS Specific Drivers from ABACO for RFID (DOE) → Package (B200003383)
BC-MOB-CFS-ABC-SCN → Mobile Clt OS Specific Drivers from ABACO for Scanner (DOE) → Package (B200003384)
BC-MOB-CFS-APP → Mobile Framework Applications / Start Pages (DOE) → Package (B200003370)
BC-MOB-CFS-BCL → Mobile Client Backward Compatibility Layer (DOE) → Package (B200003377)
BC-MOB-CFS-CMI → Mobile Client CMI Layer (DOE) → Package (B200003378)
BC-MOB-CFS-GNL → Mobile Client for Data Orchestration Engine (DoE) – General → Package (B200003611)
BC-MOB-CFS-MWD → Mobile Web Dynpro Runtime (DOE) → Package (B200003371)
BC-MOB-CFS-MWD-CLN → Mobile Web Dynpro Client Runtime (DOE) → Package (B200003372)
BC-MOB-CFS-MWD-MOD → Mobile Web Dynpro Model Runtime (DOE) → Package (B200003373)
BC-MOB-CFS-NSI → Mobile Client JVM Services from NSICOM (DOE) → Package (B200003379)
BC-MOB-CFS-SEC → Mobile Client Security Services (DOE) → Package (B200003375)
BC-MOB-CFS-SWD → Mobile Client Software Deployment Service (DOE) → Package (B200003374)
BC-MOB-CFS-TRC → Mobile Client Logging and Tracing Services (DOE) → Package (B200003376)
BC-MOB-CLN-API → Mobile Public Interface → Package (B200003059)
BC-MOB-CLN-APP → Mobile Framework Applications / Start Pages (MI) → Package (B200003056)
BC-MOB-CLN-JVM → Mobile Java Virtual Machine (MI) → Package (B200003060)
BC-MOB-CLN-MWD → Mobile Web Dynpro Runtime (MI) → Package (B200001779)
BC-MOB-CLN-MWD-CLN → Mobile WebDynpro Client Runtime (MI) → Package (B200003264)
BC-MOB-CLN-MWD-LPT → Mobile Web Dynpro Client for Laptop → Package (B200003044)
BC-MOB-CLN-MWD-MOD → Mobile WebDynpro Model Runtime (MI) → Package (B200003263)
BC-MOB-CLN-MWD-PDA → Mobile Web Dynpro Client for PDA → Package (B200003045)
BC-MOB-CLN-PER → Mobile Data Persistence (MI) → Package (B200003057)
BC-MOB-CLN-PER-DB → DB2e (MI) → Package (B200003058)
BC-MOB-CLN-SER → Mobile Services (MI) → Package (B200003258)
BC-MOB-CLN-SER-AUT → User Management and Authorization (MI) → Package (B200003262)
BC-MOB-CLN-SER-SWD → Client Software Deployment (MI) → Package (B200003260)
BC-MOB-CLN-SER-SYN → Client Synchronization Service → Package (B200003259)
BC-MOB-CLN-SER-TRC → Tracing and Logging (MI) → Package (B200003261)
BC-MOB-DOE → Data Orchestration Engine → Package (B200003110)
BC-MOB-DOE-BEI → Data Orchestration Engine: Back-End Integration → Package (B200003112)
BC-MOB-DOE-CLP → Data Orchestration Engine: Client Communication Protocol → Package (B200003113)
BC-MOB-DOE-COR → Data Orchestration Engine: Core Services → Package (B200003114)
BC-MOB-DOE-DMR → Data Orchestration Engine: Distribution Modeler → Package (B200003116)
BC-MOB-DOE-FLW → Data Orchestration Engine: Flow Controller → Package (B200003117)
BC-MOB-DOE-GEN → Data Orchestration Engine: Generation Framework → Package (B200003118)
BC-MOB-DOE-GTW → Data Orchestration Engine – Backend Gateways → Package (B200004183)
BC-MOB-DOE-PKG → Data Orchestration Engine – Distribution packages → Package (B200004184)
BC-MOB-DOE-RMM → Data Orchestration Engine Workbench – Receiver Meta Model → Package (B200003368)
BC-MOB-DOE-RR → Data Orchestration Engine: Replication & Realignment → Package (B200003115)
BC-MOB-DOE-WB → Data Orchestration Engine Workbench → Package (B200003119)
BC-MOB-HLP → Only for errors in User Help/User Documentation → Package (B200003108)
BC-MOB-IDE → Mobile Integrated Development Environment → Package (B200003038)
BC-MOB-IDE-LAP → Mobile Applications for Laptop Tools → Package (B200004185)
BC-MOB-IDE-LAP-GEN → Applications for Laptop Tools Generation → Package (B200004186)
BC-MOB-IDE-MDK → Mobile Applications Development Kit → Package (ABA0000222)
BC-MOB-IDE-MWD → Mobile Web Dynpro Tools → Package (B200001778)
BC-MOB-IDE-MWD-GEN → Mobile Web Dynpro Model Generation → Package (B200003265)
BC-MOB-IDE-PDA → Mobile Applications for Handhelds Tools → Package (B200004201)
BC-MOB-IDE-PDA-DI → Development Infrastructure Integration → Package (B200004203)
BC-MOB-IDE-PDA-GEN → Code generation → Package (B200004202)
BC-MOB-IDE-PDA-SVC → Service Components → Package (B200004204)
BC-MOB-IDE-PDA-UI → UI Components → Package (B200004205)
BC-MOB-LAP → Mobile Laptop Client for Data Orchestration Engine (DoE) → Package (B200003615)
BC-MOB-MA → SAP NetWeaver Mobile Adminstration → Package (B200003111)
BC-MOB-MA-MON → Mobile Administration: Monitoring → Package (B200003120)
BC-MOB-MGW → Mobile Connector → Package (B200004394)
BC-MOB-MI → Mobile Infrastructure for Release 2.5 and 7.0 → Package (B200003109)
BC-MOB-MI-ADM → Mobile Device Management / Administration for MI → Package (B200003039)
BC-MOB-MI-ADM-ABA → Mobile Administration – ABAP Stack → Package (B200003051)
BC-MOB-MI-ADM-J2E → Mobile Administration – J2EE Engines → Package (B200003052)
BC-MOB-MI-CLN → Mobile Client-Side for MI → Package (PAB0000051)
BC-MOB-MI-HLP → Only for defects in User_Help / User_Documentation → Package (B200004187)
BC-MOB-MI-IDE → Mobile Integrated Development Environment → Package (B200004188)
BC-MOB-MI-NTV → Mobile Native / OS-Specific Drivers (MI) → Package (B200003061)
BC-MOB-MI-NTV-CON → Mobile Configuration Agents (MI) → Package (B200003043)
BC-MOB-MI-NTV-PRN → Mobile Printer (MI) → Package (B200003041)
BC-MOB-MI-NTV-RFI → Mobile RFID (MI) → Package (B200003049)
BC-MOB-MI-NTV-SCN → Mobile Scanner (MI) → Package (B200003042)
BC-MOB-MI-PRD → Production → Package (B200004189)
BC-MOB-MI-REP → Mobile Data Replication Web AS with Backend → Package (B200003040)
BC-MOB-MI-SER → Mobile Server-Side → Package (PAB0000052)
BC-MOB-MI-SER-ABA → Mobile Server-Side: ABAP Stack → Package (B200003062)
BC-MOB-MI-SER-J2E → Mobile Server-Side: J2EE Engine → Package (B200003063)
BC-MOB-MI-SYN → Synchronization Mobile Client with Web AS → Package (PAB0000053)
BC-MOB-MI-SYN-ABA → Synchronization Mobile Client-Side: ABAP Stack → Package (B200003054)
BC-MOB-MI-SYN-CLN → Synchronization Mobile Client-Side → Package (B200003053)
BC-MOB-MI-SYN-J2E → Synchronization Mobile Client-Side: J2EE Engine → Package (B200003055)
BC-MOB-ONL → Mobile Client for Online Web Dynpro Apps (only NW 7.0) → Package (B200003612)
BC-MOB-PDA → Mobile PDA Client for Data Orchestration Engine (DoE) → Package (B200003613)
BC-MOB-PDA-CNT → eSWT Container Application → Package (B200004206)
BC-MOB-PDA-NAT → Native & 3rd party components → Package (B200004207)
BC-MOB-PDA-SF → Service Framework Layer → Package (B200004208)
BC-MOB-PDA-UI → User Interface Layer → Package (B200004209)
BC-MOB-PRD → NetWeaver Mobile Production → Package (B200003148)
BC-MOB-PRD-ABA → NetWeaver Mobile Production – ABAP → Package (B200003149)
BC-MOB-PRD-JAV → NetWeaver Mobile Production – Java → Package (B200003150)
BC-MUS → Musing Tools → Package (ABA0000411)
BC-MUS-FPB → Personalization Framework → Package (ABA0000414)
BC-MUS-KFM → Key Figure Monitor → Package (ABA0000413)
BC-MUS-LP → Launchpad → Package (B200003448)
BC-MUS-POW → Personal Object Worklist → Package (ABA0000412)
BC-MUS-WDK → Batch Input Tools → Package (B200003449)
BC-NEO → Please use subcomponents → Package (BYI3001011)
BC-NEO-SEC → NEO Security – Please use subcomponents → Package (BYI3001004)
BC-NEO-SEC-CPG → Cryptography – e.g. Keystore → Package (BYI3000983)
BC-NEO-SEC-IAM → Identity and Access Management → Package (BYI3000984)
BC-NET → Network Infrastructure → Package (HLB0009772)
BC-NWA → Use subcomponents → Package (B200003409)
BC-NWA-AA → Administration Assistant → Package (B200003410)
BC-NWA-CTC → Initial Setup of NWA with CTC Templates → Package (B200003411)
BC-NWA-EMB → Embedded Support Infrastructure → Package (B200003412)
BC-NWA-INC → Use subcomponents → Package (B200003413)
BC-NWA-INC-AMX → ABAP NWA Infrastructure → Package (B200003414)
BC-NWA-INC-CDP → Central Data Provision Layer → Package (B200003415)
BC-NWA-INC-DEV → NWA Development Tools (Generators, Plug-Ins…) → Package (B200003416)
BC-NWA-INC-EDS → CCMS Integration → Package (B200003417)
BC-NWA-INC-LNV → Use BC-NWA-INC-DEV → Package (B200003418)
BC-NWA-INC-MOD → Core Model → Package (B200003419)
BC-NWA-INC-PNV → Use BC-NWA-INC-DEV → Package (B200003420)
BC-NWA-INC-SEL → Component System Selector → Package (B200003421)
BC-NWA-INC-UIF → UI Framework → Package (B200003422)
BC-NWA-JEE → J2EE Integration Plug-Ins → Package (B200003423)
BC-NWA-REP → Use component BW-BCT-CMS → Package (B200003424)
BC-NWA-SOV → Netweaver Status Overview (NW 7.11 only ) → Package (B200003425)
BC-NWA-XPI → XI and PI Process → Package (B200003426)
BC-OP → Operating System Platforms → Package (HLB0009030)
BC-OP-390 → IBM OS/390 , z/OS → Package (B200001325)
BC-OP-AIX → IBM AIX → Package (HLB0009151)
BC-OP-AIX-JSE → IBM Java Virtual Machine for AIX → Package (B200001982)
BC-OP-AS4 → IBM AS/400 → Package (HLB0009021)
BC-OP-AS4-JSE → IBM Java Virtual Machine for AS/400 → Package (B200001980)
BC-OP-BUL → Bull AIX → Package (HLB0009155)
BC-OP-DGL → Data General → Package (HLB0009158)
BC-OP-FSC → SNI SINIX, ReliantUNIX → Package (HLB0009181)
BC-OP-HPX → HP-UX → Package (HLB0009152)
BC-OP-HPX-JSE → HP Java Virtual Machine or HP-UX → Package (B200001981)
BC-OP-JSE → Use Subcomponents → Package (B200001979)
BC-OP-LNX → Linux → Package (B200000175)
BC-OP-LNX-AWS → CSN Component for Amazon Web Services → Package (BYI3000230)
BC-OP-LNX-EGN → Linux on Egenera environments → Package (B200004283)
BC-OP-LNX-ESX → Linux on VmWare ESX → Package (B200003498)
BC-OP-LNX-HDS → Linux on Hitachi Hardware → Package (BYI3000383)
BC-OP-LNX-I64 → Linux on Itanium 64 → Package (B200001978)
BC-OP-LNX-RH → Red Hat Linux → Package (B200001828)
BC-OP-LNX-SUS → SuSe Linux → Package (B200001829)
BC-OP-LNX-VCE → Linux on VCE / Virtual Computing Environment Hardware → Package (BYI3000638)
BC-OP-LNX-VTS → Veritas Products on Linux → Package (B200004099)
BC-OP-LNX-X64 → Linux on ADM64/Intel Nocona → Package (B200001988)
BC-OP-MON → DBOS Cockpit Monitoring Infrastructure for OS → Package (BYI3000536)
BC-OP-NCR → NCR, UNIX → Package (HLB0009160)
BC-OP-NET → Microsoft .NET → Package (B200001738)
BC-OP-NET → Microsoft .NET → Package (B200001748)
BC-OP-NET → Microsoft .NET → Package (B200001749)
BC-OP-NET-ASP → ASP.NET Control Library → Package (B200001751)
BC-OP-NET-ASP → ASP.NET Control Library → Package (B200001752)
BC-OP-NET-VS → Visual Studio .NET Components → Package (B200001759)
BC-OP-NT → Windows → Package (HLB0009157)
BC-OP-NT-AWS → Amazon Web Services → Package (BYI3000639)
BC-OP-NT-ESX → Windows on VMware ESX → Package (B200003499)
BC-OP-NT-JSE → SUN JVM on Windows → Package (B200001983)
BC-OP-PLX → Linux on IBM PowerPC Hardware → Package (B200001838)
BC-OP-SEQ → Sequent Dynix/PTX → Package (HLB0009159)
BC-OP-SUN → SUN Solaris → Package (HLB0009180)
BC-OP-SUN-JSE → Sun Java Virtual Machine for Solaris → Package (B200001388)
BC-OP-TRU → HP Tru64 → Package (HLB0009031)
BC-OP-ZLX → Linux on IBM zSeries Hardware → Package (B200001324)
BC-PER → SAP Screen Personas → Package (BYI3000985)
BC-PER-DR → Personas Data Repository → Package (BYI3000986)
BC-PER-DT → Personas Designtime → Package (BYI3000987)
BC-PER-RT → Personas Runtime → Package (BYI3000988)
BC-PER-RT-SIL → Personas Runtime – Silverlight → Package (BYI3000989)
BC-PIN-PCD → PCD, Generic Layer Services → Package (B200003548)
BC-RIA → Rich Internet Application Infrastructure → Package (B200004548)
BC-RIA-FLX → Rich Internet Application Infrastructure for Flex → Package (B200004549)
BC-RRR → Ready-to-Run R/3 → Package (B200000039)
BC-RRR-INS → Installation → Package (B200000040)
BC-RRR-SAA → System Administration Assistant → Package (B200000041)
BC-SA → Please use BC-DWB-JAV-SA → Package (B200004546)
BC-SEC → Security → Package (HLB0100169)
BC-SEC-AIS → System Audit Information System → Package (B5A0000012)
BC-SEC-AUT → Authorization Management → Package (HLB0100103)
BC-SEC-AUT-PFC → ABAP Authorization and Role Management → Package (HLB0100332)
BC-SEC-AUT-RBM → Role-Based Access Management for SAP Business ByDesign → Package (B200003362)
BC-SEC-DIR → Directory → Package (HLB0100218)
BC-SEC-IDM → Please use BC-IDM → Package (B200004031)
BC-SEC-LGN → Authentication and SSO → Package (B200001840)
BC-SEC-LGN-SML → SAML 2.0 → Package (BYI3000391)
BC-SEC-LIK → Licence Key Administration → Package (B200004395)
BC-SEC-RAL → Read Access Logging → Package (BYI3000537)
BC-SEC-SAL → Security Audit Log → Package (B200004396)
BC-SEC-SAT → Security Automation Tests → Package (B200004583)
BC-SEC-SNC → Secure Network Communications → Package (HLB0100170)
BC-SEC-SSF → Secure Store and Forward → Package (HLB0100171)
BC-SEC-SSL → Secure Sockets Layer Protocol → Package (B200001943)
BC-SEC-USR → User Administration → Package (HLB0009026)
BC-SEC-USR-ADM → User and Authorization Management → Package (HLB0100102)
BC-SEC-USR-IS → User Information System → Package (B200001839)
BC-SEC-USR-PER → Personalization → Package (BIO0000012)
BC-SEC-VIR → Anti-Virus Protection → Package (B200001698)
BC-SEC-WSS → Web Services Security for ABAP → Package (BYI3000019)
BC-SRV → Basis Services / Communication Interfaces → Package (HLB0009020)
BC-SRV-ADR → Address Management/Business Address → Package (HLB0006316)
BC-SRV-ALV → SAP List Viewer → Package (B200000037)
BC-SRV-ARL → ArchiveLink → Package (HLB0009818)
BC-SRV-ARL-ARC → ArchiveLink Archive System Connection → Package (HLB0100072)
BC-SRV-ARL-INT → ArchiveLink Basic Functions → Package (HLB0100073)
BC-SRV-ARL-VIE → ArchiveLink Viewer → Package (HLB0100341)
BC-SRV-ASF → General Service Functions → Package (B200000035)
BC-SRV-ASF-AT → Audit trail enhancements (ILM) → Package (B200004338)
BC-SRV-ASF-CAL → Holiday Calendar, Factory Calendar, Appointment Calendar → Package (HLB0100211)
BC-SRV-ASF-CHD → Change Documents → Package (B200000292)
BC-SRV-ASF-FOI → Formula Interpreter → Package (B200001718)
BC-SRV-ASF-FOI → Formula Interpreter → Package (B200001750)
BC-SRV-ASF-FOI-FDT → Please use BC-SRV-BR → Package (B200004547)
BC-SRV-ASF-FYV → Service functions for fiscal year versions → Package (B200004251)
BC-SRV-ASF-MDS → CSN Componet for Meta Data Services → Package (BYI3000231)
BC-SRV-ASF-POP → Standard Dialogs → Package (B200001418)
BC-SRV-ASF-UOM → Units of Measurement → Package (HLB0100213)
BC-SRV-BAL → Basis Application Log → Package (B200000036)
BC-SRV-BBS → Report/Report Interface → Package (B200000202)
BC-SRV-BDS → Business Document Service → Package (HLB0100453)
BC-SRV-BP → Business Partner Foundation → Package (B200003098)
BC-SRV-BR → BRFplus – ABAP-Based Business Rules → Package (B200003249)
BC-SRV-BRF → Business Rule Framework → Package (ABA0000261)
BC-SRV-BSF → Business Service Functions → Package (B200001268)
BC-SRV-BSF-CUR → Currency Conversion/Expiring Currency → Package (B200001478)
BC-SRV-BSF-CUR-CER → Use AP-RC-CER (AP Currency & Exchange Rates) → Package (B200003250)
BC-SRV-BSF-MSH → CO Message Handler → Package (B200001419)
BC-SRV-BSF-PAR → Parallel Processing Tool → Package (B200004285)
BC-SRV-BTF → Business Text Framework → Package (B200001408)
BC-SRV-CC → Code Composer → Package (B200004058)
BC-SRV-CM → Case Management → Package (B200001542)
BC-SRV-COM → Communication Services: Mail, Fax, SMS, Telephony → Package (HLB0009023)
BC-SRV-COM-BCB → Business Communication Broker/Integrated Comm. Interface → Package (B200003551)
BC-SRV-COM-FAX → Fax Connection → Package (HLB0100214)
BC-SRV-COM-FTP → File Transfer Using FTP → Package (HLB0100411)
BC-SRV-COM-GEN → Connection to Genesys Application → Package (B200001398)
BC-SRV-COM-HPL → Paging using HTTP Plug-In → Package (B200001575)
BC-SRV-COM-INT → Internet Mail Gateway → Package (HLB0100215)
BC-SRV-COM-MSX → Exchange Connector → Package (HLB0100216)
BC-SRV-COM-SMM → SAP Mass Mailer → Package (B200004339)
BC-SRV-COM-SPL → Use component BC-CST-IC → Package (B200001576)
BC-SRV-COM-TEL → Telephone Connection → Package (HLB0100217)
BC-SRV-CP → SAP Commercial Platform – eStore for Solutions and Add-ons → Package (BYI3000811)
BC-SRV-CRA → Composition Environment Reference Applications → Package (B200003462)
BC-SRV-CSL → Cross System Lock → Package (BYI3000384)
BC-SRV-DMC → Data Conversion → Package (B200000182)
BC-SRV-DRT → Development Reporting Tools → Package (B200004068)
BC-SRV-DX → Initial Data Transfer → Package (B200001437)
BC-SRV-DX-ADM → SAP Accelerated Data Migration Tool → Package (B200003427)
BC-SRV-DX-DXW → Data Transfer Workbench → Package (B200001438)
BC-SRV-DX-LSM → Legacy System Migration Workbench → Package (B200001439)
BC-SRV-EDI → IDoc interface → Package (HLB0009011)
BC-SRV-FP → Forms Processing → Package (B200001776)
BC-SRV-FP-BPM → Forms Processing in BPM → Package (BYI3000123)
BC-SRV-FP-FRW → Forms Processing Framework → Package (B200004327)
BC-SRV-FP-IFA → Interactive Forms by Adobe → Package (B200004328)
BC-SRV-FP-PAR → Forms Processing Parallelization → Package (BYI3000124)
BC-SRV-FRM → Microsoft Outlook Integration for WebFlow (SAPforms) → Package (B200001579)
BC-SRV-FSI → Fast Search Infrastructure → Package (B200001946)
BC-SRV-FSI-ADM → FastSearch System Administration & Setup → Package (BYI3000640)
BC-SRV-FSI-BCK → FastSearch Backup Recovery → Package (BYI3000645)
BC-SRV-FSI-DT → FastSearch DesignTime (View Builder etc) → Package (BYI3000644)
BC-SRV-FSI-ES → Enterprise Search Backend → Package (BYI3000648)
BC-SRV-FSI-EXE → FastSearch Query & MDAV Execution → Package (BYI3000643)
BC-SRV-FSI-NDB → FastSearch NDB specific Issues → Package (BYI3000649)
BC-SRV-FSI-PDI → FastSearch PDI & Extensibility → Package (BYI3000641)
BC-SRV-FSI-PLG → FastSearch Planning → Package (BYI3000647)
BC-SRV-FSI-TCP → FastSearch Tenant Copy → Package (BYI3000646)
BC-SRV-FSI-UPG → FastSearch Upgrade → Package (BYI3000642)
BC-SRV-GBT → Use Subcomponents → Package (HLB0009012)
BC-SRV-GBT-ALM → Alert Framework → Package (B200001338)
BC-SRV-GBT-CAL → Appointment Calendar → Package (HLB0100381)
BC-SRV-GBT-DRB → Document Relationship Browser → Package (B5A0000001)
BC-SRV-GBT-GOS → Generic Object Services → Package (B200000152)
BC-SRV-GBT-OBL → General Object Relations → Package (B200000153)
BC-SRV-GBT-PPF → Post Processing Framework → Package (B200000232)
BC-SRV-GEO → Geographical Functions → Package (B200000293)
BC-SRV-KPR → Knowledge Provider → Package (HLB0100069)
BC-SRV-KPR-AUS → Authoring Services (PC) → Package (HLB0100282)
BC-SRV-KPR-CMS → Content Management Service → Package (HLB0100451)
BC-SRV-KPR-CS → SAP Content Server → Package (B200001494)
BC-SRV-KPR-CVS → Conversion Service → Package (HLB0100454)
BC-SRV-KPR-DMF → Document Management Framework → Package (B200001326)
BC-SRV-KPR-DMS → Document Management Services → Package (HLB0100281)
BC-SRV-KPR-KBT → Knowledge Base Tools → Package (HLB0100461)
BC-SRV-KPR-RET → Text Retrieval and Information Extraction → Package (HLB0100452)
BC-SRV-KPR-WEB → Web Server → Package (HLB0100283)
BC-SRV-LIM → License Measurement → Package (BYI3000281)
BC-SRV-LTS → Lotus Notes Integration for Workflow → Package (B200001580)
BC-SRV-MAP → SAP MAPI Service Provider → Package (HLB0100070)
BC-SRV-MCM → Mobile Content Management by SAP → Package (BYI3000877)
BC-SRV-MS → Use Subcomponents → Package (B200001830)
BC-SRV-MS-IIS → See SAP Note 88621 → Package (B200001831)
BC-SRV-NBC → NetWeaver Business Content → Package (B200001944)
BC-SRV-NUM → Number Range Management → Package (B200000294)
BC-SRV-NUM-NR → AP Reuse Component Number Ranges → Package (B200004286)
BC-SRV-NWD → NetWeaver Demonstration → Package (B200003608)
BC-SRV-NWD-XBR → HANA Reference Applications → Package (BYI3000542)
BC-SRV-NWV → SAP NetWeaver Voice → Package (B200003198)
BC-SRV-OFC-RPL → Room reservation management → Package (HLB0100071)
BC-SRV-OTR → Online Text Repository → Package (B200001249)
BC-SRV-PCO → Plant Connectivity (Pco): ABAP part → Package (BYI3000069)
BC-SRV-PMF → Unified Push Messaging Framework → Package (BYI3000906)
BC-SRV-PMI → Process Monitoring Infrastructure → Package (B200001669)
BC-SRV-PMI-CEN → Central Monitoring Infrastructure → Package (B200001709)
BC-SRV-PMI-CFG → Configuration → Package (B200001710)
BC-SRV-PMI-LOC → Local Monitoring Infrastructure → Package (B200001708)
BC-SRV-PMI-UI → User Interface → Package (B200001711)
BC-SRV-PS → Productivity Services → Package (BYI3000125)
BC-SRV-QCS → Use AP-RC-QC (AP Quantity Conversion) → Package (B200003251)
BC-SRV-QUE → SAP Query → Package (HLB0009166)
BC-SRV-REP → Report Tree → Package (HLB0009090)
BC-SRV-RM → SAP Records Management → Package (B200000302)
BC-SRV-SCR → SAPscript → Package (HLB0009774)
BC-SRV-SEN → ABAP Search Engine for ERP Solution Database → Package (B200001327)
BC-SRV-SSF → Smart Forms → Package (B200001248)
BC-SRV-STW → Social Media ABAP Integration Library → Package (BYI3000385)
BC-SRV-TFW → Tagging Framework → Package (BYI3000942)
BC-SRV-TIM → Time and Scheduling Functions → Package (B200000295)
BC-SRV-TIM-DT → Use AP-RC-DT (AP Date&Time) → Package (B200003252)
BC-SRV-TIM-TR → Date Rules → Package (B200001448)
BC-SRV-TIM-TS → Time streams → Package (BYI3000161)
BC-SRV-TIM-TZ → Time Zones → Package (B200001699)
BC-SRV-TRX → TREX → Package (B200001543)
BC-SRV-TXV → Text Verticalization → Package (B200003208)
BC-SRV-UIF → User Interface Framework → Package (BIO0000101)
BC-SRV-UKM → Standardized Key Mapping → Package (B200003018)
BC-SRV-XGT → Use Component BC-ABA-XML → Package (B200000282)
BC-SRV-XGT-IXM → Use Component BC-ABA-XML → Package (B200000283)
BC-SRV-XGT-XSL → Use Component BC-ABA-XML → Package (B200000284)
BC-SYB → Sybase Products → Package (BYI3000126)
BC-SYB-ADS → ADS (Advantage Database Server) → Package (BYI3000581)
BC-SYB-AFA → Afaria → Package (BYI3000127)
BC-SYB-ASE → Sybase ASE Database Platform (non Business Suite) → Package (BYI3000538)
BC-SYB-ASE-CE → ASE Cluster Edition (Standalone) → Package (BYI3000650)
BC-SYB-BIZ → Sybase eBusiness Integration → Package (BYI3000651)
BC-SYB-CEP → Sybase Aleri Streaming Platform (CEP) → Package (BYI3000128)
BC-SYB-EAS → EAserver → Package (BYI3000652)
BC-SYB-ECD → Enterprise Connect (ECDA) → Package (BYI3000653)
BC-SYB-EDI → EDI Server → Package (BYI3000654)
BC-SYB-ESP → Sybase ESP (Event Stream Processor) → Package (BYI3000539)
BC-SYB-HIP → HIPPA → Package (BYI3000655)
BC-SYB-IM → InfoMaker → Package (BYI3000907)
BC-SYB-IWS → Industry Warehouse Studio → Package (BYI3000656)
BC-SYB-LMS → Liquidity Management Suite → Package (BYI3000657)
BC-SYB-MFC → Mainframe Connect (MFC) → Package (BYI3000658)
BC-SYB-MIR → Mirror Activator → Package (BYI3000659)
BC-SYB-OS → Open Server → Package (BYI3000660)
BC-SYB-PB → Powerbuilder → Package (BYI3000872)
BC-SYB-PD → Power Designer → Package (BYI3000362)
BC-SYB-PD-AMC → Power AMC → Package (BYI3000908)
BC-SYB-RAP → Risk Analytics Platform (RAP) → Package (BYI3000661)
BC-SYB-REP → Sybase Replication Server (standalone) → Package (BYI3000129)
BC-SYB-REP-HET → Replication Server Heterogeneous Edition (RSHE) → Package (BYI3000662)
BC-SYB-REP-ME → Replication Server Messaging Edition (RSME) → Package (BYI3000663)
BC-SYB-REP-RSO → Rep Server Options (RSO) → Package (BYI3000664)
BC-SYB-REP-RTL → Rep Server Real-Time Loading Edition (RTLE) → Package (BYI3000665)
BC-SYB-SDK → SDK → Package (BYI3000666)
BC-SYB-SQA → SQL Anywhere (on premise, on demand) → Package (BYI3000667)
BC-SYB-SUP → Sybase Unwire Platform → Package (BYI3000130)
BC-SYB-SWT → Openswitch → Package (BYI3000668)
BC-SYB-WPM → iAnywhere SAP WebPIM SDK → Package (BYI3000972)
BC-SYB-WRK → Sybase Workspace → Package (BYI3000669)
BC-SYB-XCP → iAnywhere SAP XTNDConnect PC Source → Package (BYI3000971)
BC-TLM → Tenant Lifecycle Management → Package (BYI3000232)
BC-TLM-CP → TLM Content – Tenant Copy → Package (BYI3000233)
BC-TLM-RT → TLM Runtime Engine → Package (BYI3000234)
BC-TLM-TC → TLM Content – Technical Configuration → Package (BYI3000235)
BC-TLM-TDM → TLM Tenant Data Model → Package (BYI3000236)
BC-TRL → SAP NetWeaver Translation: Technical Issues → Package (B200004100)
BC-TRX → TREX → Package (B200003128)
BC-TRX-API → TREX ABAP + JAVA API → Package (B200003133)
BC-TRX-BIA → TREX BI Accelerator → Package (B200003309)
BC-TRX-EFS → TREX Enterprise File Search → Package (B200003428)
BC-TRX-ENG → TREX Engine → Package (B200003129)
BC-TRX-EXP → BOE Explorer – Accelerated → Package (B200004460)
BC-TRX-INF → TREX Infrastructure → Package (B200003130)
BC-TRX-INS → TREX Installation → Package (B200003131)
BC-TRX-OEM → TREX Third Party → Package (B200003132)
BC-TRX-SES → TREX Search Engine Service → Package (B200003134)
BC-TRX-UI → TREX Administration UIs → Package (B200003135)
BC-TWB → Test Workbench → Package (B200000034)
BC-TWB-ORG → Test Organizer → Package (HLB0006338)
BC-TWB-ORG-CTL → Test Catalog (use component BC-TWB-ORG) → Package (B200001364)
BC-TWB-ORG-INF → Status Info System (use component BC-TWB-ORG) → Package (B200001363)
BC-TWB-ORG-MTC → Manual Test Case (use component BC-TWB-ORG) → Package (B200001362)
BC-TWB-ORG-PLN → Test Plan and Test Packages (use component BC-TWB-ORG) → Package (B200001361)
BC-TWB-TST → Use Subcomponents (See SAP Note 1156876) → Package (B200001359)
BC-TWB-TST-CAT → CATT Computer Aided Test Tool → Package (HLB0006336)
BC-TWB-TST-ECA → eCATT Extended Computer Aided Test Tool → Package (B200001360)
BC-TWB-TST-ITF → Instant Test Framework → Package (BYI3000791)
BC-TWB-TST-JSC → Java Static Check (JLin) → Package (B200001572)
BC-TWB-TST-JUT → Java Unit Test Tools (ATS/JVer/JUnit) → Package (B200001573)
BC-TWB-TST-P → Performance Test Tools → Package (B200003138)
BC-TWB-TST-P-GPA → Global Performance Analysis (Transaction ST30) → Package (B200003139)
BC-TWB-TST-P-PA → Performance Analysis (Transaction ST05) → Package (B200003140)
BC-TWB-TST-P-PM → Performance Monitor (Transaction STATS) → Package (BYI3000943)
BC-TWB-TST-SCE → Role-Oriented Scenario Test Tool: Perform. & Lock Behavior → Package (B200003233)
BC-TWB-TST-TCK → ATC extensions for Technical Check → Package (B200004573)
BC-TWB-TST-VIV → VIVA tool → Package (B200004461)
BC-UPG → Upgrade – General → Package (HLB0009778)
BC-UPG-ADDON → Upgrade Add-On Components (IS) → Package (HLB0100113)
BC-UPG-DTM → Downtime Minimization → Package (BYI3000990)
BC-UPG-DTM-TLA → Downtime Minimization for ABAP → Package (BYI3000991)
BC-UPG-DTM-TLJ → Downtime Minimization for Java → Package (BYI3000992)
BC-UPG-NA → SAP Note Assistant → Package (B200000316)
BC-UPG-NV → Note Validation → Package (B200004462)
BC-UPG-OCS → Online Correction Support (Support Package and Add-On Tools) → Package (HLB0009779)
BC-UPG-OCS-SPA → Support Package Tools for ABAP → Package (B200003074)
BC-UPG-OCS-SPJ → Support Package Tools for Java → Package (B200003075)
BC-UPG-OCS-ZDM → Near Zero Downtime Maintenance → Package (B200004190)
BC-UPG-PRP → Upgrade Preparation → Package (HLB0100110)
BC-UPG-RDM → README: Upgrade Supplements → Package (HLB0100111)
BC-UPG-SLC → Software Logistics Controller → Package (B200004118)
BC-UPG-SLC-BYD → SL controller for SAP Business ByDesign live update → Package (BYI3000439)
BC-UPG-SLM → Software Lifecycle Manager → Package (B200001879)
BC-UPG-TLS → Upgrade Tools → Package (HLB0100112)
BC-UPG-TLS-TLA → Upgrade Tools for ABAP → Package (B200003076)
BC-UPG-TLS-TLJ → Ugprade Tools for Java → Package (B200003077)
BC-UPG-TMT → Tenant Maintenance Tools → Package (BYI3000070)
BC-VCM → Virtualization / Cloud Management → Package (BYI3000193)
BC-VCM-CAL → Cloud Application Library → Package (BYI3000237)
BC-VCM-LVM → Landscape Virtualization Management → Package (BYI3000194)
BC-VCM-LVM-EMC → LVM Partner : EMC → Package (BYI3001000)
BC-VCM-LVM-HDS → LVM Partner : Hitachi Data Systems → Package (BYI3000993)
BC-VCM-LVM-HP → LVM Partner : HP → Package (BYI3001001)
BC-VCM-LVM-IBM → LVM Partner : IBM → Package (BYI3001002)
BC-VCM-LVM-NWA → LVM Partner : NetWork Appliance → Package (BYI3001003)
BC-VCM-LVM-ORA → LVM Partner : Oracle → Package (BYI3000996)
BC-VCM-LVM-RH → LVM Partner : Red Hat → Package (BYI3000995)
BC-VCM-LVM-VMW → LVM Partner : VMWare → Package (BYI3000994)
BC-VMC → Virtual Machine Container → Package (B200001947)
BC-VMC-CON → Container → Package (B200001958)
BC-VMC-CON-KRN → Kernel → Package (B200001959)
BC-VMC-CON-LTE → Lite → Package (B200001960)
BC-VMC-JIT → Just-in-time Compiler → Package (B200001961)
BC-VMC-JRT → Java Runtime → Package (B200001962)
BC-VMC-JVM → Java Virtual Machine → Package (B200001963)
BC-WD → Web Dynpro → Package (B200001488)
BC-WD-ABA → Web Dynpro ABAP → Package (B200001558)
BC-WD-ABA-ACC → Web Dynpro ABAP Accessibility → Package (B200003283)
BC-WD-ABA-CFG → Configuration / Personalization → Package (B200004397)
BC-WD-ABA-GEN → Web Screen ABAP Generation → Package (B200001588)
BC-WD-ABA-PB → WD ABAP Page Builder → Package (B200004398)
BC-WD-ABA-REN → Web Dynpro ABAP Rendering → Package (B200001841)
BC-WD-ABA-RUN → Web Dynpro ABAP Runtime → Package (B200001491)
BC-WD-ACF → Bitte Unterkomponenten verwenden (Hinweis 1665488) → Package (B200001799)
BC-WD-ACF-ADB → Adobe control for template designer → Package (B200004144)
BC-WD-ACF-CLT → WD ACF Applet/Active UI elements/Connectors → Package (BYI3000386)
BC-WD-ACF-OFF → Office integration → Package (B200004145)
BC-WD-ACF-RUN → Bitte Unterkomponente verwenden (Hinweis 1665488) → Package (BYI3000387)
BC-WD-ACF-RUN-ABA → ACF Server Runtime Framework for Web Dynpro ABAP → Package (BYI3000540)
BC-WD-ACF-RUN-JAV → ACF Server Runtime Framework for Web Dynpro Java → Package (BYI3000541)
BC-WD-ACF-UI → WD ACF Graphics UI Library → Package (BYI3000388)
BC-WD-CLT → Web Dynpro Clients → Package (B200001881)
BC-WD-CLT-BUS → Web Dynpro Business Client → Package (B200003284)
BC-WD-CLT-FLX → Web Dynpro Flex Client → Package (B200003285)
BC-WD-CLT-HTM → Web Dynpro HTML Rendering → Package (B200001885)
BC-WD-CLT-JAV → Web Screen Java Client → Package (B200001882)
BC-WD-CLT-WIN → Use Component BC-WD-CLT-BUS → Package (B200001883)
BC-WD-CMP → Configurable Web Dynpro Component → Package (B200003078)
BC-WD-CMP-ALV → Web Dynpro List Viewer- Use subcomponents → Package (B200003019)
BC-WD-CMP-ALV-ABA → Web Dynpro ALV for ABAP → Package (B200003438)
BC-WD-CMP-ALV-JAV → Web Dynpro ALV for Java → Package (B200003439)
BC-WD-CMP-ATS → ABAP Table/Tree Services → Package (BYI3000071)
BC-WD-CMP-FPM → Floorplan Manager Web Dynpro ABAP → Package (B200003958)
BC-WD-CSF → Web Dynpro Client Side Framework → Package (B200001680)
BC-WD-DYN → Web Dynpro Conversion → Package (B200001559)
BC-WD-DYN-GEN → Web Dynpro Conversion Generation → Package (B200001842)
BC-WD-DYN-RUN → Web Dynpro Runtime Conversion → Package (B200001492)
BC-WD-GEN → Web Dynpro Metadata and Generation → Package (B200001489)
BC-WD-HTM → Obsolete – Please use CA-UI5 → Package (BYI3000131)
BC-WD-HTM-DT → Obsolete – Please use component CA-UI5-TOL → Package (BYI3000389)
BC-WD-JAV → Web Screen Java → Package (B200001490)
BC-WD-JAV-ADB → Web Dynpro Java Adobe Integration → Package (B200004146)
BC-WD-JAV-GEN → Web Dynpro Java Generation → Package (B200003552)
BC-WD-JAV-MOB → Web Dynpro Mobile User Interfaces and Devices → Package (B200001493)
BC-WD-JAV-RUN → Web Dynpro Java Runtime → Package (B200003553)
BC-WD-JAV-XGL → Use component BC-WD-XGL → Package (B200003554)
BC-WD-JSF → SAP Component library for JSF → Package (B200004148)
BC-WD-PTN → Web Dynpro Pattern → Package (B200001678)
BC-WD-PTN-ABA → Web Dynpro Pattern ABAP → Package (B200001679)
BC-WD-PTN-ACC → Web Dynpro Pattern Framework Accessibility → Package (B200003363)
BC-WD-PTN-CMP → Web Dynpro Pattern Components → Package (B200003310)
BC-WD-PTN-FW → Web Dynpro Pattern Framework → Package (B200003311)
BC-WD-UR → Unified Rendering → Package (B200003318)
BC-WD-UR-ACC → Unified Rendering Accessibility → Package (B200003319)
BC-WD-XGL → Web Dynpro interpreter – Please use EP-VC → Package (B200004149)
BC-XI → Exchange Infrastructure → Package (B200001328)
BC-XI-CON → Connectivity → Package (B200001499)
BC-XI-CON-ABA → ABAP Adapter → Package (B200004032)
BC-XI-CON-ABA-HTP → HTTP Adapter → Package (B200004033)
BC-XI-CON-ABA-IDO → IDOC Adapter → Package (B200004055)
BC-XI-CON-ABA-WS → WebService Adapter → Package (BYI3000153)
BC-XI-CON-AFW → J2EE Adapter Framework → Package (B200004034)
BC-XI-CON-AFW-AAE → Advanced Adapter Engine → Package (B200004035)
BC-XI-CON-AFW-DC → Adapter Framework Directory Cache → Package (B200004036)
BC-XI-CON-AFW-MP → Adapter Framework Module Processor → Package (B200004037)
BC-XI-CON-AFW-SCH → Adapter Framework Job Scheduler → Package (B200004038)
BC-XI-CON-AFW-SEC → Adapter Framework Security → Package (B200004039)
BC-XI-CON-AFW-SLD → Adapter Framework SLD Registration → Package (B200004550)
BC-XI-CON-AXS → Axis Extention for SOAP Adapter → Package (BYI3000390)
BC-XI-CON-BCA → BC-Adapter → Package (B200004040)
BC-XI-CON-BPM → BPM – PI Integration → Package (BYI3000195)
BC-XI-CON-ELS → HR/FI Elster Module for PI → Package (BYI3000823)
BC-XI-CON-FIL → File Adapter → Package (B200004041)
BC-XI-CON-HTP → HTTP Adapter J2EE Adapter Engine → Package (B200004551)
BC-XI-CON-IDO → Idoc Adapter J2EE → Package (B200004399)
BC-XI-CON-ISP → Industry Standard Adapter → Package (B200004051)
BC-XI-CON-JDB → JDBC Adapter → Package (B200004042)
BC-XI-CON-JMS → JMS Adapter → Package (B200004054)
BC-XI-CON-JPR → Java Proxy Runtime → Package (B200004052)
BC-XI-CON-JSE → J2SE Adapter Engine → Package (B200001502)
BC-XI-CON-JSE-FIL → File Adapter → Package (B200004043)
BC-XI-CON-JSE-JDB → JDBC Adapter → Package (B200004044)
BC-XI-CON-JSE-JMS → JMS Adapter → Package (B200004045)
BC-XI-CON-JSE-SOP → SOAP Adapter → Package (B200004046)
BC-XI-CON-MAI → Mail Adapter → Package (B200004047)
BC-XI-CON-MAP → PI Mapping Runtime J2EE → Package (B200004552)
BC-XI-CON-PCK → Partner Connectivity Kit → Package (B200004053)
BC-XI-CON-RFC → RFC Adapter → Package (B200004048)
BC-XI-CON-SAD → SAP Adapter (RFC, IDoc) → Package (B200001501)
BC-XI-CON-SOP → SOAP Adapter → Package (B200004049)
BC-XI-CON-UDS → User Defined Search J2EE Adapter Engine → Package (B200004553)
BC-XI-CON-VAL → XML Validation J2EE Adapter Engine → Package (B200004554)
BC-XI-CTC → CTC Templates for PI configuration → Package (B200004555)
BC-XI-DOC → Documentation → Package (BYI3000020)
BC-XI-IBC → Integration Builder – Configuration → Package (B200001500)
BC-XI-IBC-MAP → Mapping → Package (B200001503)
BC-XI-IBC-ROU → Routing → Package (B200001366)
BC-XI-IBC-SCE → Scenario → Package (B200001504)
BC-XI-IBC-SRV → Services → Package (B200001505)
BC-XI-IBD → Integration Builder – Design → Package (B200001329)
BC-XI-IBD-BO → Business Objects Modeling → Package (B200003364)
BC-XI-IBD-INF → Interfaces → Package (B200001506)
BC-XI-IBD-MAP → Mapping → Package (B200001367)
BC-XI-IBD-MOD → Integrated Process Modelling → Package (B200004050)
BC-XI-IBD-SCE → Scenario → Package (B200001507)
BC-XI-IBF → Integration Builder – Framework → Package (B200003365)
BC-XI-IBF-VNT → Versioning & Transport → Package (B200004463)
BC-XI-IDE → NWDS / Eclipse IDE Tools → Package (BYI3000238)
BC-XI-IDE-IFL → NWDS / Eclipse IDE Tools for Integration Flow → Package (BYI3000239)
BC-XI-IDE-INT → Eclipse Tools for Interface Objects → Package (BYI3000873)
BC-XI-IDE-MAP → Eclipse Tools for mapping tooling → Package (BYI3000874)
BC-XI-IS → Integration Server → Package (B200001369)
BC-XI-IS-BPE → Business Process Engine → Package (B200001574)
BC-XI-IS-IEN → Integration Engine → Package (B200001508)
BC-XI-IS-MAP → PI Mapping Runtime ABAP → Package (B200004556)
BC-XI-IS-UDS → User Defined Search ABAP → Package (B200004557)
BC-XI-IS-VAL → XML Validation ABAP → Package (B200004558)
BC-XI-IS-WKB → Runtime Workbench/Monitoring → Package (B200001509)
BC-XI-OD → Process Integration OnDemand → Package (BYI3000681)
BC-XI-OD-ET → Integration Eclipse Tooling → Package (BYI3000670)
BC-XI-OD-ET-IFL → Integration Designer → Package (BYI3000824)
BC-XI-OD-ET-MAP → Mapping Designer → Package (BYI3000825)
BC-XI-OD-ET-OP → Operations UI → Package (BYI3000826)
BC-XI-OD-GB → Generation & Build Framework → Package (BYI3000997)
BC-XI-OD-OP → Integration Operation → Package (BYI3000671)
BC-XI-OD-OP-NM → Node Manager → Package (BYI3000827)
BC-XI-OD-OP-SRV → Operations Server → Package (BYI3000828)
BC-XI-OD-RT → Integration Runtime → Package (BYI3000672)
BC-XI-OD-RT-MAP → Avatar Mapping tooling and RT → Package (BYI3000875)
BC-XI-OD-RT-MSG → Messaging Service → Package (BYI3000998)
BC-XI-OD-SUG → NESTOR Suggestive Mapping Tool → Package (BYI3000876)
BC-XI-OD-WT → Cloud Integration Web Tooling → Package (BYI3000909)
BC-XI-OD-WT-ISP → Integration Specification → Package (BYI3000999)
BC-XI-TRX → Trex Search for PI → Package (B200004559)

SAP Basis Transaction codes
Here is a sample list of Basis module tcodes. Full list of transaction codes along with their description will be available from the links after this list.
SPRO
SE16
SU01
DB50
I18N
MGMT
SGEN
SM50
SCOT
WSADMIN
STMS
BRF
Basis Architecture – Reference Diagram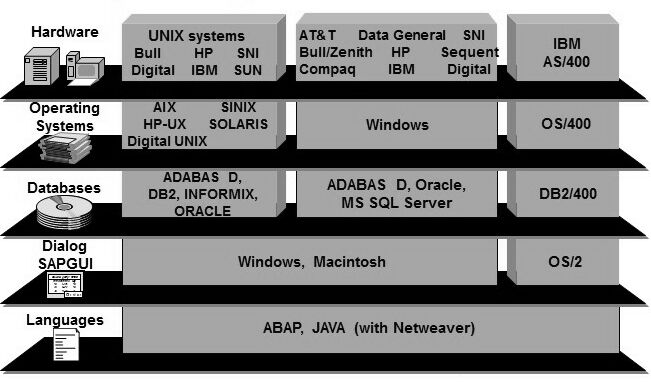 SAP Basis Module Tutorials
PDF Training Tutorials